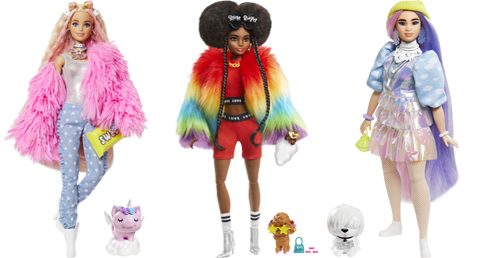 Reading Time:
3
minutes
In 1959 the first Barbie doll, named after inventor Ruth Handler's daughter Barbara, came onto the market with soaring popularity now for over 55 years. The original Barbie consisted of one body type, one look, and made little girls believe Barbie is what all women look like; blonde hair, blue eyes, and a tiny waist. The unrealistic body-image for little girls everywhere and setting standards that if you look like Barbie you can achieve everything and anything. 
An official African-American Barbie did not get released until 1980 along with a Latina Barbie and over 40 different international types of Barbies, making way to represent what all kinds of different women look like from different cultural backgrounds, sizes, shapes, and styles. Showing them that all women are unique in their own way and all need to be represented. 
In 2020, real progress was made when Barbie released a new line of dolls called "Barbie Extra Dolls." These new dolls consist of a variety of different types of skin tones, eye colors, and hair textures. They paved the way for more dolls that showcase and represent dolls of all different backgrounds.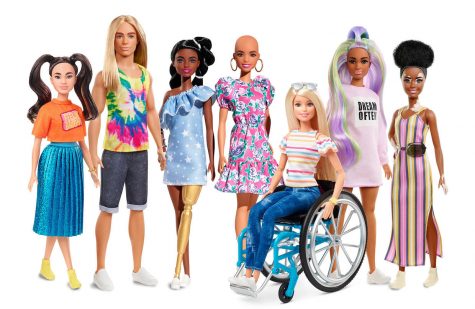 "For 2020, Barbie is continuing the journey to represent global diversity and inclusivity in the fashion doll aisle by showcasing a multi-dimensional view of beauty and fashion," a spokesperson for Mattel, the parent corporation of Barbie, told CBS News.  This new line consisted of a doll with vitiligo, an autoimmune disease that causes loss of skin color, one with no hair at all, one with a prosthetic limb, one with a hijab, and a line of gender-neutral dolls. This line of dolls has catered to a more diverse audience and shows that their representation matters. Not everyone looks like Barbie despite the looks,  you can achieve and do everything you set your mind to. 
Diversity and positive representation matter. To see yourself reflected and celebrated in the toys and media you surround yourself with is more important than you think. Kids need to see other kids reflected in their toys and in their books. Racial diversity in toys can promote empathy, kindness, and increased self-esteem for all kids who play with them. 
By age 5, children have a sense of self-esteem comparable in strength to that of adults, according to a new study by University of Washington researchers. Because self-esteem tends to remain relatively stable across one's lifespan, the study suggests that this important personality trait is already in place before children begin kindergarten.
If children are only shown able-body toys, they might internalize that something is wrong with them if they have a disability. The same thing goes for the body types, religion, race, and gender roles that the toys take on. From the other perspective, lack of representation also hurts those children who are represented. Children would grow up with the incredibly skewed perception that everybody who resembles them is normal and anyone who doesn't look like them is not.
When it comes to representation, the possibilities are endless. You can create female characters that don't need to be rescued or male characters that aren't afraid to be vulnerable. You can show job roles that break gender barriers and use the dolls to talk about stereotypes by setting a positive example. You can show a full spectrum of gender and accurately portray different diverse cultures. You can show that not all families look the same and explain that everyone is different and beautiful and important. Because what young people see around them can positively or negatively shape their expectations for themselves and for each other.
By showcasing diversity, we are teaching children not to judge others because their situation isn't one that they necessarily understand. Instead, we're showing them that they don't have to be afraid of what they don't know and they should educate themselves accordingly. Little things, like what Barbie is doing, are important. It might not seem like much, but it's going to significantly change the way young people see themselves. See themselves as something more, someone that can be anything or do anything they set their minds to if they believe in themselves.