A Piece of Advice from an Alumni
Jessica Norton is from Marymount Manhattan College Class of 2016
Reading Time:
3
minutes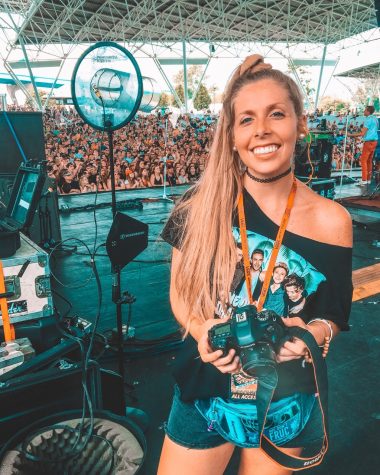 The last semester of senior year, historically known for causing immense inner turmoil, worry and stress among almost-graduated undergraduate students, was actually the easiest and most relaxed semester of college I endured. I'll tell you why.
My name is Jessica Norton, I am a photojournalist, entertainment reporter and social media director who basically lived on fifth floor Nugent from 2012 to 2016 as a Communication Arts student. I entered Marymount counting down the days until I had enough credits to legitimately apply for internships. I was actively running my own media company, blogging, volunteering and picking up freelance gigs in my spare time. I was driven, excited about my career and eager to get to work, as I would say all MMC students are.
Freshman year I made a list of companies that I wanted to intern with or work for and projects I wanted to complete during college; It was a manifestation of sorts. After completing an editorial internship with MTV News my junior year (which was, in fact, on my list) my editor offered me a job as a Pop Writer. My absolute dream gig. Unfortunately, I still had a full year of school left and a thesis to complete. Instead of having to turn down the job offer, it ended up turning into a remote freelance position that accommodated my final year of school. I worked my writing shifts for MTV News from my dorm room at Cooper Square. 
This may seem like common knowledge but prioritizing my classes and internships (you know, getting the not-so fun requirements done and maybe taking on some summer semesters) earlier on in my time at Marymount opened up much more time for me to focus on just my thesis and working out in the field during my senior year. The extra time in my schedule even allowed me to pursue a few more freelance jobs on top of working for MTV News and completing my thesis. The school-work balance I had during my senior year turned out to be serendipitous preparation for my unexpected post-college move: graduate school. 
I hadn't planned on going to grad school right after completing my undergraduate degree. Getting a masters degree was a personal goal that I knew I could, and maybe should, hold off on pursuing until I was older and more financially set. I had discussed the possibility with my professors, mentors, editors and, truthfully, most of them swayed me against the idea claiming graduate school wasn't necessary or worth the financial burden. It wasn't until I found The New School's Media Management Master of Science program, attended the info session and tour and seriously contemplated the future of my (at the time thriving but certainly uncertain) freelance career that I considered going for it.
Going to graduate school right after graduating Marymount turned out to be my post-grad plan. With my freelance career somehow cultivating itself from my previous work and scholarship opportunities that would assist my continuing education, it just made sense for me. All of the pressure and anxiety of locking in a full time job for after graduation were gone and I felt peace with my unexpected route.
You have to do what works for you. I would never instruct anyone to follow my lead. There are strengths that other people have that I don't and will never have. There are scholarships (which you should apply for, always) that you may or may not get offered that can open up a door you may have kept shut for a while. There are circumstances in life that may not allow you to take on a full course load or internships every semester. You can ask all of the people you hold with high regard in your life for their input, but only you truly know what will work for you and the vision you have for your life.
My time at Marymount helped me curate a path that aligned with my personal values and career goals. While admittedly a bit of a workaholic throughout my undergraduate experience, I have no regrets and somehow was able to squeeze in a ton of non-work related fun – which, in my opinion, is incredibly important. Prioritize that, too. 
I wish all final semester students utmost levels of peace as their future quickly approaches. You did the work – it's going to work out, trust me.
Jessica Norton's Contact Information
Marymount Manhattan College Class of 2016
Communication Arts major / Journalism minor
Social Media: @jessnort
Leave a Comment