Bring It On: The Musical comes to the stage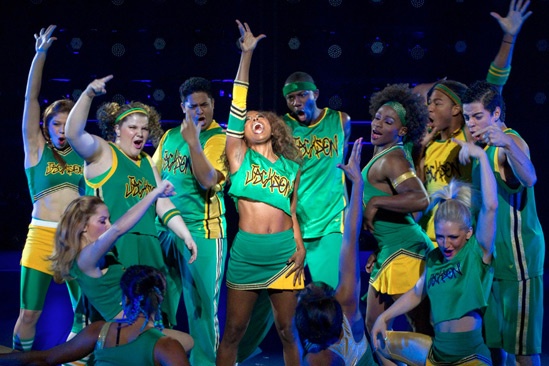 Reading Time:
3
minutes
Bring It On, a musical based on the 2000 Kirsten Dunst film of the same name, is a show that illustrates the competitive world of cheerleading and their rivals while battling with the "clash of class, race, body type, and gender meeting at a cheer competition, each character in Bring It On learns ultimately about friendship and forgiveness after experiencing envy and deception"  according to the description on Marymount's website. 
The show, in a quick synopsis, is about a girl named Campbell (Originally portrayed  on Broadway by Taylor Louderman) who was just named cheer captain at Truman High School for her upcoming senior year when an unexpected redistricting forces her to go the neighboring school, Jackson High School. Jackson High has a dance team and, despite rocky waters at first, Campbell befriends the dance team and along with their hardworking and headstrong leader, Danielle, forms a high-flying team ready to take on Nationals. This show combines colorful characters, songs, and amazing choreography with aerial stunts — this is a story that everyone should see! Although it has the same name as the first film in the Bring It On series it most similarly matches with the second movie in the series, Bring It On: All or Nothing, which features a girl getting redistricted and placed in another school, where she competes against her former squad mates. The show adds a sprinkle of Mean Girls, a dash of Clueless, and a pinch of Glee to create a cheer phenomenon.
Ellie Baker, who plays Campbell in MMC's upcoming production, says she prepares for the show by "keeping her voice healthy, making sure she doesn't push her body too hard, and learning her lines in down time." When asked what tips she has for being apart of a show she said, "Be a team player, don't give other people notes, do the best you can." Ellie wanted to add that she "loves being the leprechaun" which is just one of the many reasons to come see this wonderful production!
Meridien Terrell is in the ensemble she plays both a girl in Truman High School and Jackson High School and says that it the most challenging part because, "they need to be two different people" when bringing the script to life. Her favorite part about being in the show is all of the stunts she gets to do and prepares for the show by doing "Lots of cardio! We dance and stunt while singing so much in the show so it's helpful to keep the energy up." She also loves "Cross the Line" because "it's the most action packed number and we all genuinely enjoy it so much." She says what's going to surprise people the most about the show is "All of the lifts and tricks! And how much love and hard work we've put into this show."
Bring It On's score was written by Tony Award winning Tom Kitt (Next To Normal) and Lin-Manuel Miranda (Hamilton and In The Heights) who also wrote the lyrics with Amanda Green. The original book is by Jeff Whitty (Avenue Q). The show was first previewed on Broadway at the Saint James Theater on July 12, 2012, opened on August 1, 2012, and closed December 30, 2012 with a total of 171 shows on Broadway. It was nominated for several awards during its run including Tony Awards for Best Choreography and Best Musical. Ranging from traditional Broadway tunes, pop, a bit of rap rap, and melodic hip hop and R&B.
Some of the most popular songs from the show include Bakers' favorite, "Cross The Line", as well as "What I Was Born to Do", "I Got You", and "It's All Happening". Which are all full of high energy that matches the pace and choreography of the show. 
Reviews were posted everywhere during the shows hay-day including one from Charles Isherwood from the New York Times saying, "Cheerleading, that most American of pastimes, is not likely to become an Olympic sport anytime soon. Yet the highly acrobatic, gasp-inducing style of sis-boom-bah competition celebrated in 'Bring It On: The Musical,' "which opened Wednesday night at the St. James Theater, almost makes you believe that it should be." and a review from Steven Suskin for Variety saying, "Athletically impressive staging and an engaging score combine to make 'Bring It On' a pert and refreshing surprise."
Marymount is premiering this epic tale of rivalry, friendship, betrayal, and forgiveness on November 13-16 at 8pm and November 17th at 2pm in the Theresa Lang Theater.
Leave a Comment
About the Contributor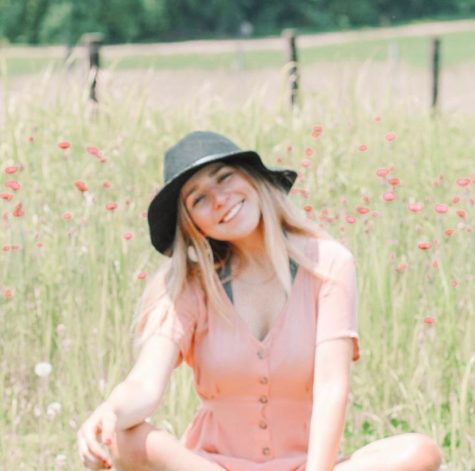 ana coakley, Photographer, Staff Writer