Stand-Up and Speak Out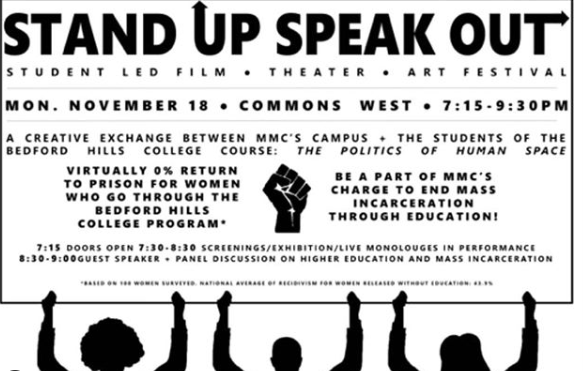 Reading Time:
2
minutes
Stand Up, Speak Out Film Festival took place on Monday, November 18 in the Commons West and showcased creative works formed in collaboration with Marymount students and students of the Bedford Hills College Program. The Bedford Hills College Program offers 14-16 college courses of all levels each semester to the women currently incarcerated at the Bedford Hills Correctional Facility, a maximum-security prison. While the program also includes college-prep courses in writing and math, Marymount is the sole degree-granting institution of the BHCP. Marymount also provides students of the program with textbooks and other school supplies. 
The Bedford Hills Club on campus serves as a means of communication with the students and faculty involved in the BHCP. President of the club Viviana Metzgar says, "The creation of the club was to support our fellow classmates over at the Bedford Hills Correctional Facility but has grown into much more…This year we have created a broader definition for ourselves as a club that supports prison reform and accessible education." To support those ideals, the club donates to and volunteers with 'Books Through Bars' and promotes the Stand-Up, Speak Out Film Festival, and any other on or off-campus event that relates to their values. 
Stand Up Speak Out featured films, performances, writings, and art pieces created by Marymount students in conjunction with ideas and screenplays written by Bedford Hills students. The classes involved were "The Politics of Human Spaces" taught by professor Julia Gardiner Ph.D., and "Reading and Writing: The Poetry of Communication" taught by professor Suzanne Gardinier. Topics discussed in the films and other art pieces involved The Evil Eye, Tattoos, Gendered Spaces, Deportation, and more. 
The festival introduced a new topic by showing a video of a Bedford Hill student discussing the topic and explaining their screenplay ideas and what they were trying to convey. A film created by Marymount students was then premiered following the screenplay created by the Bedford Hills student. In addition to original films, monologues, poetry and visual art were also presented. Some films were created in collaboration with the MMC dance company. 
Cyrus Adams, a senior majoring in playwriting and stage management who performed an original monologue at the festival, was made aware of the event after receiving an email from Kenny Finkle, assistant professor of theatre arts. "…it had been a while since I participated in a festival, and l loved what this one does in particular in connecting with Bedford Hills, so I agreed to it. Finding how I could connect to these pieces, "Deportation" specifically, made me feel connected to this larger community of artists I would have otherwise not gotten the chance to connect with," said Adams. "As Bedford Hills shared their stories and creations, so we shared our own, all inspired by each other. It reminded me why art works best when it's a collaboration, and as artists, it's integral to find inspiration in each other." 
The collaboration between Marymount students and Bedford Hills students is crucial to the success of the program and is a key part of what The Bedford Hills Club strives to foster. "This is why the club is so important. We hope to ignite and maintain an inclusive and supportive community within Marymount and the best way we feel we are able to do that is by supporting our fellow peers both on and off-campus," says Metzgar. 
For more information about the BHCP or The Bedford Hills Club on-campus contact [email protected]
Leave a Comment
About the Contributor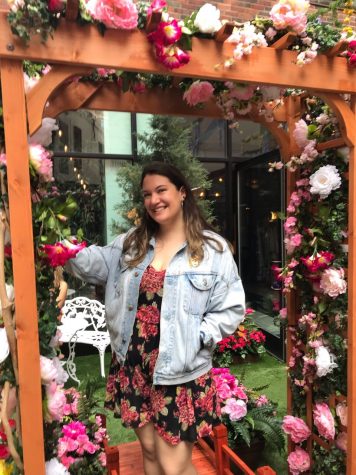 Madeline Nortz, Staff Writer
Class of 2020
Madeline Nortz is a senior majoring in Strategic Communications and Public Relations with a minor in Digital Journalism. She previously...