New History Major
The "Redesigned" Major Tailored to your Interests
Reading Time:
3
minutes
On Friday, November 8th, Dr. Laura Brown, Associate Professor of History and Dr. Brad Herling, Chair of the Humanities and Social Sciences Department announced the resurrection of the MMC's History Major, which is available for students to declare now. In said email, the program is "designed to be its own major" however can be made a double major or even a minor. Further, the major is "ideal for students who might be thinking about an Interdisciplinary Studies major". The program does not keep you grounded in one single department, the program is designed to draw from the many different historians stationed within the various departments already established at Marymount. 
Incredibly passionate about history, Dr. Brown currently teaches a broad range of classes at Marymount, from surveys of US history and courses in historical methods to classes on Civil Rights, or American Women's History, or Cold War Cultural Diplomacy, or an NYC Seminar on Urban History, or American Foreign Relations sat down to speak to what prompted the resurrection of this major back into the classroom and who holds a doctorate in History from Harvard University. "History provides the necessary frame by which to understand life," when asked how accurate the cliche "history repeats itself" is, Dr. Brown, answered the question while pounding her fist on her Townhouse office desk saying it is "horribly accurate! Terrifyingly, disturbingly accurate! Sometimes I sit there and watch the news and say: 'I've seen that before.'" Brown added "[i]f you want to change what is happening in the world, whether it be artistically, socially or politically, you're not going to be able to do it if you don't have the historical context. I think that's what studying history provides you."
Originally, Marymount offered History as a major until 2013 when it was cut by the administration at the time.  Seeing that it was instrumental towards a liberal arts education, Dr. Brad Herling, who holds a doctorate from Boston University with a specialization in Philosophy of Religion. nonetheless had the vision of bringing the History major back from the grave. "There's a principal commitment to liberal arts and the idea of a school like ours not having a history major really struck many of us [faculty] as kind of wrong"  Dr. Herling added. 
However, in 2015, History began to start its comeback. "[President] Kerry Walk was very supportive and instrumental in looking at that decision [to cut history] again," over the years Dr. Herling and his colleagues had been working on offering this program yet again saying "there were a lot of fits and starts – we tried a lot of different models to make this work". Dr. Herling additionally cites Dr. Sharon Meagher, Dean of Faculty, as a catalyst in getting the program up-and-going. "[Dr. Meagher] had all these really interesting ideas about interdisciplinary studies and programs where the student is really at the center." Dr. Herling exquisitely expressed that a History major teaches students crucial analytics that can be applied in the real world "the skills it imparts allows students to be able to contend with complicated data, text, interpretation, and argumentation." Dr. Herling added that it was the leading undergraduate study at Yale University. 
In a world of narrow, career-specific majors, a Bachelor of Arts in History at Marymount is designed to take a broad subject like history and narrow it to an "area of inquiry".  Dr. Brown said that "a traditional history major like we used to have here, it's pretty structured. You would have to take classes in American history, European history, etcetera; there's a set of classes that you must do." however Dr. Brown and Prof. Herling have "redesigned" the traditional into a major to let you tailor the major to your interests. According to the B.A., History webpage on mmm.edu, there are 24 areas of inquiry offered currently ranging from Media History, Legal History, History of Religions to History of STEM, History of Costume and Design as well as History of Gender and Sexuality.
Click here to view the major's descriptions and requirements: MMC's History Major
Leave a Comment
About the Contributor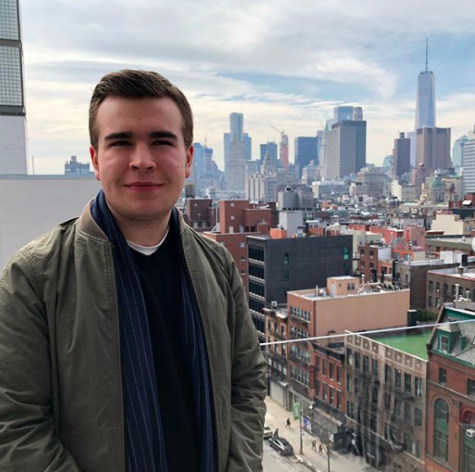 Seamus Fallon, Head Copy Editor, Staff Writer