Glen the Security Guard
The Security Guard that Left his Mark on Campus
Reading Time:
4
minutes
Working 80 hours weeks would absolutely drain the vibrancy out of most people. Yet somehow local Marymount superstar and beloved security guard Glenn Boyette shines brighter than anyone you will come across at Marymount Manhattan. Boyette has been working for our institution since 2014 and has made quite an impression on the student body here. Ask anyone about him and the automatic response tends to start with a smile and continues with a small antidote about interaction with Boyette. 
"He just takes notice of us. I think that's the big thing. He sees the people behind the angsty college kids and believes in us. It seems like it's not just a job to him. He shows kids that they matter in some of the hardest years of their lives, and he does it in the simplest ways." Said junior Willow Samu.
Boyette works the morning shift at the Cooper Square Residence Hall, 7 a.m. to 3 p.m. Typically posted at the front door,  Boyette tends to be one of the first faces that many students start their day off with. So, it only felt right to profile Boyette in order to get to know him beyond just Glenn the Security Guard. "I'm a lot of different things. At Marymount, I'm a security guard but out of life I'm basically just a low even-keeled kind of laid-back guy that just hangs out with his kids," said Boyette. 
Growing up and currently living in the same city, neighborhood, down to even the same apartment building, Boyette is a native of New York City and resides in the Washington Heights area. "It was great because it was like your own kind of net group of people which back in the days was famously known as Sugar Hill. A lot of black celebrities used to migrate there and live there and some of the great people like Sidney Portier used to live in my building and Count Basie and a lot of different jazz musicians." Boyette continues, "So, we had our own little type of group of people who I grew up to know and live with. It was like growing up in a little world of your own up in Washington Heights. It was a very tight-knit community where everybody knew each other, and everybody looked out for each other."
 To be a part of a tight-knit community within such a massive city is a thing that both Marymount students and Boyette have in common,
"
When I got to Marymount, I was like this is different this is a community this is a family. We have our own little piece of Manhattan that is just ours."
— Boyette
So, it comes as no surprise that when Boyette finally got the job working here he felt right at home. He even managed to repeat history and became a beloved figure or local celebrity just as he was back in his youth. 
 "I was kind of like a celebrity growing up even though I was an only child so I knew how to have fun by myself and I was very shy but a friend of mine who I grew up with and is my best friend now he put me out there and made me like a celebrity in the neighborhood even though I was the complete opposite. So, everybody knew my name so maybe that's why I make sure to know everybody's name here." Said Boyette. 
Attributing his neighborhood celebrity status to his friends that surrounded him and gave him that recognition, Boyette somehow managed to carry that status with him all the way down South every summer. Being from New York was an instant hit with the girls according to Boyette. The guys, however, weren't too fond of him for that very same reason. It was during those summer trips in which Boyette also found his passion for working and working hard.
 "I always liked to work. When my mother used to take me down south in the summer as a city kid, it was great. The people were so nice. Maybe that's where I got the personality that I have with you guys. But I remember I used to cry because I couldn't get on the truck that the kids would get on to go pick tobacco and they used to look at me like why is this kid crying? Doesn't he know we're going to be in this hot sun for like 10 hours or more doing back-breaking work and he wants to go and work?" Stated Boyette.
In fact, not many know that Boyette actually works more than one job throughout the week. That how he accumulates so many hours, 80 or so to be precise, and yet somehow he still gets it all done with a giant smile.
"I work two jobs. I work here and I work at Rockefeller Center, and I get to see you guys there once and a while. I love to work I'm a workaholic. I had my first job when I was around 11 years old but unfortunately, they had to let me go because that's when they changed the guidelines and laws for working age." Said Boyette.
If Glenn is not working you can find him spending quality time with his kids. Another passion that he said he realized he had later on in life. Whether they are his by blood or by choice Boyette made sure to treat those that he took in, as his very own.
"I always liked kids. So that's why when you asked how many I said 5 because I was raising other people's kids until I had my own kids. I didn't have my daughter until I was 49 but she's 12 now and my son is 23, but Justin who I consider my son is 29 now and he's like an older brother to my kids now." Said Boyette, "So, my son has a sister and my daughter has a brother who I raised. I raised them since they were small so it's like whoever raised you that's your parent."
It is so clear and noticeable that Glenn Boyette isn't just your average security guard. The man with a big smile and an even bigger heart is one of the most important people in our community. He helps make an impact on the many students here at Marymount Manhattan with something as simple as asking about our day. To Glenn, this is more than just a job. It's a chance to connect with the leaders of tomorrow.
"You guys are the future and the fact that I can interact with you guys on a daily basis and the fact that you guys are such nice people I find just inspiring. I reach out to you guys, I like to mingle with you guys for the overall fact that I think it's good for us to interact with different races, different age groups, different genders, to be able to see each other and understand each other."
Leave a Comment
About the Contributor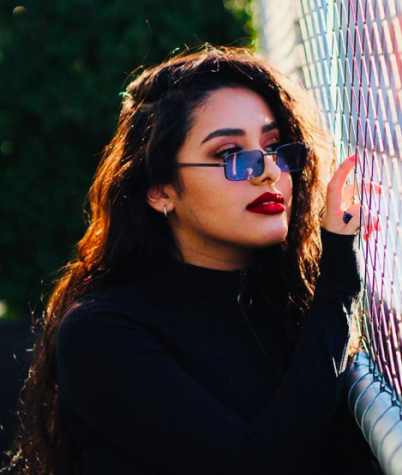 Ariana Contreras, Staff Writer