Senior Spotlight: J.K. Larkin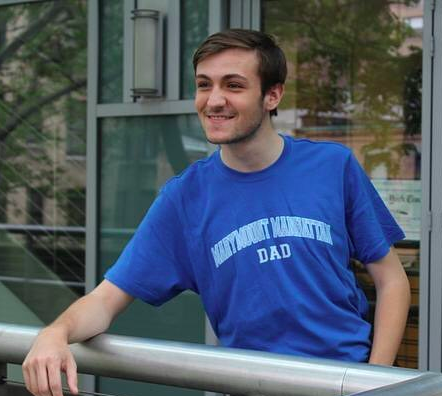 Reading Time:
2
minutes
In light of the COVID-19 crisis and its effect on Marymount Manhattan College's Class of 2020 Commencement, The Monitor will be publishing a weekly "Senior Spotlight" to honor the graduating class and their achievements at the College. This week's spotlight is on J.K. Larkin.
Larkin is a major in theatre with a double concentration in Theatre Performance and Directing with minors in Drama Therapy and Dance.  Anytime he is seen around school, he is always a positive light for friends, professors, and staff alike.
Larkin has many sentimental memories from throughout his four years at Marymount.  While many students remember events over all else, Larkin says his favorite memories "are not of the convocations I attended as both a freshman and a peer leader, nor are they of the Broadway shows I was given free tickets to attend.  When I think back," he continued, "my favorite memories are the days I would come into the school just to print off a few assignments and would end up spending hours in the library catching up with dozens of classmates, staff, and faculty that I had come to know."
Larkin has achieved many things throughout his time at MMC. His favorite accomplishment was getting the peer leader of the year award.  "I had been so afraid to sign up for the job that I put it off until that year," he stated.  "But the validation of knowing that I was being recognized for my school spirit and the impact I was able to make on the experiences of a new class of new students had stayed with me ever since."
Larkin has also been inducted into both the Alpha Chi Honors Society and the Omicron Delta Kappa Honors Society.  His minor in Drama Therapy also has helped him to become one of two Marymount Manhattan representatives to the North American Drama Therapy Association.
Outside of school life, Larkin recently published his first book, entitled "not kidding," currently available on Amazon.  This has been a running joke among JK and his peers, as his initials are the same as the acronym "just kidding."
Whether he is seen at a social event, in the classroom, or in a club or organization meeting, JK is always a ray of optimism shining bright with a smile to everyone around him.  He will be among the seniors graduating from Marymount in the class of 2020, and is looking forward to his future when out of school.
Leave a Comment