FEATURE FRIDAY: Professor Catherine Cabeen
Dancing through a broken foot, near homelessness, and political turmoil
Reading Time:
7
minutes
Highly accomplished dancer Catherine Cabeen found herself celebrating her 30th birthday in her blue Honda Civic, parked in urban Seattle. She packed her clothes and all her belongings into her trunk; she slept in the backseat with the doors locked at night. She was basically homeless, showering in the dance studios where she taught. Less than a decade later, she can reflect on how this moment in her life changed her perspective:
"I think it's a good thing that it is hard for me to unsee class and the blindness that can be created by it. If you've never really been hungry, then it is really easy to lack empathy for people who are."
Prior to this point, she performed with internationally-established dance companies, presenting Martha Graham's repertoire and touring the world with Bill T. Jones' company— all until a broken bone in her foot left her panicked for the future. All she knew was dance; she dedicated the past 24 years to the art-form. She went back to school to earn her BFA and graduated with her MFA in Dance at the University of Washington. And yet, she struggled to find a steady job that paid the bills.
Now in her office at Marymount Manhattan ten years later, tall and long-limbed Cabeen holds a full-time job as an Associate Professor in Dance, teaching Martha Graham technique to dance majors and designing lecture courses around the ethics, aesthetics, and gender in dance. A picture of a goat, a mascot for Capricorns like herself, overlooks her desk. She says goats are comical animals and she looks to the goat during stressful moments as a reminder to not take things so seriously.
She has always been a hard worker, from crafting her dance technique and working multiple jobs to pay the bills, to curating texts for her college courses. However, she acknowledges that hard work isn't the only factor in success:
"We do not live in a place where if you work harder, you will get ahead; there are so many other factors that are outside peoples' control that conduct their circumstance, and those circumstances affect how they can interact with the world."
Cabeen is one of the lucky few dancers to "make it" in the US, let alone score a professional gig before her 20th birthday. The first professional company she danced for, Bill T. Jones, consisted of only eight other dancers. The field is highly competitive, with thousands of dancers fighting over the roughly 20,000 paid dance jobs in the country, according to the Bureau of Labor Statistics.
Consequently, the National Endowment of the Arts reports that nearly 14% of dancers were unemployed in 2010. Unable to find a job in their field, a dancer has to resort to other part-time jobs to pay the bills while attending audition after audition in hopes of landing a job. But once in a dance company, the job has its risks: 80% of modern dancers injure themselves each year, reports the Journal of Dance Medicine and Science. Injury can restrict a dancer from dancing, leaving them out of the job they worked so hard to attain.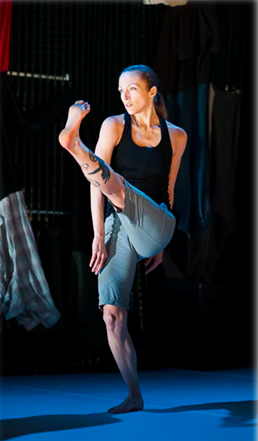 Even with the risk of unemployment and injury, millions of parents still sign their children up for dance classes at their local dance studios, adding to the preexisting 3.5 million children receiving a dance education in the US, as shown in research by the National Dance Educators Organization.
In suburban Illinois, Four-year-old Catherine Cabeen was a wild child. Her mom was desperate to get her into some sort of energy-draining activity; what could be better for a hyperactive child than dance classes? After a few lessons, young Cabeen quickly fell in love with dance. She specifically remembers watching a ballet staging of Cinderella when she was 6 years old: little ballerinas waddled on stage in lighting-bug costumes, equipped with light bulbs on their backside that would light up when they shook their hips.
"Even though these little child dancers were so goofy, it was this realization that I could become something that I perceived as magical through this art form."
Her curiosity with the mysticism of dance continued when, at 15 years old, Cabeen's dance instructors introduced her to modern dance pioneer Martha Graham's technique— developed in the mid 20th century and based on the spirals, contraction, and release of the body. When learning the technique, Cabeen felt that same sense of enchantment within her body that she did when she was 6 years old. From that point on, she threw herself into dance and never looked back.
Once she graduated from high school (she spent her last two school years in Seattle), Cabeen packed her bags and moved to New York City to study the technique at the Martha Graham studio. After two intense years of training, she snagged a spot in the Bill T. Jones/Arnie Zane Company, whom she would perform and tour with for the next 8 years.
Duo Bill T. Jones and the late Arnie Zane founded the dance company in 1982, together earning a reputation for creating innovative choreographic work. Artistic director Bill T. Jones was known for his volatile temper; though Cabeen was never the subject of his outbursts in rehearsals, she attributes the source of his irritability to his passion to create meaningful work. In the studio, Cabeen never shied away from standing up for herself even when Jones would argue back. To her, the lively debates with Jones weren't just heated fights over choreography; they taught her how to talk to people with different perspectives.
With the company, Cabeen performed in places where she didn't even know enough of the language to order coffee. During tours, Jones explained to his company that as artists, they held the role of cultural ambassadors. Limited to nonverbal movements, Cabeen and the rest of the company communicated aspects of the human condition that connected everyone in the audience, regardless of race, nationality, class, or gender.
In 2005, Cabeen left Jones and Zane's company and signed on with the infamous Martha Graham company. Though she loved the movement of the technique, the virtuosic music of the repertoire, and the lavish costumes, the company itself—in the years that she was there— epitomized everything she hated about the art world. Dancers were treated like machines, constantly getting compared with one another. Directors constantly shut down dancers attempting to stand up for themselves, a total juxtaposition to what Cabeen grew accustomed to while dancing in Jones' company.
More so, Grahams' work was highly gendered; dancers fashioned high buns, lengthy false lashes, layers of lipstick, and long dresses. Cabeen preferred being an androgynous dancer; she sported a shaved head and took to more masculine roles while in Jones' company. In the Graham company, she constantly felt uncomfortable; she didn't fit into the culturally pre-fixed boxes. The stark difference between both companies made her extremely aware of what it means to dance in a woman's body and the political implications of such, later influencing her own choreographic work.
One day during her lunch break at a Graham company rehearsal, Cabeen fell down a set of concrete stairs, shattering her heel bone, and with it her life as she knew it. The injury forced Cabeen to put her performing career on hold. Without knowing what else to do, she enrolled in an undergraduate program at Cornish College of the Arts back in Seattle. There, she was able to quickly earn her BFA in dance in one year, thanks to receiving life experience credits because of her professional career. To her, she was merely ticking off boxes, taking classes like anatomy and dance history to fulfill the requirements.
Even after earning her degree, her foot wasn't finished healing, so she immediately applied to the MFA program at the University of Washington, where she explored gender studies and art history. Cabeen fell in love with learning in grad school. She had never considered teaching dance at a college level until attending her own dance courses in college when she realized how passionately she disagreed with some of her professor's methodology. In particular, with dance history classes, the notion that dance history starts with ballet made her absolutely livid. She knew there had to be a better way of teaching the subject, and she knew that she'd probably have to be the one to do it.
Two years had passed since completing her MFA, and though Cabeen worked 14 part-time jobs, she couldn't make her rent. The highly educated and skilled dancer had no choice but to live out of her 1991 blue Honda Civic. During this time, she created a lot of work, partly from creative inspiration, and partly because of the fact that when she was setting work at dance studios, she knew she had a place to shower. Survival instincts ruled her entire relationship with the world.
During this time, Cabeen founded HYPHEN, her own project-based dance company. While she had always been setting work on other dancers as a form of expression and activism, the formality of the company allowed for grants and outside funding. The company went on to receive support from organizations including the Seattle Office of Arts and Cultural Affairs, The Washington State Arts Commission, the National Performing Network. However, Cabeen's choreography clashed with surrounding dance companies: local movement was heavily influenced by rolling mountains and flowing water. Her movement was the polar opposite: angular, inspired by skyscrapers and the light shining through them.
After inhabiting Seattle for seven years, Cabeen accepted a dance professor position at Middlebury College in Vermont, a job she says would not have been possible without her MFA on her resume. In 2014, she was hired at Marymount Manhattan College as an Assistant Professor in dance. Now, six years later she has received tenure and is now an Associate Professor in dance.
In 2018, she choreographed a piece on Marymount dancers titled, "Yet," set to a sound-score of a man and woman's conversation. Cabeen wrote the score specifically about abortion and the woman's right to choose, though the text never explicitly said the subject matter of the conversation. She had previously been told her work was "too political" and that politics were getting in the way of the physicality. She jokes that in the piece she "tried to be sneaky, but it wasn't that sneaky, it was pretty obvious." The whole process was wildly cathartic for her; from writing the text to talking to her dancers during rehearsal about what the text meant to them.
While this particular work directly tackled political issues, Cabeen explained that not all activism looks the same. An artist can simply create a beautiful piece because they believe the world is lacking in beauty during global turmoil. Moreover, because of the lack of funding and the drastic cuts to the NEA, dancers may have no choice but steer away from creating political work in order to get paid.
When asked if all artists have the responsibility to take a stance on political issues, she responded that she, as an artist, feels obligated to use her platform. Her past left her overly exposed to issues of racism, classism, and gender inequality in America. Art, she says, is always reflective of politics somehow.
"If you are able to make art that doesn't have politics in it, then you live in an uncontested human experience, and I don't know what that feels like."
Find out more at www.catherinecabeen.com.
Leave a Comment