The Wildfires of Oregon
Reading Time:
2
minutes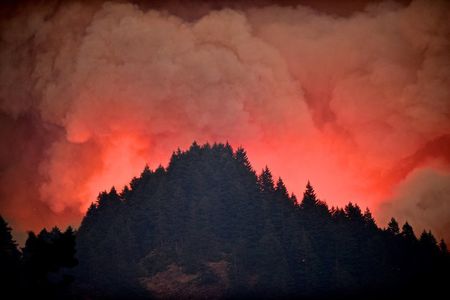 My hometown, Portland, Oregon is in the midst of a pandemic, coming to terms with systemic racism past, the site of nightly protests for the past 100+ days and now it is blanketed in a thick haze of smoke as wildfires burn out of control nearby. The pain and uncertainty felt by many Oregonians are growing as popular hiking, camping, and recreation areas are devastated. I have family in Central Oregon and grew up visiting this beautiful region. Imagine the snow-capped Cascade Mountains, winding roads surrounded by old-growth timber and small communities along picturesque rivers. Now, many of these small towns (such as Talent, Vida, and Phoenix) have been completely wiped out and destroyed. Currently, as many as 500,000 Oregonians are under some type of evacuation order (green, yellow, or red). The green level means "be ready for potential evacuation", while the yellow level means "be set to evacuate at a moment's notice" and the red level means "Go! Evacuate now." As I write this article, in the Portland Metropolitan area (population 2,500,0000), the air quality is 287, which is considered "very unhealthy" and ranks Portland is having the worst air quality of any major city in the world.
As of September 11th, there are 38 active wildfires in Oregon that have burned more than 850,0000 acres of land and killed 5 people. The causes of these intense wildfires are still under investigation, but hot temperatures, a pattern of extremely strong east winds and dry timber are all considered factors. I first noticed the smoke in Portland on Monday, September 7th as it appeared to roll in as a thick haze. My family and I left Portland on Tuesday morning to spend a scheduled vacation on the Oregon coast at Manzanita, which is about 2 hours west of Portland. During the drive to Manzanita, we noticed large pockets of smoke that seemed very close to us. Unfortunately, there isn't great cell phone reception on these narrow, two-lane roads through the Coastal Range mountains. After we arrived in Manzanita, we learned there was another large forest fire south of us in Lincoln City, Oregon. For the past three days, the smoke has been fairly intense and looks like we are surrounded by fog. The sun, when it appears, has an eerie orange glow and the smoke definitely affects your lung. Thankfully, we are safe and it appears that the fires will most likely not carry into Portland.
The West Coast wildfires are impacting so many people in Oregon, California, Washington, and other states that are the western region. The Oregon I knew and love will never be the same. Oregonians are rallying together to help people displaced by the fires just like what New York has done during the pandemic. These fires have definitely bought some awareness to fellow Americans who have never been to The West Coast. With everything else that has accrued this year in our country, this latest tragedy is heartbreaking for myself and the community that calls Oregon their home.
Leave a Comment