The Importance of Recognizing Indigenous People Day
October 12, 2020
Reading Time:
3
minutes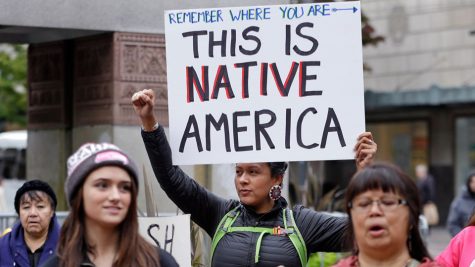 The holiday Indigenous People Day, formerly known as Columbus Day, is a way to recognize, celebrate, and honor the Native American peoples and their culture. Some states have progressively started to officially celebrate a day other than Columbus Day, with the state of South Dakota starting the change in 1990 with "Native American Day" on October 12th. Since then, various states have switched the an,e, but many are still calling it "Columbus Day" as of right now.
In recognition of this holiday, MMC campus is closed and there will be no classes. In order to properly celebrate this holiday and how important it is to remember and acknowledge the reality of our nation's history; celebrating and embracing the cultures all around us. 
This holiday has been taught inaccurately all through history that Christopher Colombus 'discovered' North America. When indigenous people were already populated there, he led the brutal path of future colonizers to kill and enslave the indigenous people of the Caribbean and later mainland North and South Americas. Overtime, Columbus Day caused people of America to forget and never really recognize what truly happened to those lands that Columbus 'supposedly' discovered. This holiday is a way for non- Native people to gain a better understanding of the culture and what they can do to celebrate and educate themselves about the holiday itself. 
370 million Indigenous people from more than 5,000 communities live in 90 countries across the globe. To support bringing these communities' often under-reported or misreported stories, and under-represented perspectives, to new audiences, Pulitzer Center recently launched a portal where you can find in-depth reporting from Indigenous communities. There are 574 federally recognized Native Nations in the United States today, according to the National Congress of American Indians. Yet, with the sacrifices of these Native Nations trying to preserve their land, there is still a lack of representation for the Native People on this holiday. For instance, the first laureated Native American poet of the United States, Joy Harjo, transcribed her experiences fueling her inspiration as an artist, essentially opening the door for other indigenous artists. Even young Indigenous activists continue the fight to save their land and for climate justice. 
In a time where equality and justice for all is being questioned, do your part and educate not only yourself but others around to truly understand the cultures around you. Even if it's something small like having a discussion with your family about the sacrifices the Native people have made and continue to make to protect their land. Even something big like attending a march and signing a petition to ensure that every state recognizes this day as Indigenous People's Day instead of Columbus Day or even the simplicity of recognizing and saying the proper terms of Native People. These small things that you can do, can actually make a difference because you are recognizing their culture and the struggles they went through. 
---
Learn more about the culture itself, understanding their practices and what they value in their community. 
Resources are put there to better further your understanding and the importance of this holiday. Here are some links:
http://www.ncai.org/about-tribes
https://www.pbssocal.org/education/at-home-learning/honoring-indigenous-peoples-children-today-every-day/
Here are some ways to support and celebrate Indigenous People's Day: 
Read works from Indigenous authors that represent who they are and their experiences in their culture. 
 https://www.pbs.org/newshour/show/u-s-poet-laureate-joy-harjo-on-opening-a-doorway-of-hope-for-indigenous-artists
https://bookmarks.reviews/12-books-by-indigenous-writers-to-read-this-indigenous-peoples-day/
Attend an Indigenous People's Day Celebration (Online or In-Person following social distancing guidelines) 
https://www.ictinc.ca/blog/11-ways-to-virtually-celebrate-national-indigenous-peoples-day
https://sanjosepeace.org/indigenous-peoples-day-rally-march-october-12-2020-4-pm/
Donate to Indigenous Rights organizations that are rallying and marching in support of their community
https://www.nativemovement.org/
https://www.nativewomenswilderness.org/mmiw/
Support Native Artisans
https://flashbanggiveaway.com/
https://frankbuffalohyde.com/home.html
This article was corrected to reflect an update on the historical timeline of Indigenous People's Day.