Different Ways to Celebrate Halloween While Social Distancing
Reading Time:
2
minutes
Spooky Season is here and you know what that means? Time to celebrate All Hallow's Eve!
Halloween is approaching us and you start to see people hanging up spooky decorations. Seeing stores start to have Halloween decorations and candy filling the isles, wondering who or even what you are going to be this year. The smell of pumpkin spice everywhere you go and the leaves changing from green to red to yellow. This year has many obstacles but don't let that stop you from having this Halloween, but you have to keep in mind to follow the social distancing guidelines. There are still fun and safe ways to have a good time during Halloween. Here are some SpookTacular ideas:
1. Social Distancing Halloween Party
Plan a fun and exciting Halloween party where you dress to impress and enjoy some spooky treats. The best costume wins a prize! If weather permits, only allow a certain amount of people permitted following social distancing guidelines, and dance all night listening to your ultimate Halloween playlist! Always remember to follow social distancing guidelines, and wear masks. 
2. Host a Halloween Movie Night
If you plan to stay in on Halloween depending on if COVID-19 permits you to or not, host an epic scary movie marathon. Grab your friends, get the scariest movies, and bake Halloween treats! Those treats can be baked goods like Halloween print sugar cookies or even concocting your own spooky creation. Create the Halloween mood and enjoy your treats while watching the movies under a nice warm blanket!
3. Pumpkin Carving
Pumpkin Carving is a classic that is a given for any Halloween. Whether you are carving with your friends or family, you can create the most creative and fun designs on these Jack-O-Lanterns. Once you are all finished light them up and put them on your porch for your neighborhood to see your handiwork!
4. Zoom Costume Party
If you are unable to go out to safe socially distant parties or your friends are in a different area, have no fear Zoom is here! Host a costume party over Zoom where everyone still gets to show off their creative costumes, hang out, and enjoy each other's company from a safe distance.
5. Decorate the Inside and Outside of your Home
Decorating the inside and outside of your house to show off that Halloween spirit. If you are either giving more of an aesthetic vibe with having pumpkin spiced candles and classic Halloween decorations. On the other side of things have a scary vibe with decorations that are meant to send a chill down your spine. Having goblins, ghouls, or even characters from your favorite horror movies incorporated in your decorations. The whole neighborhood will see your creative work!
These are some ways to have fun this Halloween amidst the pandemic, have fun and be safe at the same time!
View Comments (2)
About the Contributor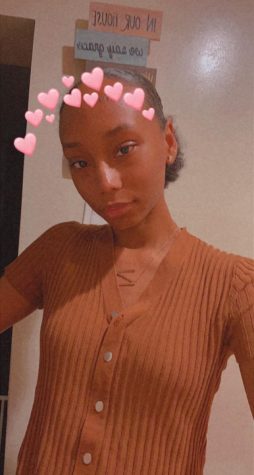 Najla Alexander, Crime Reporter/Features Editor
Najla Alexander is the Features Editor and Crime Reporter for The Monitor. She is Majoring in Digital Journalism and Minoring in Forensic Psychology. Her...