Adam Sandler's "Hubie Halloween": A Film Review
Reading Time:
4
minutes
Adam Sandler is back at it again with yet another feel-good comedy with some of his regular collaborators, which is perfect for the Halloween Season! 
Hubie Halloween is about a small town set in Salem, Massachusetts where Adam Sandler plays a character named Hubie, the middle-aged town's outcast who still lives with his mom, who is picked on and teased for essentially being himself. That is scared way too easily by the smallest things causing him to scream at the top of his lungs, jump high into the air, and throw an object at the object of his scare. Despite everyone picking on him, calling him names, not taking him seriously, and random objects constantly being thrown at his head, Hubie always ends up dodging those objects with the help of his trusty Thermos, which has anything and everything you can think of to help you in any situation. He is hopelessly devoted to ensuring that his hometown has a safe Halloween and that no one will get hurt. This particular Halloween night he is sure that something is up because people start to go missing when his new suspicious neighbor moves into the house next to him that very same day and he starts his own investigation; In previous years, he has been known for blowing small situations way out of proportion. This year he is sure that something is up and nothing is going to stop him from figuring it out.
Hubie runs into obstacles and quite a few frights along the way. The only person in the town that is always ever nice to him was a girl, Violet Valentine, his childhood crush, who always sticks up for him no matter what. During his investigation, he runs into Violet's kids at a Halloween Party when trying to warn the kids about what is happening. Of course, the high school kids dismiss him by trying to scare him instead. They say a kid needs help in the corn maze, but Violets' kids and her date going against the status quo decide to warn him. They did not agree with how cruel this town treats him because they know he just has a big heart and wants what is best for his town. Reaching the end of his investigation everyone is met with a surprise twist, that leaves you wondering how this person did the things they did. Throughout the movie, you see all kinds of familiar faces from Adam's previous movies and a few Disney Channel Stars. 
One of our very own students at MMC, Hannah ManClark, was able to experience this movie as an extra on set. She spent a couple of days working as a trick or treater, someone at a Halloween Festival, an attendee of a huge high school barn party, a diner patron, and finally someone who was arrested at the police station. 
"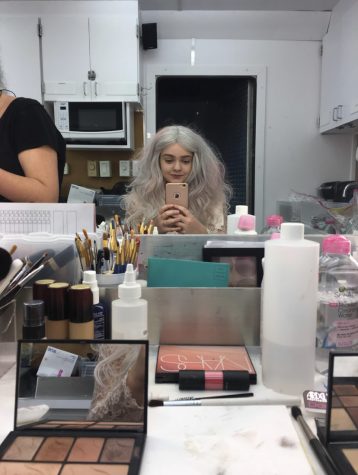 The experience of working on Hubie Halloween was one of the best experiences I have ever had. Since I kept getting called back, I met so many incredible people both on-screen and off. One of the best parts of being on set had to be craft services
— Hannah ManClark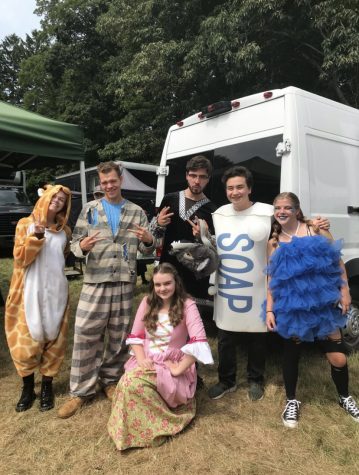 Hannah mentioned that she had worked a couple of other background extra jobs, but nothing can compare to Hubie Halloween. She had many run-ins with actors on set. For instance, Adam Sandler was always there and said he is the funniest guy ever and was always cracking everyone up on set. She got to meet Ben Stiller during the filming of the barn party scene and was also very nice. During the barn party scene, a bunch of Disney Channel kids were on set. Which included Peyton List, Paris Berelc, Bradley Steven Perry, Karan Brar, etc. They all stayed huddled together and didn't really talk to anyone. Hannah was in a scene that was just her, Kenan Thompson (a notable SNL Alum), Adam Sandler, and one other extra.
Hubie Halloween is a feel-good movie that will constantly keep you laughing throughout the entire movie. Marveling at the fact that Adam Sandler is still able to bring this entire ball of energy to all of his films, at age 54. Stemming from his classics like Happy Gilmore, Hubie Halloween not only keeps you laughing but it shows how when people bully and belittle someone else it's because that is what they think about themselves on the inside. It is up to you to be that one person to show that act of kindness and not just follow the crowd of bullying.
At the end of the movie, there was a dedication to Cameron Boyce, a famous veteran of the Disney Channel, as he was supposed to be a part of this film but unfortunately passed two days before filming. The featured mini-eulogy read: "[g]one way too soon and one of the kindest, coolest, funniest, and most talented kids we knew. You live on forever in our hearts and are truly missed every day." Boyce did star alongside Sandler in a number of movies. He had previously played Sandler's son Keithie in both Grown-Ups and Grown-Ups 2. Though Boyce does not appear in Hubie Halloween, he was supposed to play a young deli worker bully in the movie. A role that ended up being portrayed by Karan Brar, who also starred alongside Boyce in Jessie. 
Leave a Comment
About the Contributor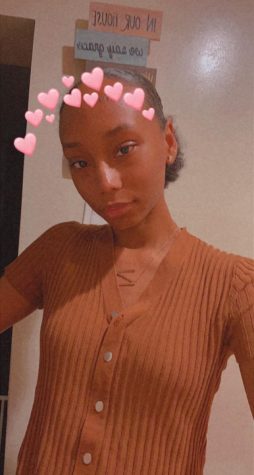 Najla Alexander, Crime Reporter/Features Editor
Najla Alexander is the Features Editor and Crime Reporter for The Monitor. She is Majoring in Digital Journalism and Minoring in Forensic Psychology. Her...