Marymount Manhattan's Everybody Explores Mortality and Humanity During the COVID-19 Pandemic
Reading Time:
3
minutes
This past weekend, Marymount Manhattan's mainstage production of Branden Jacobs-Jenkins' Everybody premiered remotely over Zoom. All three performances of Everybody were unique, with randomly generated casting of the leading roles. 
Everybody explores mortality, humanity, and society through the lens of someone who is dying, and fearing dying alone. The play is loosely based on a 15th Century morality play titled Everyman, which examined the mystery of the afterlife. Everybody is being showcased at a time where all of these topics are running through our heads in one way or another, as we reconcile with a pandemic, injustice, isolation, and division in our country. With an audience of Generation Z college students, this play hits home for many who have been painfully aware of our current reality and may be struggling to cope with it.
Cast member Hope Johansen explains that choosing to produce and perform Everybody today was perfect timing. "With over 200,000 people dead in our country alone due to COVID-19, the wrath and randomness of death is ever-present in my mind. People our age also think that they are invincible and nothing bad could ever happen to them," she notes. Johansen attests that this performance served a greater purpose than simply gaining experience as a theatre student: it teaches a valuable lesson to its audience.
While the outcome was worth it, performing over Zoom was a challenge nonetheless. "We did have some tech issues because of the nature of Zoom…people would lose connection and drop out mid-show, wrong buttons got pushed, people forgot to mute and unmute," Johansen describes. Still, the play ran smoothly overall for its three performances, and even featured impressive special effects displayed through green screens, which were stationed in each performer's room. 
While there were few difficulties visible to an audience, there were invisible barriers for the cast throughout the rehearsal process. It was difficult for the cast to connect in the way a group of performers normally would: "It was hard initially to bond. But after spending over 15 hours a week seeing the same faces every night, a sort of silent kinship forms. We were working on a lot of really sensitive material that can't be performed without a bond and trust," she said. "The connection was a slow build, but we became a united group…we all rallied and came together so the show could go on." 
Assistant Director GusTavo Blaauw shares the same sentiment about the experience. "At first, we felt the digital barrier present…mostly when we would finish a run. We didn't have a space to talk about it: we couldn't walk home together or grab a coffee during breaks, but as rehearsals progressed, we all found a way to connect." Blaauw also affirms the timeliness of Everybody and the importance of its message: "Everybody challenges us to take a look at ourselves and our lives. We are living through unprecedented times that have been continuously shaking our ideas about community and how we, as individuals, feel about the world around us," he expresses. Johansen concedes: "Everybody is a play about how to live your life told through the story of a person who is dying. I think we all can take a step back and think about the bigger picture of life, because in the end, death is the great equalizer, so how do we live our lives?" 
Everybody suggests with love: a concept that is hard for many to recognize during a time of such pain and strife. "Do we have love in our lives? Or are we selfish and cruel? I think these questions should be on our minds more," Johansen says. Blaauw feels similarly, but takes an optimistic stance on the meaning of the play during a dark time: "Everybody gives me the hope that, in the end, love will always prevail." 
If you were unable to attend one of the online performances of Everybody, you can view the October 31st version here, and see for yourself what the meaning of this play is during a pandemic.
Leave a Comment
About the Contributor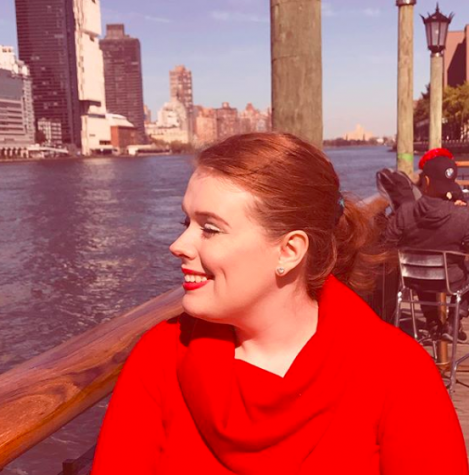 Meg Masseron, Features Editor