An Advocate and an Arts Hero
MMC Alum Brooke Ishibashi ('08) is Making Change One Zoom Call at a Time
Reading Time:
5
minutes
The nature of which Brooke Ishibashi sat down for her interview with her alma mater's newspaper certainly reflected the strangeness of this moment for many performers across the United States this year: limited to a Zoom screen, thousands of miles from the heart of American theatre. Nonetheless, Ishibashi's warmth, passion, and charisma broke through the digital barrier as she discussed her unwavering efforts as an activist for the Arts & Culture industry, immediately making one thing clear: Brooke Ishibashi is just getting started.
Originally from Orange, California, Ishibashi began at Marymount Manhattan College in 2004, pursuing a degree in Theatre Arts and Performance with a minor in Musical Theatre. Today, she credits much of her opportunities as an activist coming from the connections she made many years ago at the College. Ishibashi graduated in 2008 as anyone with a degree in Theatre would: with a vision of a future on stage, or on television. Ishibashi has gone above and beyond finding post-graduate success, with not only several stage and television credits under her belt, but an entire grassroots campaign behind her. Ishibashi is the co-founder of Be An #ArtsHero, a movement that has swept the Arts & Culture industry in the wake of the COVID-19 pandemic, which has left 63% of its workers fully unemployed. 
 Be An #ArtsHero is composed of Arts & Culture workers, unions, and institutions across the United States fighting to get important relief funds to the industry, which has been completely on pause in New York City alone since March 12th, 2020. The movement has garnered massive support from Broadway and beyond, with star-studded supporters such as Billy Porter, Cher, and Ariana DeBose, to name a few.
There are several bills and proposals as part of the bigger efforts, such as the Defend Arts Workers Now (DAWN) Act, which would authorize government agencies to make $43.85 billion in grants to support the Arts & Culture industry across the United States. Be An #ArtsHero also advocates for a full-extension of Federal Pandemic Unemployment Compensation (FPUC) at $600 a week until the pandemic ends, and a 100% healthcare subsidy for arts workers. Though the DAWN Act has not yet been introduced to Congress, Ishibashi notes that the work does not stop here. "We're a labor movement. In a broad sense, Be An #Arts Hero is about giving arts workers the integrity that they should've had all along."
While Ishibashi is currently known for her work as the co-founder and Director of Talent Outreach and Equity, Diversity and Inclusion, she is also a member of Fair Wage Onstage and a National Councilor for the Actor's Equity Association. A changemaker at heart, Ishibashi claims that as a fourth-generation Japanese American, her family's history plays a big role in how she sees the world and what she demands from it. "My grandparents and their generation were all put in the internment camps in World War II, so there's a natural sense of rebellion and defiance that's been instilled in me as a result of what my family lived through," she says.
Although her primary career is as a performer, the advocacy work she is currently doing has taught her much about being an artist.  "When you advocate for other people, it emboldens you to be able to advocate for yourself," she describes. "When it comes to being an arts worker, one of the fundamental things you have to learn is how to advocate for yourself. People always say you have to be the CEO of your own company, and it really is about that," she says. 
Ishibashi also describes how the tables have turned for her since evolving from artist to advocate: "What I've learned in this advocacy work is absolutely making me a more confident human: it's empowering me and it's teaching me how to interact with people in a very different way." Ishibashi attests that her current position as the leader of a massive labor movement has brought her to a more level position with big-name organizations and leaders such as The Broadway League. "The work I'm doing right now is interesting because it puts me in a different position with folks who I typically would be in a different power dynamic with," she describes. "For most arts workers, you're always trying to get an agent or a job, and you're always auditioning, so you always feel like you're in a sort of Oliver Twist place of begging for more. When you come to the table on equal terms, it positions you in a way where you feel like you're not begging for change." 
For most of the Broadway community, the year 2020 has been full of twists and turns that have brought forth both tension and tenacity. It can be dizzying, moving from one major moment to the next, and while some may feel that the greater community is breaking down from these events, Ishibashi believes that we are building from the ground up. "[The pandemic] has been the great equalizer. Folks said that 2020 would be the year of 'perfect vision,' and now everything is coming to the surface – even the things you don't want to see, recognize, or accept," she says. 
"There's a systemic upheaval and social reckoning that came full-force. We're in a time where We See You, White American Theatre can exist, and it can pick up major support. Black Lives Matter gained so much momentum and support this year. Be An #ArtsHero was born out of the crisis. My friends Karen Olivo and Eden Espinosa started an organization called AFECT: Artists for Economic Transparency, and that was born out of the crisis as well," Ishibashi explains. "It's gratifying to see the community come together and to see folks come to each other's aid. On the other side of that, it's been very interesting to see folks demanding accountability because I feel like, in this moment, everyone has just had enough," she notes. 
While many organizations have advocated for better pay, benefits, and conditions for Arts & Culture workers in the past, this moment has certainly called upon a sense of urgency for action. "We've found ourselves in a position now where we were the first to shut down, and we'll be the last ones to reopen. A lot of the movement that we founded is about changing that narrative and changing the conversation because the conversation we've been having has not gotten us very far. We're redefining [what it means to be] arts workers so that the work that we do can be valued as labor," Ishibashi says. 
Ishibashi urges supporters to understand the nuances of the activism that Be An #Arts Hero hopes to inspire. "The DAWN Act is one of our main goals, but we're starting to pivot based off of input we're getting from other co-sponsors and partners that we're working with," she says. In an ideal scenario, even if all of the congressional action that Be An #ArtsHero is pushing is approved, there is still much change that needs to occur within the Arts & Culture industry to improve working conditions for artists and the value of their work. But, what can you do right now? Ishibashi says: "Do your part and contact your Senators everyday and ask for the immediate relief that is so urgently needed." 
***For those wanting to get involved with Be An #ArtsHero, check out the official Action Packet, and follow the Be An #ArtsHero Instagram for updates on upcoming events and developments.
Leave a Comment
About the Contributor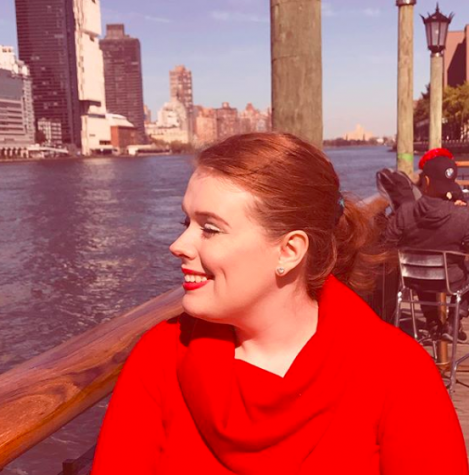 Meg Masseron, Features Editor