A Force to Be Reckoned With
Why Age, Criticism, and a Global Pandemic Won't Stop Sarah Goody's Fight for Climate Education
January 26, 2021
Reading Time:
5
minutes
When 15-year-old Sarah Goody was in sixth grade, her teacher presented a unit on the harsh effects of climate change and what that meant the future could look like for her, her community, and her generation. The depressing information she learned that day sparked a passion inside her. "I knew I couldn't sit back and, I mean, literally, watch the world burn," she says. "I started learning more about climate change and figured out as much as I could."
Her research changed the course of her life forever. "I had no idea this is where I'd be right now," she says of her current position as a youth climate activist. "I wanted to be on Broadway. I wanted to be a professional dancer."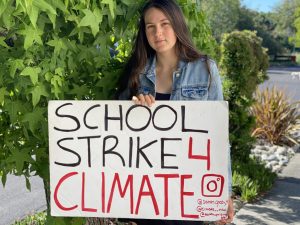 Where she finds herself now, though, is knee-deep in the growing movement to stop climate change and secure a better future for herself and her peers. In 2019, Goody founded ClimateNOW, a youth-led organization dedicated to bringing climate education to students of all ages through kindergarten to college. ClimateNOW partners with school systems and teachers all across the world to bring climate education and youth empowerment resources into the classroom. So far, ClimateNOW has provided resources to over 10,000 students.
In addition to ClimateNOW, Goody works with various other youth-led climate initiatives and takes it upon herself to strike through the San Francisco Bay area every Friday. She also makes regular appearances in the media to spread awareness of climate change. Her activism has been recognized by Teen Vogue, NBC Nightly News, PBS, and Forbes Magazine. And she's not even out of high school yet.
Goody isn't alone in her activism. She's one of many young climate activists making a presence online and in the media, driven by fellow Gen Z activists like Greta Thunberg. This level of awareness among Generation Z isn't surprising to Goody. "We're just so hyper-aware of all the issues that are affecting us. We're really the first generation to see that climate change is going to have a direct impact on our lives. We're experiencing it right now."
A resident of northern California, she's grown up seeing the impacts of climate change firsthand. "We go through wildfire season every year. I grew up a young kid being afraid because we knew that the wildfires were coming. My generation, Gen Z, has always had that exposure to climate change, and we have this understanding that it's affecting our lives," she says. "I think that's really what contributed to young people feeling the need to take action."
She recalls when she began working with other young climate activists such as herself. Joining the community of young activists helped her through a difficult time in her life. "At that point in my life, I was suffering from depression and getting to a point where I thought there was no future for me, where I was thinking about taking my own life. Finding a community and finding a purpose really helped me see that I could do something radical with my life, that I had a purpose and I had a vision, and I could use that to not only help myself but to help the planet."
As a Gen Z, Goody has received more than her fair share of criticism for her work in climate activism and feels she isn't always taken seriously because of her age. She's heard it all: she cares too much. She's too sensitive. She's doing adults' work. It may be perplexing to some why so many adults are mad at a young person trying to do good, but for Goody, it's no surprise at all.
"I think older generations are threatened by Gen Z. I think it's hard seeing someone who's younger than you, who doesn't have as much experience, telling you that you did something wrong." At this point, the criticism just fuels her further. "Because they aren't willing to address [the issues we face today], I have to."
Along with the criticism has also come some hard-earned praise. She's the recipient of various awards, including the Diana Award, which is the highest accolade a young person can achieve for humanitarian efforts. The award was established in memory of Diana, Princess of Wales.
Like many people have experienced this year, her life and her work hit a standstill when the COVID-19 pandemic began. While she's grateful for her position in life during the pandemic, she admits it's been hard on her mental health. "It's been a rough year," she says.
The pandemic forced her, as well as other climate and youth activists, to reconstruct the way they do their work and raise awareness of the issues they care about. "It's required a lot of innovation on our part, which has been a good and a bad thing. It's really taught us how to be good critiques of our work and grow from negative circumstances."
Goody used the first few months of the pandemic to grow her knowledge of how to care for the environment by taking a more hands-on approach. She quarantined in Hawaii for five months at an exotic animal sanctuary, Three Ring Ranch, the only non-profit animal sanctuary in the state of Hawaii. Three Ring Ranch was started by Goody's aunt after she was struck by lighting. The incident inspired her aunt to waste no time going after what she wanted in life: a zebra. From there, she acquired more animals.
On the sanctuary, Goody learned how to take care of the animals and reconnected with why she was doing all of her work in climate activism. "I rediscovered why I'm doing this and saw the direct impact climate change is having on these animals, many of which are endangered," she says.
Most of the events she had planned for the year before the pandemic were canceled due to COVID-19, but Goody wasted no time finding new ways to further her activism. When Broadway went dark due to COVID, she saw an opportunity. "I've been a theatre kid all my life. It's been something that's always brought me joy and passion… I saw an opportunity to collaborate with the Broadway community and raise awareness for climate change."
This led her to found her latest initiative, an Instagram page called Broadway Speaks Up. She started partnering with Broadway performers and encouraging them to use their platforms to raise awareness for climate change. So far, Broadway Speaks Up has partnered with performers from over 50 Broadway shows, among these Hamilton, Wicked, and Jagged Little Pill.
Goody finds the most joy in her direct interactions with other young people and spreading her passion with them in hopes of continuing the fight for a better future. One of her favorite memories is when a kindergarten girl excitedly rushed up to her to ask her what she could do to help the climate. In those moments, she sees her success and impact.
Despite how much she's managed to accomplish, Goody's eyes are on the future. And because of her youth, the sky is truly the limit. "Truthfully, I have no idea where the future is taking me. Wherever it does, it's going to have to do with social justice and with making this world a better place. That's where I feel the most confident. That's where I feel my life has a purpose. I will never be able to give that up."
Whatever the future holds for Goody, she's ready to face it. "I may be young," she says with a smile, "but that doesn't mean that I can't be a force to be reckoned with."