The Judith Mara Carson Arts Center at MMC
Marymount Manhattan College Receives a $25 Million Donation from The Carson Family Charitable Trust
Reading Time:
4
minutes
On February 17, Marymount Manhattan College announced that The Carson Family Charitable Trust gave a historic $25 million donation for a brand new visual arts center to be located on the top floors of Carson Hall via a press release. The Trust stipulated that $10 million of the $25 million is to be designated for scholarships for students aspiring to major or minor in the visual arts and the remaining $15 million for construction costs.
"This historic gift propels Marymount Manhattan into a singular, enviable space: the intersection of the liberal arts and the creative arts, where innovative work across disciplines is made and 21st-century careers are launched," said college President, Dr. Kerry Walk in the February press release. Dr. Walk added that "[Marymount is] deeply grateful to Judy and Russ Carson and The Carson Family Charitable Trust for their generous investment in the visual arts at Marymount Manhattan, which already enjoys a national reputation in arts education and preparing students for the burgeoning creative workforce."
The namesake for the visual arts center and the building that will house it is for Judith Mara Carson.  A "well-known champion of New York City arts and culture" who graduated from Marymount in 2003 with a degree in Art History.  Not only did Ms. Carson graduate with an undergraduate degree but also was a recipient of an Honorary Degree in 2013 and was also the recipient of the President's Medal for her "commitment to enhancing education opportunities" throughout New York.  Ms. Carson was a trustee of Marymount and led the Capital Campaign Committee which spearheaded "the most successful fundraising initiative in the College's history."   According to the press release from Marymount, the idea for a visual arts center began to "take shape" during Ms. Carson's years as a Marymount trustee.
"The contribution of the arts to daily life, community well-being, and the national economy is indisputable yet under-appreciated," said Judith Mara Carson in the statement released by Marymount.  "The visual arts in particular spark dialogue, bring people together, and drive economic development. This is why [we] are passionate about establishing a contemporary visual arts center at [MMC] and providing access to students from diverse backgrounds who will be connected to abundant professional opportunities in the visual arts," Ms. Carson adds. 
Director of the Hewitt Gallery and Art Professor Hallie Cohen is "elated" with the new arts center.  "We will now have a top-rate resource for our students to produce all manner of visual artwork, much of which I hope will be on display in the Hewitt Gallery as well as other venues in the Judith Mara Carson Center for Visual Arts, itself."  Prof. Cohen adds. "Teaching, and more importantly, learning, will be enhanced. Students will have a place to create and collaborate in ways that were impossible to do before. We will enter the 21st century in terms of professional preparation and personal enrichment."  Prof. Cohen highlights that the college's program has grown exponentially over the years, serving "not only art majors and minors," the program's space has not been expanded or rejuvenated since the 1970s.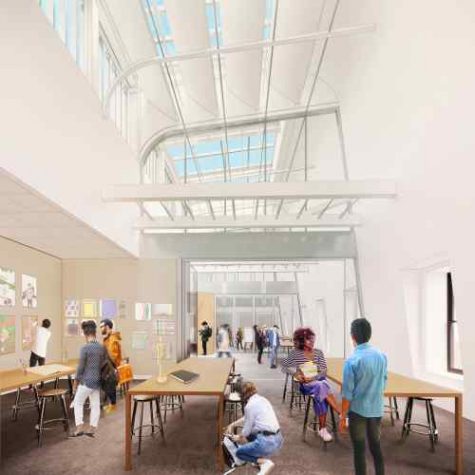 The eighth floor of Carson Hall will soon allow students, faculty and visitors to step into a "soaring multipurpose space" housed and capped with a roof of glass which will allow natural light of New York City "to stream" into the space.  The floor will offer several studio spaces which will "inspire the creation of 2D and 3D works."  A mix of a digital lab and an immersive gallery with a "wrap-around display" can and will accommodate "large-scale audio/visual projects" Additionally a "dedicated" art history classroom and an expansive seminar room will be housed now in the Center.  Prof. Cohen adds that the arts center will feature "fully equipped painting, drawing, sculpture, and printmaking studios bathed in natural light from soaring skylights,"  alongside fully equipped photography darkroom and developing studios with a digital lab and a digital immersion project space. 
The Center will be designed by Concord, Massachusetts architectural firm DSK, Dewing, Schmid & Kearns.  DSK has a portfolio that stretches from single family homes to buildings and spaces for Rhode Island School of Design, Xavier University, Duke University and Woods Hole Oceanographic Institution.  Tom Kearns, President of DSK Architects who was the academic program coordinator for Leading Organizations at Harvard's Graduate School of Design, said "MMC's approach to education is inspiring, allowing students to develop their creativity and social consciousness. Their educational journey provided a foundation for our design. The center will be a beacon" Kearns adds "Respecting the history of the John Russell Pope building and boldly reinventing it, the Judith Mara Carson for Visual Arts will reinforce MMC's stature as a primary creative hub in the City."  The Carson Hall we all know, Located on 71st Street, was designed in the late 1920s by American architect John Russell Pope.  Mr. Pope's architectural credits include the Washington, D.C. marvels like the Jefferson Memorial, The National Archives, the National Gallery of Art as well as additions to the British Museum and the Tate Gallery in London.  
"The Judith Mara Carson Center for Visual Arts holds enormous promise for all students at Marymount Manhattan College," Says Interim Chair, Department of Art & Art History Dr. Adrienne Bell.  "The new, expansive facilities for making art and studying art history will serve to nourish their creativity, enrich their knowledge, and inspire them to collaborate in countless trans-disciplinary ways with their peers.  We have been dreaming of its realization for years and couldn't be more delighted that it is coming to fruition." 
The arts center which will officially take the name the Judith Mara Carson Center for Visual Arts will commence construction this spring and complete in the Summer of 2022.  The Judith Mara Carson Center for Visual Arts will spread over 12,000 square feet on the entirety of the eighth floor in Carson Hall and a portion of the seventh floor.  Construction will cause professors like Prof. Cohen to pack up and relocate for the time being, although it is not specified where professors will pack up and move to temporarily.  "We will need to pack up the studios and relocate temporarily.  I always look at these things as an opportunity.  Our faculty will find new ways to deliver excellent teaching, as they have done during these remote times," says Prof. Cohen. 
*The Monitor added a correction to this article as of 3/12/2021 concerning the designated amount of money towards scholarships and construction of the Arts Center. *
Leave a Comment
About the Contributor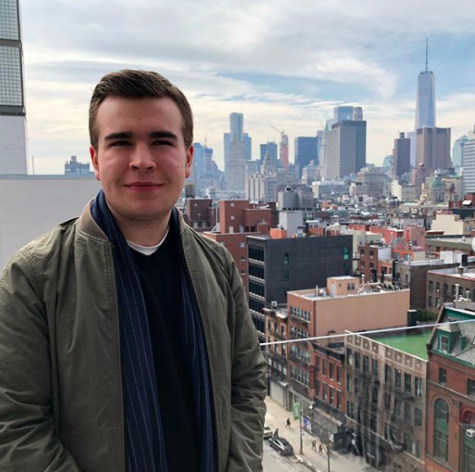 Seamus Fallon, Head Copy Editor, Staff Writer