A Pandemic Creation
Bummer! The Band's Lockdown Origins Bring Hope for the Music World
May 3, 2021
Reading Time:
4
minutes
A phone screen lights up with a notification: "@bummertheband is live on Instagram." A viewer enters the livestream, finding themselves transported to a small music studio enclosed by walls adorned with echo-reducing, padded hangings and glimmers of red, blue and green party lights. Jesse Prior treads upon the carpeted flooring, wearing only socks. As she settles in the space, she and her fellow musicians prepare for their first "live" showing of their music, reaching audiences the only way that they are able to during the COVID-19 pandemic.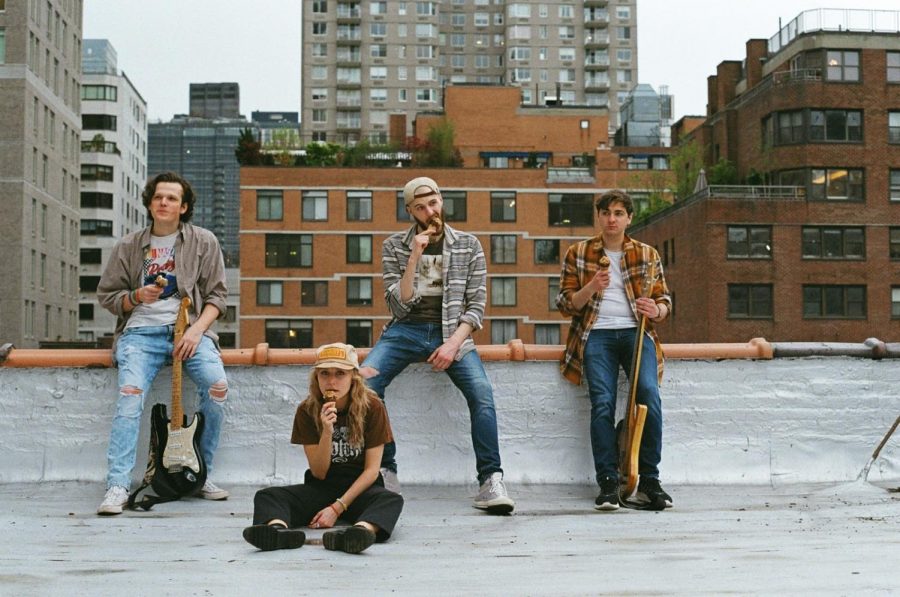 Bummer! the band, based in New York City, originated during the quarantine and lockdown of the pandemic. The halting of live performance did not put a stop to creation; it in fact provoked Marymount Manhattan College student Jesse Prior to materialize her long-existing dream of forming a band. After a few months of searching and organizing, Prior officially teamed up with guitarist and fellow songwriter Josh Miller, bassist Andrew Caira and drummer Drew Harvey. 
"I was inspired during quarantine to start creating the reality that I wanted for myself," says Prior, a long-time singer and songwriter. She had always dreamt of starting a band; the COVID-19 lockdowns provided her the time and space to take action upon this goal. As she was stuck in her hometown writing music, she realized that this was the ideal time to materialize her dreams. On April 30, 2020, Prior took to social media, seeking backing musicians.
"Through mutual friends, I met [Miller] who became my partner in crime. We joke about how he can do everything I can't  … while I can do everything he can't," says Prior, noting that she specializes in writing lyrics and the songs, while Miller's forte is producing and composing the music. After three months of collaboration, Miller and Prior asked for help from friends in the city so that they could hear their songs performed live. This is when Harvey entered the picture. After helping out a bit, he continued showing up and thus, became an official member and drummer of the group. Caira joined the mix after a social media connection and Prior's realization that his dynamic meshed perfectly. The band, inspired by the work of The Regrettes and Cage The Elephant, emphasizes that their sound resonates with the music of coming-of-age films. 
"We are now one big happy family; the boys are gonna hate that I said that," says Prior with a laugh. 
Prior notes the unique way that she and Miller began the collaborative songwriting process. Because the band formed during a time in which college students separated from their friends and peers and returned to their hometowns, the two artists would create elements of the songs on their own and send the pieces to each other. Sometimes, Prior would send Miller lyrics and melodies, with which Miller works to create samples of the instruments. The two also work the other way around, with Miller providing work upon which Prior adds lyrics and harmonies. 
"We go back and forth until we come to a pretty good conclusion on how we want the song to sound and then take it into the studio and try it out with all four members of the band," says Prior. 
Although Bummer! has not yet been able to perform for a live audience, social media has ensured that their music is reaching listeners, no matter where they are located. The lack of live performance opportunities is a drawback for the new band; however, Prior has been able to recognize some positive aspects to finding new musical beginnings in a time that live music has felt so distant.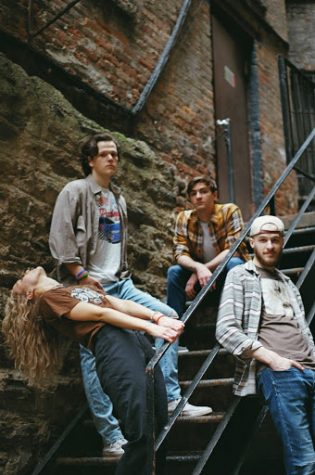 "My experience forming a band over quarantine worked a lot better than I intended it too. We have been stuck indoors for so long it gave us a lot of time to be creative and write, which was perfect for a band just starting up," she says.
As the group continues to traverse about their newly rooted foundation as a musical group, they look forward to the day that they can finally introduce themselves to humans' faces, rather than to a phone camera capturing a live stream or pre-recorded video to be posted. 
"We are all very excited to start up because we have been practicing for so long," says Prior. However, in the meantime, Bummer! is working on recording some songs to be released in the next couple of months. The band strives to reach audiences despite the inability to share their music in the same room. They hope to find small venues in the City at which they can one day perform.
Bummer!'s origin story sprinkles a bit of hope into a time in which music creation and performance has been temporarily barred. The group's continued aspirations and forward-looking energy provides a fiery inspiration for the music industry.