Spotlight On Rising Senior JK Larkin
Reading Time:
3
minutes
Meet JK Larkin, current junior at Marymount Manhattan and major in BFA acting with a concentration in directing with two minors in dance and drama therapy. While JK's go-getting personality and incredible aptitude for all things theatre arts is acknowledged by many, one of the things he is known best for is being a source of positivity, guidance and friendship for any new Marymount students seeking that. Juggling so many educational and work opportunities, JK always makes time to assist friends and Marymount students who ask for his help. JK is the kind of person you can walk up to in the library or the campus Starbucks and ask a question about Marymount or even just strike up a casual conversation, and that's what makes him many Marymount student's go-to person for advice.

JK wasn't always a social butterfly, though, but Marymount is where he was really able to spread his wings. He hopes that by being outgoing and reaching out to others, they'll reach out to more people as well, and the Marymount community will be strengthened through that.

"I didn't go to a high school that I felt very much accepted at or felt like I could really be myself at, and so I came to college and I came to a very new campus that was very open and accepting of everyone, I really wanted to make sure that I was a part of that. Coming to college made me feel the most myself that I had felt in my life, and I really love the idea of having the opportunity to be that catalyst for other people who are going through the same thing." 
While Marymount was JK's top choice college (and really his only choice – as soon as he got accepted into the acting program he canceled all his other applications) and he dreamed of coming here, he still struggled in the beginning, as everyone does. The best advice he ever received in college came during one of his loneliest moments at Marymount.

"There was one night that I was coming back from a party freshman year and I had never felt so completely alone in my life. I had sat down on Park Avenue and was crying for two hours before I even went back to the dorms because I felt so ostracized by the whole experience. When I got back to the dorms, I told Samuel about how cripplingly lonely I was feeling, and he put his hand on my knee and looked me in the eye and said 'even when you're feeling the most alone, the most frazzled, if you try your best to open your eyes to the people who are directly in front of you, and are as open and honest with yourself and with them as you can be, nine times out of ten they're not going to do anything but give you all the love you need.' That was really important to hear. Not everyone needs everyone, but everyone needs someone. Everyone has someone. as long as you have someone, they can be the catalyst for allowing you to feel connected to something else, and then that can be the catalyst for you feeling connected to what they're connected to, and it ends up spiderwebbing, And in a small community like Marymount, that spiderweb is really strong." 
The "spiderweb" statement JK makes about Marymount really rings true for his experiences, as for the experiences of many others. With a small population of around two thousand students, you'll always be able to find familiar faces, and if not, JK suggests reaching out to someone new. 
"What's so great about Marymount is that, speaking from my own experience, I have had a few days at Marymount where I'll get out of class and I won't see anyone I know. I'll walk through the library and sit down next to a new person and ask them a random question, and I think that because it's such a small campus, and there are so many amazing people who are also looking to make new connections, it's very easy to walk up to someone and say hi. Even in class, make sure that you're participating with the people around you because we're all here for the same reason, which is to grow and learn about ourselves."

With so much enthusiasm, school pride, and such an open heart, JK sets a wonderful example for Marymount students and really embraces the open, accepting feeling we all need to find here so we can grow and succeed together as a community.
Leave a Comment
About the Writer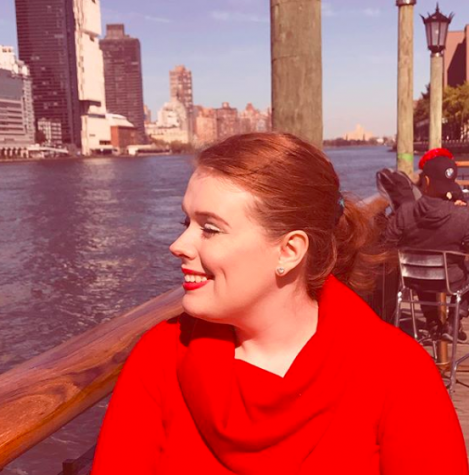 Meg Masseron, Features Editor