Can We Please Stop the Fake Arrest Trend on TikTok?
Reading Time:
2
minutes
Yet another trend is sweeping TikTok and this one will make you groan at not only how ignorant it is but also questioning why this became a trend in the first place. Another trend that is popular but many users are not particularly fond of and this is definitely one of them. 
TikTok is full of all different kinds of trends, trends that gain popularity overnight. Whether they are dancing trends to the latest hits or even popular movie trends were movies like Twilight get popular all over again after years of being out. One particular style of trend is where influencers try out their "acting" skills. 
Some influencers are fake getting arrested, turning it into another cringe-worthy thirst trap, getting popularized by white TikTokers. These "thirst trap" influencers create a wide range of videos trying to ultimately seduce whoever is watching their videos, usually putting out a POV video. Consisting of a short storyline that involves the viewer directly to encourage them to like and follow their accounts. POV and POV roleplay TikTok can range from things to lighthearted like being nervous about talking to your crush at school to some dark things like abuse roleplay. 
The trend is where the "actor(s)" come onto the screen being "pushed" into the wall like they are getting manhandled by the police. At the end of the video the "actor(s)" will look broken-hearted, mouthing "I love you" into the camera. While Rihanna's Diamonds is playing in the background, trying but utterly failing at convincing the viewer they cannot be with you because they are presumably going to jail. Giving the camera every smoldering look they can think of to make themselves look more "attractive."
Depending on what side of TikTok you are on, according to your for you page, these videos will pop up. Either from the creator themselves or people who mock and/or call out these TikTokers for their behavior. For instance, Luke Cook, an actor who played Lucifer in the Netflix TV series  Chilling Adventures of Sabrina actor Luke Cook. The first video Cook stitched was inspired by TommyKok. From then on he makes two other videos mocking how ridiculous these influencers are with this trend. 
https://www.tiktok.com/@thelukecook/video/7000768479297080581?is_copy_url=1&is_from_webapp=v1&lang=en
https://www.tiktok.com/@thelukecook/video/7000768479297080581?is_copy_url=1&is_from_webapp=v1&lang=en
These TikTokers are not taking into account the realness of how getting arrested actually is and just glamorizing police brutality, plain and simple. The comment section of said videos is filled with rightfully angry people from the Black community about how light these TikTokers take police brutality. Showing off not only the privilege they know they have with posting these videos but not being mindful of the Black community where there is hardly little to no justice or peace when it comes to the police. The very same police who are supposed to serve and protect every citizen. 
Since the original video was posted on August 19th with more than 600,000 views, there has been even more backlash. Even with all the backlash, there are no comments from the "thirst trap" influencers on the matter, but many are hoping this trend soon comes to an end and stays dead. 
Leave a Comment
About the Contributor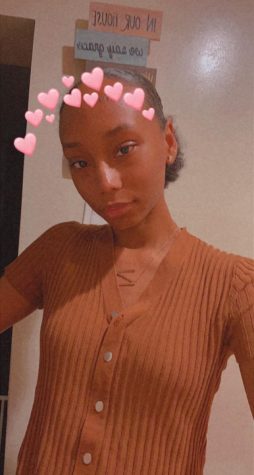 Najla Alexander, Crime Reporter/Features Editor
Najla Alexander is the Features Editor and Crime Reporter for The Monitor. She is Majoring in Digital Journalism and Minoring in Forensic Psychology. Her...