845 Days Later: Governor's Ball Returns to New York City
Reading Time:
4
minutes
While driving up the New Jersey Turnpike in 2014, my dad was tuning the car radio to find a bearable station to provide our soundtrack for the remainder of our trek to New York City. As he turned the knob, bringing in a tragic mixture of static and tacky classic rock, I shouted "STOP" upon hearing my favorite song from indie band Local Natives. I had never heard them on the radio before, so I immediately looked up the radio station's frequency number, just knowing they were hip. As the song faded out, the DJ began talking about New York's upcoming music festival, The Governor's Ball. I was enthralled… and I knew then and there that, when I moved to the city, I would attend Gov Ball. 
Flash forward five years and I am living in Manhattan, taking the city ferry to Randall's Island for Gov Ball 2019. 2019's lineup featured the 1975, Tyler the Creator, and Florence and the Machine, so it was of course an experience that inspired me to purchase tickets for 2020. Upon seeing that 2020's lineup featured Miley Cyrus, Stevie Nicks, and Tame Impala in just one of the three days, I pulled together my latest work paycheck and started planning a June excursion to Randall's Island. But as COVID-19 cases continued to rise in early summer of 2020, I watched as that paycheck came right back into my bank account after Gov Ball refunded everybody's tickets for the festival.
These memories flooded in as I stepped off the 7 train at CitiField for Gov Ball 2021. This year, the festival was pushed back to September (versus an early summer date). The check-in process involved a COVID vaccination or negative test check. Although slightly different than previous years, the New York City-born festival was back after 845 days, inducing excitement and passion for music lovers and performers alike.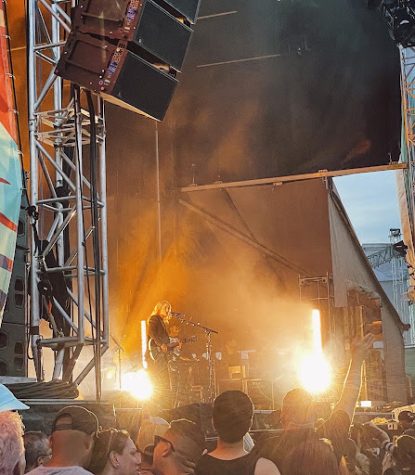 Although Gov Ball's change in venue from Randall's Island to CitiField meant no sun-flooded grassy hills and peaking view of the Manhattan skyline, the festival still maintained a deep-running New York feel. Performances on the main stage were garnished with the 7 train's above-ground tracks in the background and a look to your left while seeing a show at the Bacardi Stage shoved the Met's home field in your face. The sunset behind the VIP tent ensured wispy pink clouds across the entire sky during early evening performances. Also, placement within Queens meant for music easier transportation to and from the event.
My personal favorite sets were Baltimore-based synthpop band Future Islands and soul singer Leon Bridges (both on Friday). Future Islands lead singer Samuel T. Herring is a true performer. His incorporation of screamo-esque elements and his interpretively groovy dance moves are truly unforgettable in a live setting. The festival energy added so much to the avant-garde performance. Future Island's upbeat pop sound ensured that the audience could dance to every song performed, which of course adds to the countless memories of the experience. And to top it all off, Herring shocked the crowd after letting us know that the band's drummer, Michael Lowry, had tested positive for COVID just six days before the show. However, one of the band's crew members, Matt Ricchini stepped in seamlessly and gave an amazing performance. Rolling Stone's Sarah Grant noted in a recent Governor's Ball recap article that "Ricchini hadn't played drums in a live band in about a decade, but he'd toured with the Baltimore group enough that he knew the songs by ear".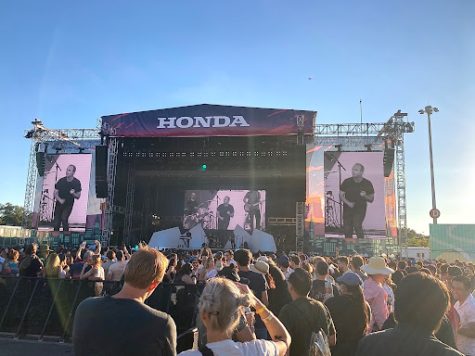 Leon Bridges' set included soul, groove, and passion. His phenomenally rich vocals translated beautifully in a live setting. The 4:00pm sun glowed upon the stage as he performed iconically smooth dance moves. His backup vocalist, Brittni Jessie, wore a silver sequined matching top and pants set and she quite literally sparkled in the sunlight, especially during her memorable solo moments. Bridges' set closed with a duet performance of his hit song, "River", for which Jessie provided beautifully clear and flowing vocal details.
In terms of COVID safety, the outdoor festival did include protocols that added extra comfort. The vaccination card or negative COVID test check occurred prior to the wristband scanning. After the COVID-related information was confirmed with photo identification, attendees were provided with a yellow wristband that could not be removed by hand. 
"That made me feel pretty good safety wise, but it was definitely a huge crowd. If it wasn't outside I may have felt uneasy, but I was able to get a comfortable distance from the crowds when I wasn't in the pit for the sets I watched," says Bee Kelly, Marymount Manhattan College senior and live music lover.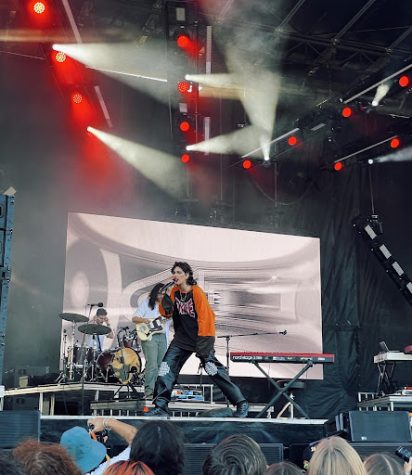 Governor Ball's return to New York was a significant moment for the city's arts and culture sector. After the festival's cancellation in 2020, the return of the iconic summer event was smooth, successful, and a stellar display of some of today's top musicians.
Leave a Comment