Why are books still being banned?
10 Books That Have Been Banned This Year
Reading Time:
5
minutes
The fight over banned books in school has been an ongoing conversation for years, and once again, it's one of the largest conversations amongst scholars and educators. Books on race, gender, and sexuality are disappearing from school shelves, along with books about coming of age and dealing with real-world issues like depression, gender politics, racial injustice. Even books about history, like the Holocaust and slavery are being called out.
Since 2000, when the US publication of Harry Potter and the Sorcerer's Stone was first released, the idea of censorship in schools has completely shifted. According to the American Library Association (ALA), the most common arguments in challenges prior to 1999 were about sexual content or obscene language, but the Harry Potter books raised a new list of concerns among Christian parents who believed the books were glorifying witchcraft. Since then we've seen an influx of challenged books that rely less on language and more on "woke-ness." School boards, superintendents, principals, and teachers are already facing questions about critical race theory and teaching gender and sexuality in schools There are significant disagreements even among experts about its precise definition as well as how its tenets should inform K-12 policy and practice. 
According to a new American Library Association report, there were 330 "book challenges" in the fall of 2021, an uptick from the same periods in recent years. "Parents, activists, school board officials and lawmakers around the country are challenging books at a pace not seen in decades," the New York Times reported last month.
Book banning is the most widespread form of censorship in the United States, with children's literature being the primary target. These protests against progressive stories in classrooms pose a threat to free thinking and stop readers from defining their own values and opinions of its content.
Listed below are 10 books that have been banned in recent years. When it comes to the books on this list and the hundreds that aren't mentioned, it's important to note who wrote the books, why they wrote them, and who's fighting against them. So many of these stories offer families a chance to celebrate reading and promote open access to ideas. 
       1. All Boys Aren't Blue by George Matthew Johnson
According to MSNBC, LGBTQIA books are being banned at an alarming rate. The school district's erratic attempt at getting this book off the shelf makes it all the more important to read.  From the memories of getting his teeth kicked out by bullies at age five, to flea marketing with his loving grandmother, to his first sexual relationships, this young-adult memoir weaves together the trials and triumphs faced by Black queer boys.
     2. Monday's Not Coming by Tiffany D. Jackson
Monday's Not Coming is yet another on a long list of books by Black authors that are being challenged or outright banned by parents because of Critical Race Theory. Critical race theory is an academic concept that is more than 40 years old. The core idea is that race is a social construct and that racism is not merely the product of individual bias or prejudice, but also something embedded in legal systems and policies. The YA novel centers around the mysterious disappearance of Monday and her best friend's desperate attempts to find out what happened to her. Jackson wrote it to shine a light on missing Black children.
      3. The Hate U Give by Angie Thomas
Thomas' YA novel The Hate You Give made headlines when a school in Illinois yanked it from classrooms for "profanity." It's not the first time Thomas' novel was challenged, just as her other novels including Concrete Rose and On The Come Up have also been challenged. Inspired by the Black Lives Matter movement, when the main character Starr witnesses the police shoot her unarmed best friend, the careful balance of her world shatters and everything comes crashing down around her.
       4. The Poet X by Elizabeth Acevedo
This is the debut novel of renowned slam poet Elizabeth Acedevo in which a young girl in Harlem, Xiomara Baptista, feels unheard and unable to hide in her Harlem neighborhood but everything changes when she discovers slam poetry as a way to understand her mother's religion and her own relationship to the world. In a failed North Caroline lawsuit, John and Robin Coble argued that The Poet X offends their religious beliefs due to its "promotion of an alternative path to liberation and meaning [in life]." They argued that, because this book offers an alternative to traditional Christian values, and because the protagonist questions her Christian faith, the book should not be allowed to be taught.
       5. I Know Why the Caged Bird Sings by Maya Angelou
Despite spending two years on the New York Times paperback bestseller list and being nominated for a National Book Award, I Know Why the Caged Bird Sings is one of the most banned in America for its language and portrayals of violence, racism, sexuality, childhood rape, and teen pregnancy. After the 1969 autobiography describing the young and early years of American writer and poet Maya Angelou was approved for public school curriculum in the early 1980s, Angelou's book faced its first challenge just a few years later. In 1983, it was banned because the Alabama State Textbook Committee determined it incited "bitterness and hatred toward white people.
      6. The Handmaid's Tale by Margaret Atwood
Atwood's popular dystopian story turns the United States into a Christian theocracy called Gilead, where fertile women are stripped of their name and impregnated against their will. Overall, the story is a response to oppressive, totalitarian, and religious governments and their control over women's bodies. Its sexual violence and criticism of religion have made it ripe for challenges in schools. The original book, its adaptation into a graphic novel, and its sequel, The Testaments, were pulled from circulation, then quickly restored, in a Kansas school district in November.
      7. Speak by Laurie Halse Anderson
Speak, published in 1999, is a young adult novel by Laurie Halse Anderson that tells the story of high school freshman Melinda Sordino. After a sexual assault ends up in her busting the end of a summer party, Melinda is ostracized by her peers because she will not say why she called the police. Parents of Republic School District were cautioned by assistant professor of management at Missouri State University that the book was "soft-pornography" and "glorifies drinking, cursing, and premarital sex," as well as teaching principles contrary to the Bible, its hidden political agenda, and being biased against men.
      8. Are You There God? It's Me, Margaret by Judy Blume
It follows a sixth-grade girl who has grown up without a religious affiliation due to her parents' interfaith marriage. The novel explores her quest in search of a single religion, while confronting typical issues faced by early adolescent girls going through puberty, such as buying her first bra, having her first period, and experiencing sexual and romantic attraction. The novel has been frequently challenged since the 1970s for its frank discussion of sexual and religious topics.
       9. To Kill a Mockingbird by Harper Lee
Lee's 1960 novel about a white lawyer defending a Black man falsely accused of rape in a segregated Alabama town won the Pulitzer Prize and was adapted into an Oscar-winning film. The novel, long used in classrooms as a parable about American racism, has faced various controversies over the decades. Recently, it was removed from a Washington State school district's required-reading list as well as many other schools for its racial slurs and the perception of Atticus Finch as a white savior.
       10. The Bluest Eye by Toni Morrison
Morrison's first novel, The Bluest Eye, has shown up multiple times on the American Library Association's annual list of challenged books. The classic, which kicked off Morrison's Nobel Prize–winning career, follows Pecola Breedlove, a Black girl with a tragic family history and a deep desire to have blue eyes. In January, The Bluest Eye was removed from a Missouri school district's libraries to keep children away from painful scenes of sexual abuse and incest—which in Morrison's hands become illustrations of the insidious psychological damage that racism deals to her characters.
For more information on banned books, go to The Banned Books Project. This directory of banned books is a public scholarship project by students at Carnegie Mellon University. In honor of the American Library Association's annual Banned Books Week, each student in CMU English's Banned Books course has selected a banned and/or challenged book to profile. These profiles provide readers with information about the books, their authors, and their histories of controversy and censorship.
Leave a Comment
About the Contributor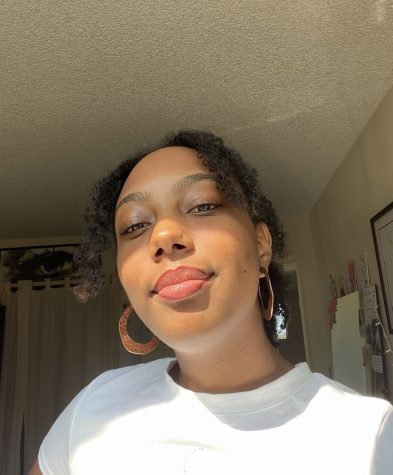 Rayiah Ross, Social Media Manager
Rayiah Ross is a senior majoring in digital journalism and minoring in creative writing. She has a focus on cultural criticism and social commentary.