Is the Citizen App Fueling Vigilantism in New York City?
Reading Time:
3
minutes
If you live in New York, then you know about the Citizen app, and you know even if their intention was in the right place, this app is scaring the heck out of people. Especially for students living alone in the city for the first time, school on top of getting alerts 24/7 is a big load to carry. 
The Citizen app was supposed to be originally going to be called Vigilante and was created by Frame who is not only the CEO but the co-founder of the app. Frame was a high dropout who as a minor hacked into NASA computer systems then later did his groundwork working for Facebook doing networking architecture swiftly avoiding any and all jail time due to him being a minor at the time, in accordance with his profile in Forbes Magazine. In 2016, Citizen was created by the company upon further reconsideration they tried to steer clear of turning an app into someone's own personal vigilante job but failed miserably. Despite trying to steer away from that aspect there have been numerous reports of people doing just that. 
The mission behind Citizen is to ensure everyone is able to know what is happening in their neighborhoods and their communities so that they too can help each other out in emergency situations. The app captures and puts out real-time crimes from reliable sources like local enforcement where even residents could live broadcast from scenes of car wrecks, fires, etc. Presenting any and all relevant information to the people in localized forms. 
You constantly get alerts from subway crimes either near you or far away from you to weird outlandish crimes like someone throwing fruit at people randomly. Citizen App is a good app to alert you of any crime that could be happening near you, but it is also turning people into vigilantes. Yes, you heard that right, vigilantes. People go out of their way to try and stop crime from the many alerts they are getting from the Citizen app in their area. In accordance with Justin Brannan, BuzzFeed Contributor, where he states, "Information might be power, but living in a constant state of unfounded anxiety and fear is anything but. Hypervigilance is a real thing, and it's not healthy." He believes the Citizen app is doing more damage than it was put out there to do and doesn't want the public to experience any more fear or anxiety than they already do in this big city. 
Lilly Irani, a communication professor at the University of California, San Diego, said in an NBC News interview, "…apps like Citizen may encourage people to think they're solving society's problems when, in fact, their online browsing and posting may be a distraction from getting involved in tangible solutions." Where crimes may be posted on the app, solutions to rising crime rates are not getting solved, but in the first month of the new year crime rates went up. "Overall, crime in New York City saw a 38.5% increase with 9,566 reported crimes compared to January 2021, which had 6,905 reported crimes. According to the statistics, every major crime saw an increase this past January," AMNY stated. 
We are in the day of age where we are constantly consuming new information all the time in order to keep up with what is happening in the world, trying to decipher from what we are consuming is true or not. Being that most of the information we consume on a daily basis is crime while also having an app deliver constant alerts to our phone we assume what we are hearing about is most likely true. Feeding into that fear and anxiety, the Citizen app is supposed to take away when you do not know which crime alerts to be believed as true or not. 
Leave a Comment
About the Contributor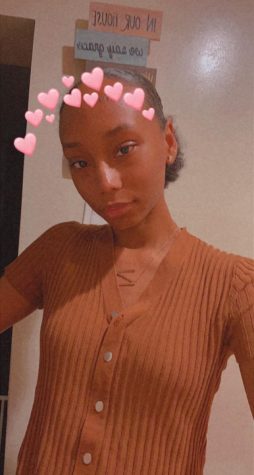 Najla Alexander, Crime Reporter/Features Editor
Najla Alexander is the Features Editor and Crime Reporter for The Monitor. She is Majoring in Digital Journalism and Minoring in Forensic Psychology. Her...