Times Square Arts' Midnight Moment
Reading Time:
2
minutes
From February 1st to the 28th, Times Square Arts presented Continuum, a slow gradient synchronized multi-color scheme changing light show that spanned across 90 billboards within the square. Once the large countdown across the billboards started at 11:57 PM, people either there on a whim, or specifically to witness the show, experienced a mirage of colors meant to create a brief moment of peace amidst one of the most vibrant and kinetic places in the world until 12:00 AM. Created by artist Krista Kim, her goal of this digital reflection was to create a communal space within these trying times of being in a pandemic that has disrupted practically every aspect of our lives, for all those to witness it to decompress and find stillness among the chaos. Kim drew from the technology of our time to create this display, with a massive database of LED light photography, photoshop, binary code and dynamic software along with leading digital printers and progressive engineers to produce her vibrant color scapes. 
Kim is a contemporary artist and is known as the founder of the Techism movement in 2014. Her work specifically explores the concept of digital consciousness, and her interest in digital technology and its revolutionary effects on human perception, media, social structures, and communication had led her to work in both digital and physical mediums. Using digital software to provide meditative experiences of color and light, Kim has developed her signature language of shifting gradients since 2012. Her influences span from artists such as Rothko, Duchamp, and James Turrell, and her overall goal as an artist is to express complete digital consciousness as well as to shift viewers to the awareness of truth being behind our digital age that can ultimately result in something beautiful.
My sister and I went on February 26th to witness the magic, and now after having seen it, that's exactly what I can describe it as, magic. It was so peaceful and calming as the colors alternated and changed, fading into a new serene gradient. The 3 minutes that it was happening went by quickly, but it was such a calming little chunk of time and I am so glad I went before the display ended. 
Leave a Comment
About the Contributor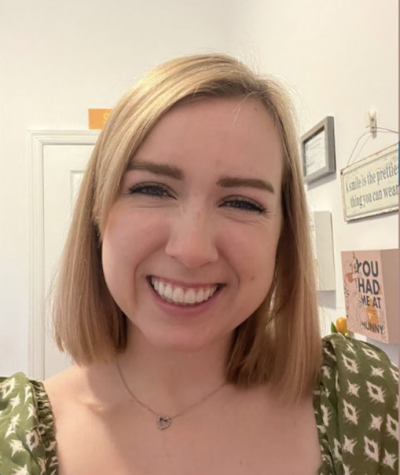 Gabrielle Fiorella, Editor in Chief
My name is Gabrielle Fiorella. I am a senior double majoring in Digital Journalism and Cinema, Television and Emerging Media with a minor in International...