Katelyn Hannan: Behind 99 Angels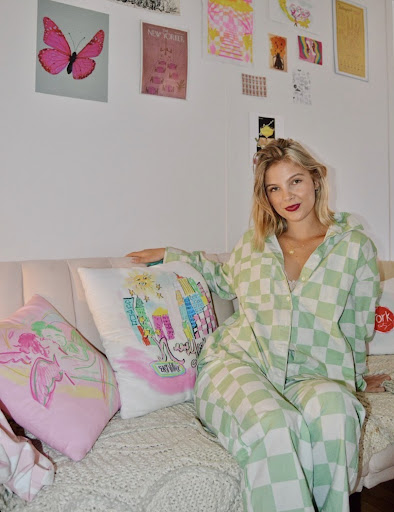 Reading Time:
4
minutes
Passion, drive, dedication, and work ethic. Qualities of any successful business owner. The years that go into cultivating a company and brand identity require a strenuous schedule that calls for all the qualities working overtime. An 18-year-old student, new to New York City, took her drive and ambitions to the next level in creating the business she was passionate about through the opportunities presented in what we know as the greatest city in the world. 
The fashion and design industry in New York City is a thriving and incredibly competitive field to make a name in. It seems like new names and stores are popping up on street corners from Brooklyn to the Upper West Side, and beyond. With the past two years creating unprecedented challenges for the owners of these typically small, women-owned businesses, it became more important than ever to use the tools at hand to come out on the other side. 
For a young businesswoman with the motivation to take her vision and make it a reality, the challenge is exactly what set her up for success. Katelyn Hannan, 22, got her start at the age of 18 with her brand aptly named "Daisies Denim." As any young professional trying to get recognition, Hannan describes the trials and errors of going to pitch her art and designs at local businesses, and the many personalities she encountered along the way in this tough industry, "some people were really nice, but I remember one lady was like, and why should I pick you? And I had to prove myself without any standing in the industry." The customized denim pieces were enough to catch the eye of the launch party planners for a major big-box store. At the launch party in Brooklyn, Katelyn customized denim pieces such as jackets and jeans with her unique designs. Hannan was able to get her start in the exciting world of fashion in the city. As a freshman in college, this was just the start of what was beginning. 
"Daisies Denim," soon moved over to "99 Angels," a creative and colorful line with freedom of self-expression at the forefront. The incredible designs and innovative styles are key factors in the brand identity. "My business is inspired by being able to be comfy and colorful. In the city, we are doing millions of activities throughout the day and it is important we have a wardrobe that matches that!" Products like the elevated pajamas give just that, the comfy and colorful style that is perfect for the hustle and bustle of New York, the checkered set gets a notable mention from Hannan herself. This journey has allowed Hannan to meet and interact with the people who buy her clothes, noting the most rewarding part is making people feel confident in her designs. 
Studying Graphic Design and Business at Marymount Manhattan College gives Hannan the flexibility to work on her business endeavors. Being a student in New York City has allowed her to get into pop-up events and local retail. Throughout the past two years, the in-person retail shopping experience has certainly experienced some stress. Last summer when in-person activities started to make a return, a retail space called the Canal Street Market was in need of vendors to bring life, and shoppers back in the doors. Hannan could not pass up on the opportunity causing her to drop everything and make it happen, "I remember I was away on vacation, so I didn't really have everything set up, I had like eight sweatshirts or something, and the whole time I was freaking out." The support around Hannan told her to focus on the experience and use it as a learning experience to see what people gravitate towards. To no surprise of anyone besides Katelyn, she was able to make a full day of sales in just two hours, "I remember I just couldn't even sleep that night, I was just so excited to go back the next day." For Hannan, and "99 Angels," this was just another factor in the new success she was experiencing. 
With the rise of social media like Tik Tok, over the course of the pandemic, the platform has become a powerful tool for companies to get the word out about existing and upcoming news. Hannan says the Tik Tok page is a work in progress, but there was one notable moment that was a special occurrence for the company. "The first week I did our launch at the pop-up, I kept posting about the pop-up party and the videos kept getting 10,000 views on each one I would post." The party continued to break a record for that store, bringing over 300 people to the Galentine's day party. They gave away gift bags and had food and drinks, creating a big community. " A lot of the girls who ended up coming had just moved here and wanted to meet friends, so it was much deeper than just coming to shop." The power of the community that can be created through a simple 15-second video is a strong tool to have in any business owner's back pocket, so while Hannan still says it is a work in progress, the magic is in the message, and the message of community is a strong one. 
Moving forward, Hannan is continuing her work on expanding "99 Angels." and continuing with pop-up experiences, with the goal of collaborating with bigger retail names because as opposed to what others may think, Hannan believes in retail and not the notion "retail is dead." Another project Hannan is working on is a podcast called "Now What?" The podcast follows Katelyn and her friend Gigi as they take on New York City as twenty-somethings. Both women are young entrepreneurs with the goal of helping other young people navigate the importance of living a life that you don't feel like you need a vacation from. Hannan shared some tips for starting out on any new entrepreneurial journey, "you just have to be a tiny bit fearless, and just take the plunge." Going for your dreams and goals can be helped by journaling and writing all the ambitions you have and just putting it out in the world by sharing ideas and creating an Instagram. Hannan emphasizes the importance of cultivating your creativity into a reality, and she is more than willing to hear about them through DM on Instagram. Looking on to the future, Hannan is set up for continuous growth through the tools she has at her ready to keep growing and adding building blocks onto not only the clothing brand but the lifestyle she has made that she doesn't need a vacation from. "99 Angels," and Katelyn Hannan are soaring off into a future of success, and for any young business owner, isn't that the dream?
View Comments(1)
About the Contributor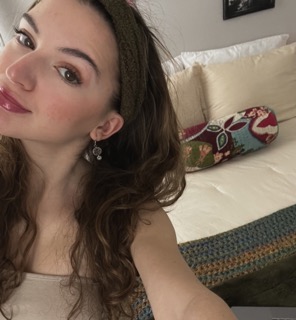 Elliott Case, Editor in Chief
I'm Elle Case, the Editor in Chief here at the monitor! I am studying Journalism and Communications and can't wait to see where this year takes us....