Subway Safety in the Era of ACAB
Student Feelings are Mixed Towards Mayor Adams' Crime Reduction Efforts
Reading Time:
2
minutes
After a string of subway felony assaults and murder, Mayor Eric Adams' Subway Safety Plan is officially underway. 
The disturbing and random nature of these attacks has put a national spotlight on unprovoked assaults in subway stations throughout the city: Michelle Go was killed at Times Sq 42nd St, a woman's face had feces smeared on it by a random passerby, and there was an unprovoked slashing on March 16 at 168 St Washington Heights station. 
These crimes all occurred before 7 p.m., challenging the narrative that subway attacks occur late at night when there are fewer police and witnesses.
467 instances of transit crime have been reported to the NYPD so far this year, an 80.3 % increase compared to this point in 2021.
 This increase impacts all New Yorkers, but this is particularly so for the city's student population, many of whom use the train system to attend class, commute to their workplaces and travel to the nightlife, entertainment, and dining venues that attract so many young people to the city. 
"Actually, last month this lady got robbed in front of me," says Alesia Singh, a Biology student at Marymount Manhattan College (MMC) and Jamaica, Queens native. When asked about Mayor Adams' plan to increase police presence at train stations, she expressed skepticism: "having more police on the train…people are going to [act wild] regardless." 
Singh, like many other local students, has noticed the rise in crime. When asked what would get her to stop taking the subway altogether, she says "the day I see someone die in front of me is the day I start taking the bus." 
One station is central to many students in the city: 14 St. Union Sq, in part due to its proximity to NYU, the New School, St. John University's Manhattan campus, Cooper Union and MMC's Cooper Square residence hall. 
After a March 8 attack, where a man was forcibly hit in the head with a hammer near the turnstiles of the 1/2/3 line, students from a multitude of backgrounds expressed concern and skepticism. 
Lucy Connon, a sophomore at the New School studying fashion marketing, is "sort of hopeful that there will be less violence" when asked about Adams' plan, but also doubts if "the police will do anything about it."
But there are also students like Kevin Grill, a Black acting major at NYU who believes "police presence at the stations will just make for a more dangerous environment. I'm already worried about being attacked by other passengers, but the police usually target me." 
Currently, concerned citizens are directed to reach out to Neighborhood Coordination Officers (NCOs), transit police designated to address "ongoing crime" at stations located within their assigned district and sector, as per the NYPD Transit Bureau's website. 
When asked about plans to increase police presence in District Four, Sector B stations, which encompass 14 St. Union Square station, the two designated NCOs, Officers Katherine Triunfel and Hector Rosado, declined to comment. 
After multiple requests for comment from the Deputy Commissioner Public Information Office, they declined to comment. 
Leave a Comment
About the Contributor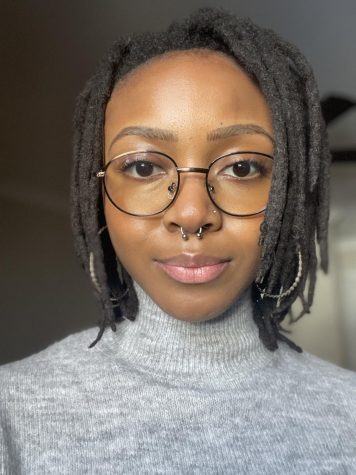 Monica Joseph, Head Copy Editor
Monica Joseph is a senior and Digital Journalism Student here at Marymount Manhattan College. She is from Maryland and is passionate about politics, art...