Nicki Minaj Calls out Fashion Industry
Reading Time:
2
minutes
The music industry is a very male-dominated industry, but Black female artists like Lil' Kim, Nicki Minaj, Cardi B, Megan Thee Stallion, and Doja Cat proved that it is not male-dominated anymore but females have many more hurdles to constantly jump through. One of them being that they are also Black artists in an industry that doesn't recognize the influence they have on society, and the clear influence they have on beauty and fashion are ignored or even ridiculed for being so "out there". They still do not see recognition for popularizing things like hairstyles and then see white artists being credited for those same hairstyles that appear on the covers of magazines. These artists are ultimately ridiculed for and not recognized for starting those hairstyles. 
Nicki Minaj is known in the rap industry for being a prominent Black-female rapper whose style is nothing short of color, especially when it comes to her hair and show stopping outfits. The bright pink bangs is one never could forget first seeing on Nicki Minaj. Minaj introduced and popularized not only beauty trends, but fashion trends as well. In an interview with Joe Budden she goes on to explain how her influence and one's before her much Lil' Kim are not credited for their beauty and fashion influences like how most white popular artists are. White artists are being praised for having trendsetting colored hair by being on the cover of American Vogue much like Billie Eilish being known for her neon green stripe with jet black hair and Lady Gaga but Black artists like Nicki Minaj and even Lil' Kim never get recognition for being the ones to help popularize such a trend. 
Minaj stated in the interview in 21 Ninety, "This is why you have to mention it, y'all… It's because when we don't mention it, we are erased from those things. They act like it didn't happen. And therefore they can continue to minimize our influence." No matter how much Minaj or any other Black-female artist has influence for popularizing fashion and beauty trends their accomplishments are not credited.
Black women are criticized for how they choose to wear their hair whether it be natural or not with or without color, every decision is ridiculed but white women are praised for being bold with choosing how to do their hair. Recognized for contributing to popularizing hairstyles started by Black women because it is seen as "ugly" to have styles like bold and bright color in our society. Due to that, Black women are not credited for the accomplishments and influence they have in the industry and are almost forgotten from history because no one talks about it. No one calls attention to the importance of knowing that these trends are started by prominent Black women in the music industry, but Nicki Minaj did because she, along with many are tired of how hard they worked for their name to be known and still not be recognized for their accomplishments. 
Leave a Comment
About the Contributor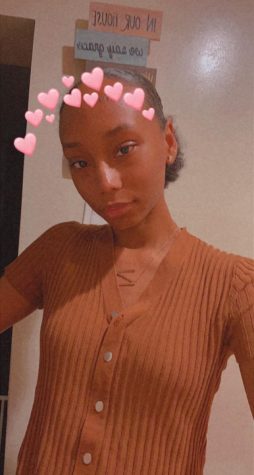 Najla Alexander, Crime Reporter/Features Editor
Najla Alexander is the Features Editor and Crime Reporter for The Monitor. She is Majoring in Digital Journalism and Minoring in Forensic Psychology. Her...