Inside the Fight to Unionize Amazon
Amazon Labor Union builds community coalition to organize retail giant in Staten Island
Reading Time:
4
minutes
The only way to defeat Jeff Bezos and the goliath that is Amazon, which now touches almost every part of our lives, will be the collective energy of many progressive organizations, a modern-day popular front effort.
-Justine Medina
The room shifted from a murmur to eager applause as Justine Medina and Tristian Martinez entered the room. Attendees of Structure & Test Workers' Power, Lessons from the ALU Organizing Campaign, a panel discussion in the ornate Regina Peruggi room of Marymount Manhattan College (MMC), listened intently to the young activists discussing their roles in the formation of the Amazon Labor Union (ALU), the first of its kind in the corporation's history. The ALU victory at the Staten Island warehouse JFK8 had received global media attention throughout the previous week; people nationwide cheered the defeat of the corporation's attempts to stop unionizing efforts. In the weeks following the March 31 vote, efforts to quell the spread of ALU throughout other warehouses have become more stringent and strategic. Throughout the ALU, organizers acknowledge they have just begun an uncharted battle over the right to bargain with one of the largest corporations of all time.
Amazon has a history of being one of the most demanding workplaces in the country. Employees must meet breakneck quotas without periodic rest, warehouse management pushes workers through various safety violations, and every moment of workers' demanding schedules is surveilled and logged, making mistakes, fluctuations in productivity, and behavior the company doesn't like fire-able offenses.
The treatment of employees like numbers and robots instead of people drives the ALU. On March 30, 2020, as concerns over COVID-19 spread within communities of essential workers, a group of Amazon employees, including current ALU President Chris Smalls and organizer Tristian Martinez, helped stage a walkout demonstration at the JFK8 warehouse. The demonstration received national media coverage as an example of workers' advocating for better safety precautions in the unpredictable phase of an early epidemic. Later that afternoon, Smalls received a text from the company that he was terminated. 
Less than a week later notes taken during an internal Amazon meeting attended by Jeff Bezos reveal the corporations' agreement to respond to claims of retaliation by downplaying worker efforts to unionize Amazon by painting Smalls as "the face of the entire union/organizing movement" and his conduct as "immoral, unacceptable, and arguably illegal."
But painting Chris to be the unequivocal leader of the movement turned out in the ALU's favor. By targeting an individual as the movement's leader, attention was diverted from necessary collation-building characterizing labor politics. According to Martinez, other ALU members could give Smalls "our sides, our efforts, our ideas so it could seem it was all coming from him."
After attempts to malign the union's lead organizer, reliance on daily anti-union meetings for JFK8 employees, and $4.3 million in spending on anti-union consultants and warehouse infiltrators that spearheaded a "Be in the No" campaign despite being paid six-figure salaries, Amazon is intensifying its efforts to stop the ALU. On April 8, they submitted a petition to the National Labor Relations Board (NLRB) to overturn the election results, claiming ALU intimidation and the NLRB running an election favoring the union. In The New York Times obtained report, the NLRB's response to worker complaints against Amazon radicalized workers against them. 
However, calls for worker protections have been rallied for years and have only intensified in response to well-publicized abuses. In 2018, Amazon truckers were found peeing in bottles (and pooping in bags) to meet fulfillment quotas. Rather than reconsider the quotas preventing drivers from using the bathroom, Amazon issued write-ups for the "health violation." Six employees died at the DL14 warehouse in Evansville, IL after the roof collapsed during a severe tornado. According to a report analyzing OSHA data conducted by the Strategic Organizing Center, serious injuries in Amazon warehouses occur twice as frequently than in non-Amazon warehouses, amounting to 40,000 injuries in 2021, or 6.8 out of every 100 workers. 
Despite glaring safety issues throughout Amazon warehouses nationwide, the corporation is doubling down on its union-busting efforts. These efforts' focus is the second Staten Island warehouse to vote for ALU membership, LDJ5. 
According to reports from Vice News, Amazon has outsourced the full-time union-busters from JFK8 to LDJ5. The right to advocate for the union during the workday, which was protected during previous unionizing efforts, has been violated at LDJ5, despite a December 2021 agreement with the NLRB to alert all Amazon employees of their right to do so. Madeline Wesley, ALU treasurer, and LDJ5 employee, in an April 8 ALU press conference characterized the fight inside the warehouse as "war." 
Justine Medina seconds this sentiment. "We faced every single classic anti-union tactic in the playbook," said the ALU organizer and MMC alumna. When asked if she ever considered stepping away from organizing in such an anti-union environment, compounded by JFK8's unsafe, taxing, intimidation-dependent workplace, she said "there are definitely nights I cried myself to sleep" with a chuckle. 
"But that happens with any big endeavor you're doing, where you have these fears and moments of doubt, where it's so easy to get caught up in, you know, 'I can't do this.'" According to Medina, it was the support from the ALU coalition that kept her going.   
It's the all-encompassing belief in worker solidarity, interdependence, and compassion that makes ALU a buzzworthy human-interest story: a small group of workers risking their jobs to speak out, recruiting and sharing strategy through Telegram and Whatsapp chats, the 2,654 LDJ5 workers and 875 BHM1 workers that voted in favor of unionization. But now, for the ALU to maintain momentum and reach contract renegotiations on behalf of Amazon workers nationwide, they must build and sustain a larger coalition. 
So far, their coalition comprises a large group of supporters, volunteers, and organizers, which includes MMC students and ALU phone bankers Stella Georgian, Sofija Kac, and Maggie Weeks, members of the New York Young Communist League, the 50 other Amazon workhouses and Starbucks locations that have reached out to ALU for organizing advice. But to stand a chance against the $1.56 trillion behemoth, the ALU needs to rally a sizeable portion of Amazon's 1.6 million global employees. 
This may prove difficult at LDJ5 alone, with its easier work (sorting instead of fulfillment) and shorter hours. Employees can be indifferent, or hyperloyal in the hopes of gaining a promotion or some elusive sense of job security. 
"Just because you spoke to one person and they seemed very optimistic at one time doesn't mean that that's a definite yes," said Martinez. It seems the people worldwide are watching and rooting for more definite yesses. We don't know how protracted the battle for these votes will be, but knowing Amazon's autocratic omnificence, they'll be waging a war of attrition.
Leave a Comment
About the Contributor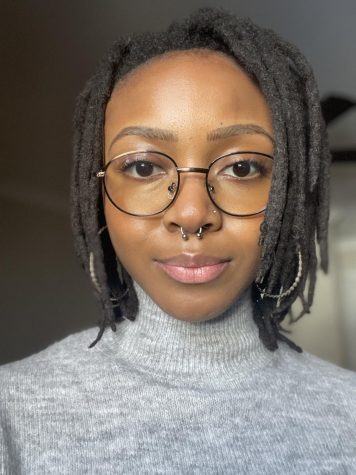 Monica Joseph, Head Copy Editor
Monica Joseph is a senior and Digital Journalism Student here at Marymount Manhattan College. She is from Maryland and is passionate about politics, art...