Can We Trust Live TV Anymore?
Reading Time:
3
minutes
The 2022 Oscars left viewers stunned and Twitter buzzing after Will Smith ran on stage and slapped Chris Rock for making a joke about his wife Jada Pinkett Smith. The joke in question compared Pinkett Smith to G.I. Jane because of her shaved head, a result of alopecia, a disease that causes hair loss. At first, Smith seemed amused until he saw his wife's reaction and ran onto the stage to confront Rock. He then screamed, "Keep my wife's name out your fucking mouth!" 
Not long after, Will Smith went on to win best actor for the film King Richard, where he played Venus and Serena Williams' father. In his speech, he apologized to the academy yet left out one person in this apology, Chris Rock. He later issued an apology in an Instagram post, writing, "I am embarrassed and my actions were not indicative of the man I want to be. There is no place for violence in a world of love and kindness." On April 8th the Academy put out an official statement banning Will Smith from attending Oscars events for 10 years. 
The incident sparked many debates, as people wondered if the confrontation was a publicity stunt or Smith's genuine reaction. Fans defended Smith, saying the joke was offensive and in bad taste as Pinkett Smith has publicly struggled with her alopecia diagnosis. Others condemned Smith, saying violence, especially on live television, is wrong and uncalled for. 
This is not the first incident at the Oscars that has left viewers questioning the program, when Eminem gave a surprise performance at the 2020 Oscars 17 years after his hit song "Lose Yourself" won an Oscar. Another shocking moment was in 2013 when Jennifer Lawrence tripped on stage as she was accepting the award for best actress for her role in "Silver Linings Playbook". These events both had viewers talking about the Oscars for days, and the award show has grown a reputation for giving entertainment greater than the films themselves. 
When unexpected events such as these happen… It makes us wonder how honest these shows are about what is truly alive. While we know they have scripts written for the hosts and announcers, when the moment comes is it truly planned out or do things just spontaneously happen? 
Reality shows are a great example, as they are marketed as real life but can be deceitful. Many reality shows like "Keeping up with the Kardashians" "Love it or List it" and "16 and Pregnant" are known for faking scenarios and reshooting scenes to create a more entertaining storyline. While the logistics of shooting a reality show are questionable, does this make the shows dishonest? Who is to say what is ethical in these scenarios? 
When watching one of my favorite shows "House Hunters" I have to remind myself of what I know to be true, the couple has already bought a house and the show has staged the walkthroughs of that house and two other randomly selected homes. There is nothing genuine about their decision between the three houses, yet I watch because I become invested in their search for the perfect property. Having this knowledge does not take away from the show, just allows me to distance myself from the footage.
In an age where entertainment controls such a large industry, it is understandable that they work to make "reality" shows more entertaining. When we view these live performances and award shows, we forget about the work that goes into the planning of these events. The scripts and rehearsals may seem ingenuine, yet they may be necessary to have a successful event. 
When things like these go awry our first instinct is to think that they are staged, a publicity stunt to gain more traction with viewers. I think the only way to watch live television is with the perspective that nothing is as real as they want us to think. Is it unethical to be facetious about reality? Maybe, and these shows should make this information more accessible to their audience in order to protect us. But we as viewers also need to be more informed about what we are watching to better differentiate reality from fiction.
Leave a Comment
About the Contributor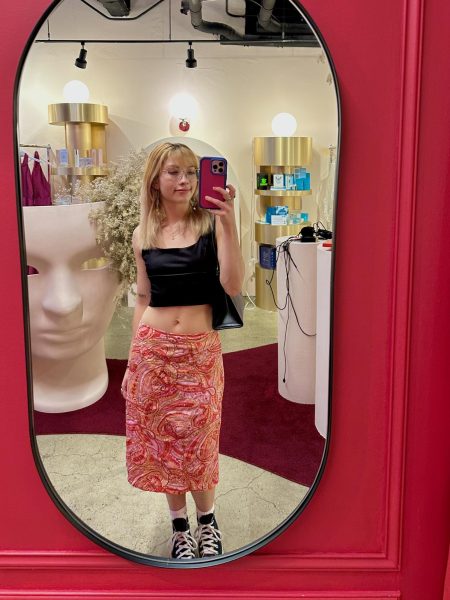 Francesca Crumpton, Digital Managing Editor
Francesca Crumpton is a Senior at Marymount Manhattan College studying Digital Journalism with a minor in Political Science. She specializes in writing...