Brooklyn NYC Subway Shooting
Reading Time:
3
minutes
Tuesday morning on April 12th, riders of a subway stopped at 36th station in Brooklyn had no idea the tragedy they were about to endure. Frank James, a man arrested for a connection to the shooting, entered the subway wearing a gas mask and released two smoke grenade bombs in a crowded subway car. He then opened fire on the crowd using a handgun where, "at least 33 shots were fired, and 10 people were shot – seven men and three women, and five of the victims were students commuting to school," according to the New York Police Department Chief of Detectives James Essig in CNN. Escaping authorities by hopping on the R train and ensuing a manhunt. Videos and photographs from the scene show many people in such a state of panic and shock yet still helped those around them who needed critical care. 
Many witnesses and even authorities on the scene were baffled at the lack of security cameras in said station they did not help in the search for the suspect. You would think that with the rise of subway crime over the past year, there would be more cameras in every station when tragic situations like this one happen. Due to the lack of security cameras, a manhunt ensued, "An NYPD official defended the Metropolitan Transportation Authority (MTA) Thursday, two days after officials discovered cameras in three subway stations weren't working at the time of the shooting," according to CNN.
The manhunt for the suspect, went on for over 24- hours until police dialed on a paper trail that led them to find a U-haul van that was rented in Frank's name that was driven from Philadelphia, Pa. to Brooklyn, NY the very same day. Based on a tip from Frank himself outside a Lower East Side McDonald's, he was apprehended and taken into custody. This wasn't the first time James had been arrested he had quite the criminal history with multiple arrests in New York in the late 90s according to CNN, "James had nine prior arrests in New York between 1992 to 1998, including possession of burglary tools, criminal sex act, and theft of service. Criminal tampering was also seen on his New York arrest record. In New Jersey, James was previously arrested in 1991, 1992, and 2007 for trespass, larceny, and disorderly conduct." 
Police also were able to analyze videos Frank posted himself about him ranting about his hate towards a certain racial group, his want for violence, and the negative experiences he went through being homeless and being a city health worker stating, "I've been through a lot of s**t, where I can say I wanted to kill people. I wanted to watch people die right in front of my f**king face immediately. But I thought about the fact that, hey man, I don't want to go to no f**king prison," continuing to express his hatred for his administration and the Mayor for how his mental health is today, "We need to see more mass shootings. Yeah. … We need to see more, there has to be more mass shootings to make a n***er understand. … It's not about the shooter; it's about the environment in which he is, he has to exist," according to CNN. Criticizing the mental health in New York City and how it is a problem. 
Frank is charged with one count of committing a terrorist attack and other violence against mass transportation systems, where he could face up to life in prison if convicted on all charges. His attorney requested he undergoes psychiatric evaluation based on the videos he posted about talking about his mental health, which opened a conversation on how the mental health crisis is rising in NYC. "It's gotten worse. I am shocked and really disgusted, to be quite honest, as to how the mental health establishment has escaped any scrutiny through all of this," expressed Dr. Dorothy Schulz, a professor emeritus at John Jay College of Criminal Justice."The latest NYPD statistics, released Monday, show transit crime is up 66.8% year to date as of Sunday compared to the same time in 2021, with 398 compared to this year's 664 and counting, " in accordance with FOX News. 
The subway shooting has brought up a lot of fears for everyone in the NYC community and there are resources for anyone who just needs to talk to someone about how they were feeling or just to reassure their safety about the rise of subway crime: https://www.samhsa.gov/find-help/disaster-distress-helpline/disaster-types/incidents-mass-violence
https://nycwell.cityofnewyork.us/en/
https://www.crisistextline.org/
Know you are not alone in this situations and it is okay to take time to process all of what has been happening this past week, check out the resources MMC has available for its' students in times like this through the Counseling and Wellness Center:
https://www.mmm.edu/offices/counseling-and-wellness-center/
Leave a Comment
About the Contributor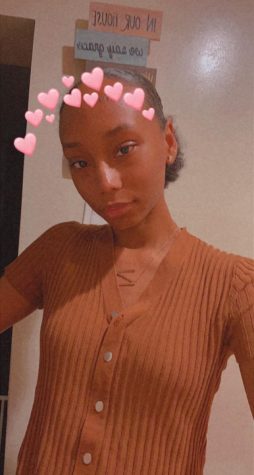 Najla Alexander, Crime Reporter/Features Editor
Najla Alexander is the Features Editor and Crime Reporter for The Monitor. She is Majoring in Digital Journalism and Minoring in Forensic Psychology. Her...