New Spooky Movies/TV Shows to Look Out For
Reading Time:
2
minutes
It's officially spooky season and sweater weather, that time when the temperature drops below 60 degrees and we're all bundling up to stay warm. That also means new horror and Halloween-themed film and TV releases anticipated by fans all year-round. 
Check out these few!
Smile
*Trigger warning this movie discuss mental health issues and suicidal themes*
This psychological thriller follows Dr. Rose Cotter, played by Sosie Bacon, who falls victim to her own demons while trying to uncover her patients' odd behavior after one of them succumbs to a supernatural entity.
Bones and All
https://www.youtube.com/watch?v=pjMt1MIk2EA
Directed by Luca Guadagnino, who also directed the well-known coming of age romance Call Me By Your Name, this gothic romance follows a couple, played by Taylor Russell and Timothée Chalamet, who share a passion for cannibalism. 
Barbarian
https://www.youtube.com/watch?v=Dr89pmKrqkI&t=4s
In this horror film starring Georgina Campbell, Bill Skarsgård, and Justin Long, a young woman discovers the secrets hiding in an accidentally double-booked AirBnb. Since its Sept. 9 release, reviewers say this film will make you avoid AirBnbs forever. 
Pearl 
Pearl arrives just in time for Halloween! Released on Sept. 16, this prequel to the film X follows a young Pearl, exposing her villain origin story that unravels in the best way possible. The film flashbacks to the year 1918, when Pearl is determined to be famous and won't let anything get in her way. The film's sequel, MaXXXine, has already been green-lit.
Halloween Ends
I know him, you know him, we all know him…at least by now anyways. Michael Myers and Laurie Strode are back for the final installment of the Halloween franchise, Halloween Ends. The film follows the iconic last girl standing, played by Jamie Lee Curtis, as she undergoes her final battle with Myers. Will he stay dead this time or will she die trying? Find out when the film is released in theaters and on the Peacock streaming service Oct. 14!
The Midnight Club
https://www.youtube.com/watch?v=lBhyUxRzANY&t=2s
This new horror-mystery-thriller series follows eight hospice patients as they meet up to tell scary stories and make an unusual pact: if one dies they must communicate their story from beyond the grave. It is set to release on Netflix Oct. 7. 
Wednesday
https://www.youtube.com/watch?v=HARV6KBug1I
This highly anticipated series adaptation of The Addams Family will release on Netflix Nov. 23. In it Jenna Ortega portrays Wednesday Addams as we've never seen her before. Directed by Tim Burton, the series follows an adolescent Wednesday as she tries to solve supernatural mysteries and the horror show that is high school.
Interview with the Vampire
The new AMC+ plus series based on the novel by Anne Rice follows Louis de Pointe du Lac and Lestat de Lioncourt as they navigate the vampire scene in 17th century New Orleans. Their relationship is examined more closely than the 1994 Interview with the Vampire and many questions from the original film are finally answered. 
Chucky, Season Two
https://www.youtube.com/watch?v=B44ik8o0mDA&t=1s
The first season left viewers on a major cliffhanger, wondering how much terror the citizens of Hackensack, New Jersey can take. The new season will have more blood, gore, and even more deaths as Jake Wheeler and his friends rekindle their battle with Chucky alongside familiar faces from season one.
Leave a Comment
About the Contributor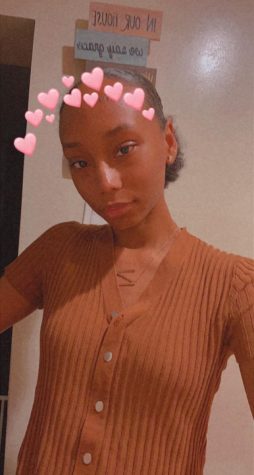 Najla Alexander, Crime Reporter/Features Editor
Najla Alexander is the Features Editor and Crime Reporter for The Monitor. She is Majoring in Digital Journalism and Minoring in Forensic Psychology. Her...