Any Plans for All Hallow's Eve?
Reading Time:
3
minutes
Spooky season is upon us, and the night of All Hallow's Eve will cast its infamous shadow over us soon. October 31st, unfortunately, this year falls on a Monday, but that will not let all the girls, ghouls, and everyone in between stop enjoying the one time of year when being weird is cool. Where there is no judgment for being into the strange and creepy things about Halloween. I know it won't stop our fellow MMC students from celebrating Halloween this year. Let's see what some students are up to this year! 
Jordan Ansberry, 21, MMC Senior, exclaimed, "I'm thinking of being Deadpool for Halloween. He's one of the few (anti) heroes that I understand and feel for. He struggles with human issues like addiction and doesn't hide his selfish thoughts, but at the end of the day, he fights for the innocent and for his loved ones. He's sarcastic and annoying but a loyal friend, which I see within myself. My two other ideas have to deal with couples cosplaying with my partner. One being Raven and Beast Boy, the other being Maeve and Jonathan from Hotel Transylvania. My partner and I are the epitomai of opposites attract. I tend to lean towards the dark and antsy, my partner is the opposite. He gives golden retriever energy, and is the most extroverted person in the room, giving the same energy as Beast Boy and Jonathan. I love dressing up for Halloween because I can be any character I relate to without the weird looks I normally get if I cosplay. It's also the only holiday that has nothing but positive memories for me, so Halloween is my pick any day!"
Timmy Costello, 20, MMC Junior, said, "My plans for Halloween are uncertain other than a family party. My girlfriend and I are going as Barbie and Bibble from the Barbie movie Barbies Fairytopia. I have two mindsets when it comes to costumes, first, it's gotta be something practical that I'm going to wear again. Second, the other option for costumes are that the costume is so absurd that I'll force a reason to wear it again. I will wear costumes, I think it will be fun!"
Chase Miles, 24, MMC Senior, stated, "I love the lure of Halloween! I have a horror tattoo, and horror movies are so important to me, so for the past few years, I've kept to myself by ordering food, playing a horror video game, and watching my favorite horror film, House of 1,000 Corpses. If I ever wear a costume, it's expressive to me because of how random and creative my brain can get while showing that it's [my costume] a comfort for me. I do and wear what makes me happiest, whether it's dressing like Quagmire, Rey Mysterio, or an Ewok, it's the function and the comfort that gets me."
As you see from these MMC students, Halloween is about dressing up as someone or even something you thought was never possible to be but you can become one night. Exploring not just your love of dressing up but why this character or person you want to be is somehow a part of who you are. Even if you feel you are far from it, this night let's you explore those other parts of yourself you can't really do throughout the rest of the year. Take this time to have fun and discover who you might want to be, remember, whomever or even whatever you choose to be, look at how you're putting a piece of yourself into that costume. Not forgetting who you are, but the freedom to be who you want to be.
Leave a Comment
About the Contributor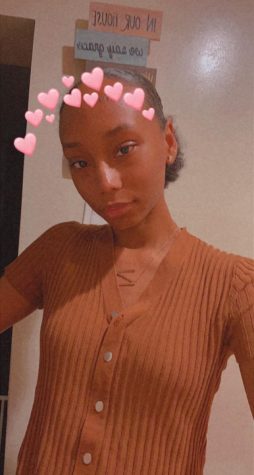 Najla Alexander, Crime Reporter/Features Editor
Najla Alexander is the Features Editor and Crime Reporter for The Monitor. She is Majoring in Digital Journalism and Minoring in Forensic Psychology. Her...