"Carrie" Lead On Protecting Mental Health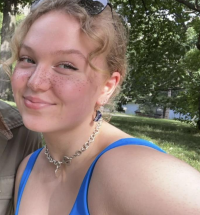 Reading Time:
4
minutes
In the white light of The Great Hall, she prepares for rehearsal. She knows today is going to be tough. In the next three hours, she could be thrown around, abused, bullied, hit, laughed at, or even killed. She's nervous, but she's ready for whatever comes her way. As the Director calls everyone in to form a circle, she takes a deep breath, walks into formation, and her work begins.
Cydney Gleckner, age 19, is a sophomore Musical Theatre major at Marymount Manhattan College, where she is currently in rehearsals for the Fall Musical, Carrie:The Musical. During her first year she was cast in the title role of a mainstage musical, which is no small feat at a school like Marymount. There are roughly 300 students who audition for the Fall musical every year, and only about 15-20 students in each show. The chances of getting cast at all are slim, and the chances of winning a lead role are even slimmer. After a month of grueling auditions, the cast was finally announced and to Gleckner's excitement, she was first on the list. "I was just so damn happy! I feel like everything I had done in the past month had been 100 percent worth it!"
But something so big doesn't come without its difficulties. According to a study by Promises Behavioral Health, anxiety is the number one mental health concern on college campuses all over the country, with 61% of students listing anxiety as one of their major health concerns. https://www.promises.com/addiction-blog/anxiety-statistics-college-campuses-need-know/ Musical Theatre majors at Marymount are often attending class for five to seven hours a day, on top of learning new songs every week, and memorizing lines to scenes for class. Scenes that deal with heavy subject matter that can sometimes be difficult to let go of outside of class. As actors, these students must find a way to shake off the mental state they go to, so it doesn't affect them in their daily life.
Gleckner herself has struggled with this. "I was in a production of Heathers. And I was playing Martha Dunstock. And, I already have so many problems with that show in general, and how that role is portrayed in that show. But personally, leaving that show I just felt like absolute garbage about myself and my body." In the show, Martha is bullied for her weight and is driven to contemplating suicide after she is humiliated by a pair of jocks at a party. "Now I'm in a place where I'm confident in myself and how I look, but that show really put me in a bad spot.", she says.
It is often overlooked how much work goes into crafting a powerful performance for the stage. Gleckner says: "Carrie is by far the hardest role I've ever played. If I could talk to myself when I first got the role, I would tell her to get ready because you're about to work harder than you ever have in your life. The shit that Carrie goes through in this show is so demanding mentally and physically, but I'm so glad that I have the team I have to support me through it."
Being a performer is one of the toughest things to balance because you have to be able to pour your heart out onstage until you have nothing left, and then go home and forget all about it until the next performance. It takes a toll on your body and mind, which is why only the most passionate do it.
After attending therapy and working on her personal mental health, Gleckner feels she has the tools to protect herself during this process. "I'm in a lot better of a space than I was before. I feel like I'm very on top of separating myself from that role. And being fully present with it when I'm onstage and fully not when I'm offstage."
Gleckner has implemented several techniques that help her "derole" after each rehearsal as well as some that help her get in the mindset of the character. For example, as she walks from her apartment to the rehearsal space she listens to a playlist that she specifically designed for the role. "I have like a 'No Surprises' by Radiohead vibe and some 'Cigarettes After Sex' for different moments in the show.", she explains. After each rehearsal, she does a full check-in with herself to see how she's feeling. If she worked on a particularly heavy scene that day, she might need to find an activity to do at home to get her out of that mindset. Sometimes it can involve reading a book after a long shower, and other times, playing a video game for 30 min can be the solution. On Fridays when she doesn't have class, she tries to spend the whole day caring for herself before going to rehearsal.
Something that Gleckner and the entire cast do before each rehearsal is "clap in" and at the end they "clap out." With each clap in, the company is consenting to tell this story and go on this journey together. With each clap out, they are all leaving everything in the rehearsal room before they go home. It's a simple technique that stems from intimacy training, but it can be helpful to separate what has to stay onstage versus what can leave.
In recent years, many actors have come forward to talk about their experiences struggling with mental health issues. Including Mariah Rose Faith, who played Regina George on the Mean Girls National Tour right before the pandemic.https://myhero.com/mariah-rose-faith-on-mental-health Faith chose not to return to the role after the pandemic because she wanted to focus on her mental health. Something an actor would never dare to say out loud 10 years ago. Gleckner says, "She left her track as Regina because her mental health wasn't great. And I think that's one of the hardest decisions she's ever had to make, but she did it for herself. And I think that's so amazing and inspiring." The industry is growing and evolving in ways that allow for more open conversation around the topic to be not only had, but heard.
As for Cydney Gleckner, she and the entire cast have moved into the Theresa Lang Theatre, where Carrie will open in 3 short weeks. For now she looks forward to her Friday mental health days until opening night. As she sits in her giant beige fluffy bean bag, hoodie and XBOX remote in hand, an ecstatic smile came across her face as the words "Minecraft" dimly lit her face. "Fridays are for self-care," she said.
Leave a Comment