The Last Of Us Episode 7: Ellie's Immune Origin Story
Reading Time:
3
minutes
From the end of Episode 6, we were all left in complete shock. I know that's for sure. Joel had just been impaled with a wooden bat and ended up falling off of the horse, unconscious. After a week of anticipation surrounding him, it's finally Sunday. I cozied up to my living room couch to watch the new episode and as I suspected it started off with Joel in immense anguish from his wound. He begins to deflect and yell at Ellie to leave and not return because he believes he is done for. After a quick little fight between them, Ellie runs upstairs to leave but not before she is suddenly hit with a bout of nostalgia. 
Ellie is back in the QZ where she grew up, slated to become a FEDRA officer. While in gym class, a girl rips off Ellie's headphones and Walkman, threatening that if she doesn't change her attitude, then she'll get hurt. Of course Ellie threatens her right back only for the girl to say "Usually your friend would be the one beating people up, but she's not here anymore is she? A swift punch to the face from Ellie gets her sent to the Colonel of the QZ where she gets a warning and is reminded of her potential as an officer. Later that night in her room, after staring at her best friend's empty bed across the room, missing her, she falls asleep. Of course, Riley reappears after 3 weeks that night and convinces Ellie to go with her for the best night of her life. Ellie just needs her best friend back and it was so sweet to see this reunion. Riley quickly reveals that she is now a Firefly?? That was a bit of a surprise but also not because of how long she was gone and how she seems to be as a person because this episode was the only glimpse we had of her. The two of them run off to a mall, with Riley promising Ellie "the 4 wonders of the mall" which quickly turns to 5 after the escalator. Watching their bond throughout this episode was really sweet. They have so much in common and I'm glad they had each other. Despite Ellie being upset that Riley was now a Firefly, Riley set out to make this the best night of her life. From the carousel, to the photo booth, to the arcade. Riley then announced that she had a gift for Ellie and it turned out to be the pun book that Ellie has cherished since then and used it to make Joel laugh, which is a very rare occurrence for him to laugh. But Ellie finds bombs where Riley was staying in the mall and it hits her even more that Riley is a Firefly, what Ellie believes to be the wrong side. Riley was to leave tomorrow morning for a new post. Ellie storms out and I got so upset because her best friend was leaving and she was too mad at her to care. When she turns around and hears a scream that she assumes to be Riley's, I got so scared thinking a clicker had gotten her. Ended up being a Halloween decoration and the Halloween store ended up being the 5th wonder of the mall. It was the sweetest scene, them dancing in fun Halloween masks and they had an intimate moment of Ellie telling Riley to stay, she agrees and they kiss. It was like their first date and thinking of it like that makes me so sad because of what happened next. A clicker appears and I quickly remembered that this is where Ellie had said she was bit and Riley gets bit too. We all know that Ellie makes it out, but the episode went back to Joel and Ellie before we see the infection kicking in in for Riley. Ellie remembering this night made her realize she could never leave Joel behind because he had grown to care for him so much so she ran upstairs to find medicine, bandages, anything to help him heal. She found a spool of thread and a needle in a drawer and went to stitch him up. I am so glad that they included Ellie's immune origin story because of course it is a vital part of the overall journey, but we also got an intimate sense into her life and a time that she was truly happy with someone she really loved. I want to see more moments of genuine happiness for Ellie. 
Tune in next week for Episode 8!
Leave a Comment
About the Contributor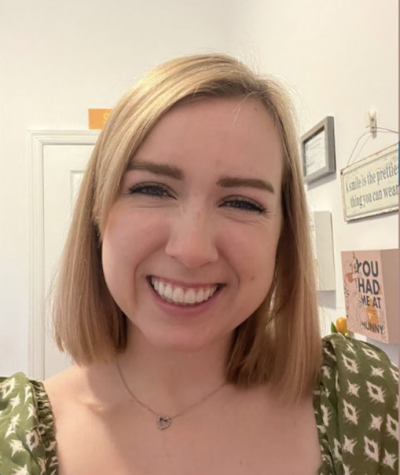 Gabrielle Fiorella, Editor in Chief
My name is Gabrielle Fiorella. I am a senior double majoring in Digital Journalism and Cinema, Television and Emerging Media with a minor in International...