BROADWAY FLEA MARKET CONTINUES TO MAKE CHANGE
Thousands Gather for the Thirty-Third Year
Reading Time:
3
minutes
In mid-September, Broadway Cares/Equity Fights AIDS continued its thirty-three-year long tradition: The Broadway Flea Market. Every autumn, 44th and 45th street is closed off for herds of theatre fans young and old to scour dozens of tables dedicated to their favorite shows, theatres and organizations for Playbills, props, merchandise, and other relics. This may seem like incentive enough to save up and spend a paycheck or two, but what makes it even better is the fact that the proceeds go to the BCEFA charity. Broadway Cares/Equity Fights AIDS is a non-profit organization dedicated to helping individuals in need of medical assistance across the country, particularly those battling HIV/AIDS. Since they began in 1988, they have raised $300 million. They fundraise through many different ventures throughout the year, possibly the most notorious campaign being the "red buckets" often held at the end of shows twice a year, encouraging audience members to donate. However, the Broadway Flea Market is one of the most highly anticipated events of the year for many theatre fans.
With endless opportunities for fans to make the most with their donations, the Broadway Flea Market is more than your typical garage sale. The tables alone are a large reason why crowds pour into the Theatre District every year, with used props and vintage Playbills lining each table. A grand auction is held in Shubert Alley, where highly valuable and rare objects are up for grabs if you're willing to try bidding. Once-in-a-lifetime experiences are up for auction as well, like a chance to be dressed in costume and stand on stage during scenes in select Broadway shows, such as Phantom of the Opera and The Lion King. Fans have the opportunity to meet their favorite stars for a $35 donation as well, with an autograph table and photo booth set up in Junior's restaurant. This year's line-up included 60 stars from numerous Broadway shows including Hadestown, Waitress, Wicked, and more.
For those seeking a little fun gambling, the Theatre Development Fund (TDF) hosts a ticket raffle for donations of $1 per ticket. Each ticket is stapled shut, and if you find a stamp inside, you have a winning ticket. These winning tickets can be exchanged for a mystery envelope, inside of which is two tickets to a random Broadway show. Attending the Broadway Flea Market is a common September activity for groups of Marymount Manhattan students, who mark this day in their calendar months in advance, assemble their group and arrive together as classmates and friends. This year, Marymount Manhattan junior Audrey Kosuge came to the flea market for the first time with friends she made at school. She describes the experience as bringing a feeling of community. "It was cool recognizing so many people from Marymount," she says. "There were a ton of people there, but I was surrounded by people I knew. It's unifying."
The atmosphere of the flea market is often described this way – the theatre community is one full of respect and love, according to Kosuge. She claims this was evident when she saw actors peacefully passing through the crowds. "Something that was super interesting was that performers were able to walk around the crowd fairly unnoticed and unbothered. I saw Sarah
Stiles and Ariana DeBose walking around and even though they were both slated for autographs and people were paying to meet them, they were able to walk around normally."
Marymount Manhattan sophomore Caroline Storey met up with a mix of friends from school and friends she met through Twitter accounts dedicated to their favorite shows. "I always look forward to the Broadway Flea Market, it's so exciting! The best part was getting to see so many of my friends," she stated. It was a group bonding activities of sorts for her friends to scout things out that they wanted at the shows of the tables they shared a love for, she explained.
Storey also notes how Broadway's dedication to this event goes beyond donating props to be sold: it goes as far as performers working the tables of their own shows. "Something really interesting is how the cast members of certain shows come out to the tables. It's so cool that they're sometimes the one selling you an item!"
These Marymount students shared a few beginner's tips as well, for those hoping to attend for the first time next September. "Don't forget to bring cash, it makes it so much easier. I was a fool for only having my card," Kosuge stresses. Storey adds that getting there early and making a plan is crucial for limiting stress or chaos. "Get there early to familiarize yourself with all the tables before they open. Certain tables even have a line that gathers before opening," she shares.
The date of the next Broadway Flea Market is unspecified at the moment, but it comes every September, so stay tuned to BCEFA's social media!
Leave a Comment
About the Contributor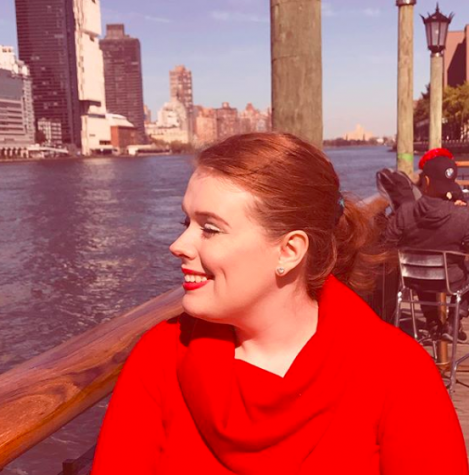 Meg Masseron, Features Editor