San Gennaro Celebrates Italian Culture
Reading Time:
3
minutes
The first few weeks of September in New York City: the last drops of the summer sun, the introduction of temperate fall, back to school shopping, New York Fashion Week, and the list goes on and on. However, while most are mourning the end of beach days and relaxing, the party is just getting started for the Italian Americans population in New York. 
Starting on September 12th, it is traditional in Italian culture, more specifically Neapolation culture, to celebrate Saint Januarius, the Patron Saint of Naples. Ever since 1926, the immigrants of Naples crowded Mulberry Street, in Little Italy, to Celebrate the Saint. c. This small gathering turned into what is now the enormous street fair that goes on for a whopping 11 days during those first few weeks of September. The Feast includes food, vendors, music, and lots more entertainment that attract tourists and locals who even aren't of Italian heritage. 
Despite its large scale, the Feast of San Gennaro is unknown to some who live just down the street from it. On a personal note: I had been made aware of it very early in my life before even moving to New York City. My mom talked about the festival, which she attended during her college years in the '80s, with such nostalgia and joy. During my first year in NYC, I made sure I had gone to experience what my mother had raved about for so long. However, after talking to her, it seemed our experiences had actually differed greatly. 
Making another trip to the festival this year, I made it a point to ask my mom specifically how the Italian festival has changed since then. Obviously, the 80s were very different from the 2010s, especially 2019, so nightlife in NYC I'm sure had a very different vibe. 
To set the scene, here's how my experience went in a few words: Large crowds, vendors selling random merchandise for blocks, food that wasn't even Italian for no less than $10, and a heavy police presence. 
After interviewing my mom on her experience, I got a very different picture of what the Feast was like in the '80s. "You couldn't go spend however much on whatever you wanted," she said, which rings true today with college students just as much as it did back then. However, prices definitely differed. My mom talked fondly of a specific drink she and her friends used to get of peaches and wine. "They were a couple of bucks," she said as I gawked at the low price of the alcoholic beverage. Obviously, things were much cheaper back then, and the prices of simple street fair food rose with inflation. However, this leads to another stark difference between my mom and my experiences. The commercialization of the event has given a different vibe to the festival. 
After asking her about what was sold other than food, she said, "I don't remember a lot of people selling stuff, I remember kind of like those religious stands with stuff to celebrate the holiday. No tchotchke stuff. I feel like back then it was mostly about the food, drinks, and the games, all to raise money for the church. I feel like that's the biggest difference now." Today, it is more about people pushing their merchandise at tourists instead of giving visitors a real Italian experience. This even affected the festival's main event: the food. From my mom's memory, she only remembers "the sausage and peppers everywhere, and the zeppoles and maybe pizza, none of the extra stuff." 
From what I've gathered, the changes are obvious. The Feast has changed drastically since my mom was my age, whether we can say it has progressed or regressed is up to your discretion. I think my mom put it best when she said "maybe it was more fun because it was more of a community-based thing. We got a look into that part of New York and how they lived. It's not the quaint little street fair it used to be."
Leave a Comment
About the Contributor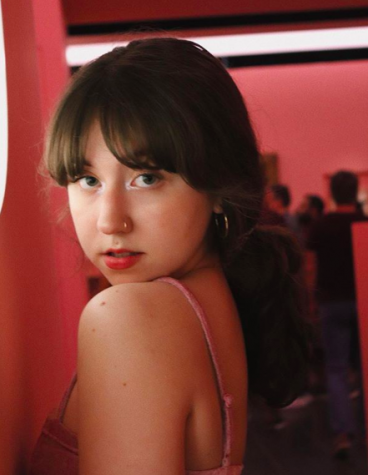 Gwen Attridge, Staff Writer