Weekly Feed: 11/15-21
Reading Time:
2
minutes
Thursday, November 14th's "Girls Who Code" event has been cancelled. However, students can still join MMC Alum "Clarice Dubois" for a lesson in Drag at 5:00 PM in the Commons today.
On Sunday, November 17th, students can give back to the community by volunteering to serve hot meals at St. Xavier's Welcome Table. The event starts at 11:30 AM at St. Xavier Church Mission.
November 18th-22nd is International Education Week. This means there will be an event every day that week focused on international experiences.
On Monday at 4:30 PM in the Commons West, there'll be a lecture and demonstration teaching students about traditional Japanese tea ceremony. 
Feeling stressed? The CWC is hosting a Stress-Down Day at the Regina Peruggi Room from 12:00-4:00 PM on Monday. Stop by to experience massage therapy, reflexology, reiki, acupuncture, therapy dogs, and more.  
On Tuesday, at 12:00 PM in the Regina Peruggi Room, the Cultural Peer Mentors will be hosting and international food potluck–make sure to bring your favorite dish. At 2:30 PM, students can join Chef Joseph Boljonis in the Regina Peruggi Room for a "30-Minute Meals" teaching kitchen featuring smoothies and energy balls. 
At 3:00 PM, the CWC is hosting "Sleepless in NYC?", where students can learn stress relief techniques in the Multi-Faith Center. 
At 5:00 PM, the Cultural Peer Mentors are holding an international film screening in the Bean Bag Room of the Library.
Feeling Adventurous? Head to the Café Room at 5:30 PM on Wednesday for a Study Abroad Information Session, where you can learn how to study abroad for academic credit.
On Thursday, Head to the Regina Peruggi Room at 2:00 PM for a family-style meal and celebration of the things to be thankful for at the MMC Fall Feast. Registration is required. 
Additionally, The Campus Activities Board presents a live performance from Brazilian guitarist Thalys Peterson at 5:00 PM in the Nugent lounge. 
On Friday, enjoy ice cream desserts from around the world from 1:00-2:00 PM in the Hewitt Gallery.
The Psychology Club is sponsoring a toy drive for the charity "myFace", which funds medical, surgical, speech, and psychological treatment for children with facial differences. The drives will be held on Monday from 1:00-4:00 PM at B&W West, Wednesday in the Commons from 11:30 AM to 3:00 PM, and on Friday at the Hewitt Gallery from 2:30-5:30 PM. Additionally, a permanent box will be located in the Psych office in Carson 706.
The Bedford Hills College Program Club is hosting a Book Drive in the Hewitt Gallery on Tuesday and Thursday from 3:00-5:00 PM. 
The Marymount Marauders are hosting a Harry Potter Fanfiction Night at 6:00 PM in the Regina Peruggi Room on Thursday. You can submit entries to [email protected] by Tuesday. 
The Throne is hosting "Diversity Function: House Party Edition" at the Great Hall on Friday from 8:00-11:30 PM. The theme is '90s vs. 2000s, so you should attend dressed in era-appropriate clothes. Music by DJ Panda, and featuring live performances by The Throne, Matt Q, Rob Velz, and Eccentric Ellusion. Admission is free for students, and $5 for non-students. (must have a valid ID).
On Saturday, join Marymount Muscle at Muskrat Cove in the Bronx for the Bronx River Clean-Up from 10 AM to 1 PM.
Lastly, come see hunger in a whole new way at the World Hunger Banquet. This interactive simulation of the global food system and poverty around the world will be held on Monday, November 25th from 6:00-7:00 PM in the Regina Peruggi Room.
Leave a Comment
About the Writer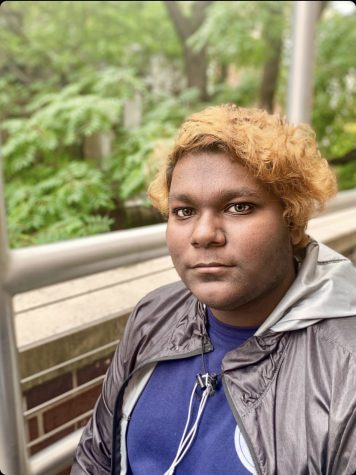 Neil Gunnion, Staff Writer