Shaelyn McFadden & Rose Sheridan
Off-Campus Art Collective
Reading Time:
3
minutes
The Collective is a combination of art, beauty, and magic. It is a collection of people from all talents and interests, joining forces to make art together. The Collective takes photos and makes artistic shots by incorporating paint, various costumes, and outfits and utilizing props.
The Collective founder, Shealyn McFadden was asked a series of questions by writer Shelby Hall and these were her answers: 
How did the collective start? 
The Collective started out as an outlet for my artistic ideas. I wanted to get all the artists I knew together to network, create and learn from one another. I didn't realize that it was a space a lot of artists needed until I was told by all the participants to host more events. As I hosted more I started to realize that I couldn't do it alone anymore- leading to The Collective! 
How can MMC students get involved? 
To get involved follow @thecollective_nyc where we post upcoming events. As 2020 rolls in we plan to launch The Collective officially. We will become an official club on campus so that members can meet with my team to plan events, network, and learn from workshops we plan on hosting. Getting involved is easy if you reach out to us! We wouldn't be The Collective without the students who have supported us and came to events! 
What was the inspiration? 
Art can be lonely, NYC can be so big, we can feel so small. I wanted to create a community- a collective of like-minded artists from diverse backgrounds all being fully welcomed to create in a space designed for them- by them. 
What do we do (in simple terms for others)? 
We provide a space, to create, to learn, and to network with people from diverse backgrounds. This space is for nonjudgmental artists to come together to create art. As we launch in 2020 we will be hosting photo meetups once a month where photographers, models, dancers, painters, videographers, lighting, and special effects artists and everything in between. Our plans are to host educational workshops to teach artists fiscal financial planning to help grow their personal art careers, teach technical camera and lighting skills, teach models and dancers what the audition world is like outside of school, and much more! As summer 2020 rolls in we plan to host bigger events that include musicians, art battles, showcases, etc. 
What are future plans? 
Grow. Reach more artists, plan more events internationally. As I Shealyn McFadden the creator of The Collective leave for Paris on January 6th- my team will carry on The Collective in NYC as I hold events in Paris at my school ESSCA. MMC has created a community I want to take to the next level- show students that passions can be careers. With the help of the amazing Mmc community fostering such amazing energy, I plan to launch The Collective with Marymounts support. 
McFadden's co-creator, non-Marymount student Sheridan Hagle also had a few things to say about what The Collective means to her. When asked how The Collective started, she said, "basically it started as an opportunity for photographers and models to come together for a huge shoot. With time we thought 'why stop there?' When we could be including artists of all kinds and give them opportunities to not only network and build portfolios, but also build strong bonds and stimulate creativity for the upcoming generation of creatives. We hope for this nonprofit to not only spread through the U.S. but hopefully worldwide and we are already getting started on that! Soon enough we plan on including a lot more than just photoshoots including; painting gatherings, open mic concerts, and teaching workshops. We can give artists of all kinds that space and acceptance into the collective." 
Hagle also said this when asked what The Collective means to her, "'Inclusivity through creativity.' That's our motto to all people who walk this earth as they are all accepted as humans no matter what race, gender, sexuality, religion, etc— all creatives are welcomed into the collective" 
Marymount student and senior, Claire Sersun spoke about her invitation into The Collective saying, "Shea invited me to a shoot last month and fell in love with the community and collaboration between all the members. We all helped each other with ideas and learned new techniques. It's a great space to photograph, model, style, and be creative in any means."  
This organization means a lot to young creatives both at Marymount and beyond and it only seems to be getting bigger and bigger. 
Leave a Comment
About the Contributor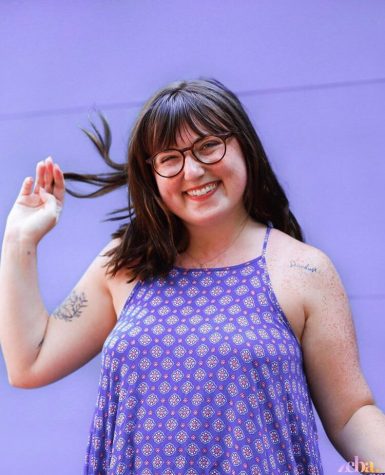 Shelby Hall, Copy Editor, Guest Writer