Lana Del Rey: An American Icon
Reading Time:
4
minutes
From Humble Beginnings…
Born Elizabeth Woolridge Grant in 1985, Lana del Rey is easily one of alternative/cross over rock-pop music's most beloved star. The musician tried her hand in the Manhattan night club scene under her birth name, Lizzy Grant, although she did not find much fame. Fast forward to January 2012, and now going by the stage name, 'Lana del Rey' after realizing she needed a new catchy moniker, she released her first studio album, Born to Die. Critics' reviews of the album varied, yet it remains a fan favorite to this day, and not forgotten amongst her other 4 LPs. Born to Die is a nostalgic feminist album filled with glossy production, unique vocals, and common themes of love, death, drugs, men, and being a modern-day American woman. While these are in fact recurring themes within Lana's discography, fans never seem to get tired of it, and it truly is what makes a Lana song so authentically her. Going on to release Paradise: EP (2012), Ultraviolence (2014), Honeymoon (2015), Lust for Life (2017), and most recently Norman F****** Rockwell on August 30, 2019, all of her work ranging from song lyrics to music videos is undeniably written from an American woman's perspective. Thus, making her one of the most influential feminist musicians of the last decade.
Taking a beginners' dive into some of Lana del Rey's most iconic lyrics will highlight specific standout themes of songs and music videos, and prove to why she is this past decade's feminist icon.
The Born to Die: Paradise Edition era…
Released in 2012, del Rey's first studio album made waves in the alternative music world. This was the mass public's first impression of Lana's style, womanly themes, wispy, seductive vocalization, and brilliant artistry during a time where much of alternative music was so heavily dominated by men. LDR's unique lyricism and music video creativity shines brightly on Born to Die.
Let's take a look into some iconic lyrics that embody modern-day feminism off the 2012 album, but with a typical Lana twist.
"He said to be cool,
but I'm already coolest I said to get real,
don't you know who you're dealing with?
Um, do you think you'll buy me lots of diamonds?
I'm your national anthem
Boy, put your hands up, give me a standing ovation"
The song "National Anthem" deals with the Lana telling her man what she wants, and how she deserves to be treated/viewed within their relationship. She talks about money in an iconic lyric, "money is the anthem of success." Lana knows how she wants to live and will not settle for a man who can't keep up with her lifestyle, doesn't understand it, or simply can not assist her in gaining more success. She is laying down the law with her man and will not take no for an answer. This is a refreshing point of view within the music world since so commonly we are shown stories of men getting everything they want and sexualizing women's bodies to their desires. On of top being one of the biggest fan favorites to come from Born to Die, the accompanying music video for National Anthem* is truly an iconic Lana staple and a feminist power move.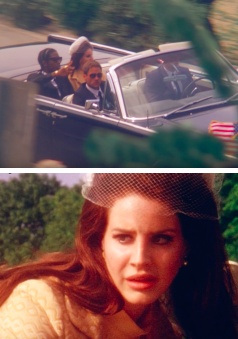 Taking a spin at the presidential love story of Jackie and John F Kennedy, Lana casts herself based upon the famous fashion, as well as feminist American figure, Jackie Kennedy Onassis. Her leading man based off of the late 35th President of the United States, JFK, is played by rapper A$AP Rocky. Portraying the "First Couple" as an interracial couple combines her use of music video style intersectional feminism*, and paints an interesting interpretation of the couple, something none of us, had ever seen before. If the correlation to the Kennedy's is unclear to viewers, they must stick around until the end of the video to watch the story come full circle.
Although there are many more examples of exemplary lyricism written with a feminist lens on her debut studio album, Lana's following albums have a lot to chew on too!
*(coined by Kimberle Crenshaw in 1969, "the interconnected of social categorizations such as race, class, and gender as they apply to a given individual or group, regarded as creating overlapping and interdependent systems of discrimination.")
The Ultraviolence era…
Lana's second full-length LP dropped in June of 2014, making the perfect LDR summer soundtrack for many. While she did face some criticism for bold and possibly controversial lyric choices, fans praised her for sticking to herself while evolving as the artist they know and love.
"Well, my boyfriend's in a band
He plays guitar while I sing Lou Reed
I've got feathers in my hair
I get down to Beat poetry
And my jazz collection's rare
I can play most anything…
Yeah, my boyfriend's pretty cool
But he's not as cool as me.."
Here is Lana del Rey at her most Lana del Rey-ist. She acknowledges that her boyfriend is talented but makes sure to let us know she can do many more things than he can and that she is, in fact, cooler than him. She expresses her talents in many things deemed "masculine" while juxtaposing it against having feathers in her hair. Here she is channeling the 1950's beat poetry era of New York City, a mainly man-driven movement. Proving she is a strong woman who is holding her own against men in her 'industry' of musicianship within the world of "Brooklyn Baby".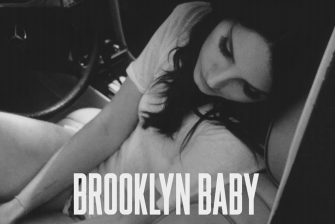 Many more examples could be pulled to further examine the feminist themes of Lana del Rey, but listening to her albums is truly the best approach to fully immerse yourself into the world Lana created for her obsessions to love, death, drugs, and most of all, being the modern American woman, whatever that may entail in 2019. Yet, she still reigns supreme as the biggest feminist icon to come out of the last decade and continues to prove her brilliancy in her videos and music.
Leave a Comment