What Baking Can Do
Baking Recipes to Try During Quarantine
Reading Time:
3
minutes
Instead of sitting behind your computer screen, clicking on the next episode of The Great British Baking Show, perhaps it is time to get to your kitchen and pull out some ingredients and make something of your own. During these times of quarantine, lots of people have been baking more and getting creative with the scraps in their kitchen to make something delicious. Banana bread has quickly become everyone's favorite thing to make, but not everyone has bananas and not everyone is willing to leave their homes for bananas. Here are some simple recipes that require equally simple ingredients that you most likely already have hiding in your pantries.
1) Easy No-Bake Chocolate Oat Bars: If you are an amateur baker then this is the perfect recipe for you because there is no baking involved. All you need is a saucepan, a stove, and a greased pan. The main ingredients are oats, brown sugar, chocolate, and peanut butter. These bars are very easy to make since you just need to whip some of the ingredients together and pour them into a pan. After you get all the ingredients packed into the pan, refrigerate it for a couple of hours until everything forms together. This is the perfect recipe if you are in need of something sweet and crunchy!
Recipe: https://tiphero.com/no-bake-chocolate-oat-bars
2) Chex Muddy Buddies: We all know and love these addictive snacks, but did you know it only takes 15 minutes to make in your own kitchen? You can use any type of Chex cereal and from there, you just need peanut butter, chocolate chips, butter, vanilla, and powdered sugar. After heating up all the ingredients besides the powdered sugar, you pour it over the cereal until the cereal is completely coated in the mixture. Then you pour the powdered sugar over it and voila! If you don't have Chex cereal but you have another plain cereal in your cabinets, you could easily imitate the recipe with your choice of cereal.
Recipe: https://www.chex.com/recipes/chex-muddy-buddies/
3) Levain Bakery Copycat Chocolate Chip Cookie: If you are a true New Yorker, then you are very familiar with Levain Bakery. Levain is known for its huge cookies that have a melted and gooey center. Each cookie weighs 6 ounces and they are made with a whole lotta love! This recipe is a necessity when Levain is far away and not accessible. Some of the ingredients are more obscure for a baking amateur's kitchen, such as cake flour. Not everyone has that, but you could easily google how to substitute all-purpose flour for cake flour. Every minute making these copycat Levain cookies are worth it!
Recipe: https://kirbiecravings.com/levain-bakery-chocolate-chip-cookies/
4) Chex Mix: Chex mix is always the right answer when it comes to snacking. This is the recipe for an extra-bold Chex mix, otherwise known as the superior Chex mix. Chex cereal isn't a requirement for this recipe, you could just find whatever random chips, crackers, plain cereals, nuts, dried fruit, or M&Ms you have in your pantries. To create the extra-bold sauce, all you need is butter, Worcestershire sauce, seasoned salt, and garlic powder. After whisking the sauce ingredients together, pour it over your Chex mix, making sure to apply evenly. You could either microwave the Chex mix or bake it after applying the sauce. Either way, it should only take 15 minutes to make!
Recipe: https://www.gimmesomeoven.com/extra-bold-chex-mix/
5) Danish Butter Cookies: This is a four-ingredient recipe. You only need butter, powdered sugar, vanilla extract, and all-purpose flour. If you want to push yourself, you could use a piping bag to shape the delicate cookies, or it is also easy to use a fork to give the cookie dough some shape. It takes about an hour to make these cookies. You could even store the dough in your freezer overnight or up to a month if you don't want to make the cookies right away. These are very simple but very delicious cookies!
Recipe: https://thegardeningfoodie.com/danish-butter-cookies/?utm_medium=social&utm_s ource=pinterest&utm_campaign=tailwind_tribes&utm_content=tribes&utm_term= 842114384_35622074_150570
6) Peanut Butter Cups: Peanut butter cups are the perfect late-night snack after a day of online classes. It only requires 4 ingredients that most people have in their kitchen, without needing to go to the store. Natural peanut butter, coconut oil (or grass-fed butter), salt, and dark chocolate chips. You could also use any other type of nut butter instead of peanut butter. The only baking that is required is melting the chocolate chips, but other than that, you only need a freezer to solidify the cups after creating the layers. Layout cupcake liners in your muffin or cupcake pan, then fill the liners with a layer of dark chocolate, then the peanut butter mixture, then a top layer of dark chocolate. Once you're done, all you have to do is put them in the freezer then enjoy!
Recipe: https://detoxinista.com/homemade-peanut-butter-cups/
Baking is the perfect pastime during quarantine because a delicious snack is always rewarding. It is nice to take a break from watching TV or from doing online school work to see what you have in the kitchen and make something yummy out of it. Learning a new skill might help to distract you from everything that is happening in the world right now. Baking is calming and fairly simple with these recipes. Time to get baking!
Leave a Comment
About the Contributor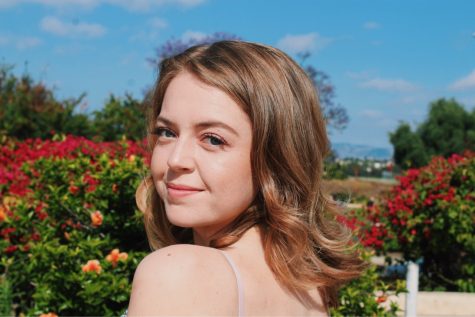 Averee Nelson, Digital Managing Editor, Staff Writer