A Quick Check-In: Online School From Different States
Reading Time:
4
minutes
As we voyage into 2021 with a pandemic still in full effect, many questions are arising about what the world is going to look like in this next semester. With Marymount Manhattan's president, Kerry Walk's, announcement that the college is continuing a Virtual Classes/Open Campus model for the latter half of the academic year, many students are fighting to stay sane while completing courses online. 
Online courses are being used to provide easy access to course materials and classroom discussions. Zoom, a popular video communication service that provides video telephony and online chat services has become the backbone for communication during this cumbersome time. The Zoom classes may be accessed from any computer, whether it is from the school or from the comfort of your own home.
"I feel like virtual classes would be the same anywhere," said Abby Gardner, class of '24.  Originally from Gadsden, Alabama, she is starting her first year of college in the Copper Square dorms in New York City. Albeit, she thinks it's absolutely amazing that she can experience the city, she is considering moving back home next semester.  
"There has only been one instance where a teacher has used the city in their teachings and that was my NYC seminar. It just isn't worth the money to be here especially when a lot of the city is shut down."
Though moving home, in the meantime Gardner is staying safe and healthy in the city by watching over her mental and physical health.
"I wear my mask every time I go out, I don't eat indoors, and I'm really trying to limit how much I use the subway too," Gardner started. "In terms of sanity, there is a small group of people that I hang out with a couple of times a week and I've been trying to maintain some routine on school days. I also try and go out and walk at least once a day but that can be hard on the busier days."
Meg Masserson, class of '21, who is also in New York, has a different experience within the city. Masserson explained in an interview that she actually takes comfort in online classes while being in the city. 
"Being here in New York and doing school from the dorms makes things feel just a little bit more normal, and it helps me cope with all the anxiety I experience from COVID-19. Being in a familiar space where I haven't necessarily done Zoom classes before, but I have done the homework and even online J-Term classes, makes it easy to take my mind off our horrifying reality for a few hours at a time so I can just focus on getting assignments done and doing what I need to do."
On another note, 118 miles from New York, Daniela Troya, class of '21,  is attending classes from Hartford, Connecticut. "So far online classes are going pretty good," Troya said. She has been taking advantage of the little human personalization within her classes and spends a lot of time creating multimedia presentations and doing work at her own pace and within her own space. 
"I like the fact that we use Zoom and teachers are available even after class just to talk and see how you're doing with everything that's been going on. Even though it's hard to communicate sometimes, they will try to reply to the student's email as much as possible."
Not being in person has allowed Troya to appreciate her surroundings a little more. When she's not in class she's going on small road trips and taking walks with her dog. 
"I make TikToks a lot and I try my best to hang out with my family despite the fact that I can't always physically be there."
Even further, 337 miles from New York, Dalia Karim, class of '23, is attending classes from her home in Mclean, Virginia. 
"If I'm being completely honest, I haven't left the house in about six months unless it's to go to the doctor or get anything that I consider essential."
Statistics from The Virginia Health Department show that there are 171,284 total cases, but schools are still planning on reopening after winter break. This, Karim explains, is a fact that she doesn't truly agree with or understand.
"I know that many people are treating the pandemic and quarantine as if it's over already, but I try very hard to protect myself and the people around me. It's a bit scary and stressful but I'm hanging in there, just like I think a lot of other people are."
On the other side of the country, 2,820 miles away from New York, Jasmin Brown, class of '23, is attending school from Benicia, California. As a state, California has had 898,000 cases and 17,276 deaths according to California All, a covid tracking website for California.
"Unfortunately, I am at a high risk of COVID because of my preexisting conditions, resulting in me staying home. However, I have been keeping myself busy with the cosmetic company that I started over the summer, and of course, school."
Despite worrying about being high risk during the Pandemic, Brown says it's mostly exhausting because of the time change between New York and California.
"You can imagine that 8 am classes are brutal. Being on the west coast means very early morning classes and my entire family is either doing school or work from home. Despite spotty wifi, loads of schoolwork, and lack of space has been hard I've been keeping it together and I'm looking forward to eventually going back to in-person classes once it's safe."
At the end of the day, we're all in this together and even though we're all so far away, this experience is still connecting us all. Whether you're steps away from campus or over 2,000 miles away, we still have each other… even if Zoom is giving us all headaches.
Leave a Comment
About the Contributor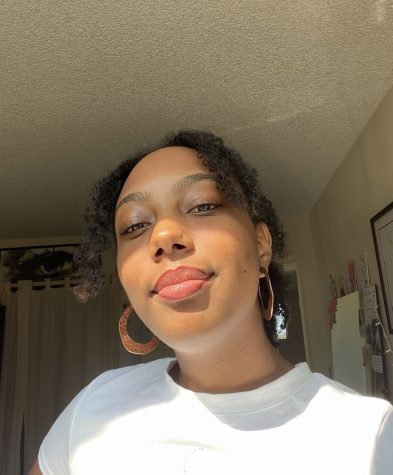 Rayiah Ross, Social Media Manager
Rayiah Ross is a senior majoring in digital journalism and minoring in creative writing. She has a focus on cultural criticism and social commentary.