How to Destress for Election Day
Reading Time:
3
minutes
During most election periods, most people have had an uncomfortable conversation at the dinner table, over the phone, or in a Facebook chat with their family members about politics – especially during the past two general elections. With more people staying at home with their families, this can often come with some unbearable political talk while watching the news and debates, not to mention watching the results come in on November 3rd. According to a survey conducted by the American Psychological Association: "more than three-quarters of Americans (77%) say the future of our nation is a significant source of stress, up from 66% in 2019." The news cycle is rigorous, fatiguing, and stressful. The endless breaking news alerts and the constant scrolling through election posts on social media can cause many to have more stress and anxiety about the future of our nation. Here are some ways to destress this election season and brace yourself for the aftermath of the election. 
Unplug Yourself from the News and Social Media
Take a break. During these times it is hard to feel in control of anything affecting our lives, but it is important to take note of the tangible things you can control. If you find yourself in an endless paranoid scroll through Twitter and Instagram or you're finding it hard to hold yourself back from commenting on a family member's post on Facebook, the simple answer is to unplug. Turning off notifications for apps such as Snapchat, Facebook, Instagram, or Twitter can help with staying off them for hours on end. Deleting the apps from your phone for a few days can also help.
Create Boundaries
As students, many of us are back home watching this election unravel with our families. However, some of us are living with family members who have vastly different political views, which can cause tension and strife. According to a study released in the journal Science, Americans today are more likely to be opposed to associating with people of the opposite political party or belief, whether that means dating, living, or working with someone of the opposing political party. This election has uprooted and disrupted many relationships because of the polarization of politics. Creating boundaries with those we are living with can produce a healthier and less stressful living situation. If conversations continue to cross your boundaries, it might be best to distance yourself from that person for your own mental health. 
Maintain a Self-Care Routine
With so much time being dedicated to scrolling through Instagram or checking every news update, self-care can be forgotten and neglected. It is important to continue eating healthy, drinking water, getting enough sleep, exercising, spending time with nature, or going to therapy. Self-care is a priority in times of increased stress and anxiety. Doing some simple mindfulness training can help center and balance a person to be present. 
Curate a Destress Playlist for the Election
Perhaps setting aside some time to curate your own election playlist is exactly what you need. A few different news organizations have been releasing peaceful playlists for voters to listen to while filling out their ballots, such as CapRadio, which created a playlist of "unobtrusive music that will both calm and stimulate your right AND left brain." The Atlantic created a playlist to momentarily calm people as they await the suspense of the election results, which you can listen to HERE. 
Reach out to Like-Minded Friends
Sometimes it is helpful to reach out to those who share your same views and gain solidarity in mutual feelings, whether it be fear, stress, or anxiety. Connecting with others is a great way to have a sense of togetherness in this lonely and challenging time. Gaining insight from others can be helpful to soothe fears and to be present. Take everything day by day. Another way to feel in control is by taking action. With the Election being days away, many campaigns and organizations are still looking for people to help out with phone banks or texting banks. If you get some friends together, you can orchestrate a good zoom and complete some text banking to get out the vote.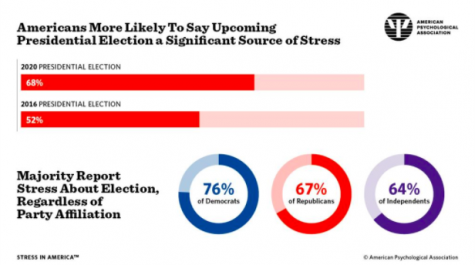 Practicing mindfulness during their unprecedented times is essential in order to stay focused on other priorities from the election, such as work, school, mental health, and relationships. Everyone is not alone in their election stress as most Americans are likely to say the election is a source of stress, making it very important to reach out to others for a sense of solidarity and peace. Hopefully, these tips will help center and balance yourself to more easily receive the outcome of the Presidential Election, whether it be good or bad. 
View Comments (1)
About the Contributor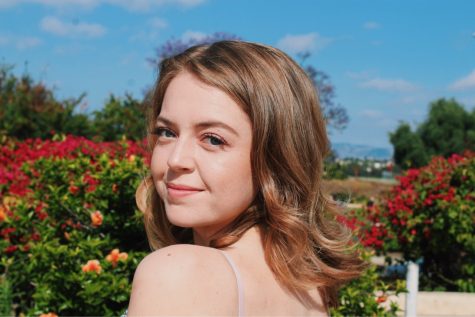 Averee Nelson, Digital Managing Editor, Staff Writer