Election Day Rituals
Reading Time:
3
minutes
Election Day is here, having millions of people on edge, eager to hear the results. People have different ways of preparing and celebrating for this momentous event. 
The year 2020 has brought a lot of hurdles that we are trying to overcome and make better with the COVID-19 pandemic, the Black Lives Matter movement progressing, and deciding which president is best for the future generations to come. In order to prepare for the next future president of the United States, the people of America like to do certain things to prepare themselves for a big decision. That decision can either affect them greatly in a negative or positive way. 
The presidential candidates are spending the night of election day in two different ways. According to The Hill, Trump is expected to remain at the White House hosting a campaign party with 250 (down from the original 400 invitees) in attendance eagerly waiting for the results that may or may not come before midnight. Biden is spending the day trying to persuade  Pennsylvanian voters– being that Penn. is a crucial battleground state – to vote blue.  He is then spending the night in his home in Delaware, later to make remarks in Wilmington joined by his wife and family. In previous years, you would huddle together awaiting the results at your local bar, or gather with your friends and family huddled around the tv waiting to know our future president. This year it will be different. Current students, Professors, and Alum of MMC all have expressed how they spent election night in previous years compared to how they will spend this year's election night: 
Erin Greenwell, Associate Professor of Communication Arts said, "I'm actually staying home with my partner," Prof Greenwell said.  "I would say in 2008 it was just as charged as it is this year. President Obama was running and he represented so much change from the Bush administration. Around Brooklyn, where I was, people were huddled around their TVs with champagne-like they were waiting for the ball to drop on New Year's Eve."  
Katherine Wood, Administrative Assistant of Communication & Media Arts Division, said, "Of course [I'll be watching the election]! I'm not sure if what I'm doing is all that interesting, but it's certainly different to what I've done in the past. I spent the last election night with my good friend (now my roommate) and her boyfriend watching the results come in, starting hopeful and that hope slowly turned to shock and then a sort of numbness. Tomorrow, I'm going to eat pizza, watch The Great British Bake Off, and avoid the news. I did my part, and now all we can do is wait."
Abby Young, Current MMC Sophomore said, "Back home a lot of churches around me do a free spaghetti dinner on election night so my family and I usually go to one of those. But I'm in NYC this year so I'll probably just stay in, I am a little worried to go out because I feel like there might be violent riots. I will probably watch CNN for updates even though it's going to make me really nervous. This year is really different because last election my family and I were sure there was no way Donald Trump would win. So we weren't that worried, but this year is different because we know that there are enough Trump supporters to vote for him and I'm praying to God he loses."
Imani Rivera, Social Media and Website Manager for The Monitor said, "For me, I'll finally be voting on Election Day and just spending the rest of the day home. Working remotely and simultaneously viewing my TV to keep up with the news. I'm spending this day alone, unlike I did for the 2016 election in which I was at my old college's pub watching the results because this election's journey has been a rollercoaster and I would rather keep this moment private."
In comparison to this year and previous year, you might be spending your night differently, but remember to not let it affect it fully until the final results. Remember to take care of yourself not only mentally, but physically. Stress and worrying are at an all-time high. Not knowing if your rights are going to be taken away and ensured, but to help that stress do things to put your mind at ease. Go for a walk to clear your head, meditate, or get off social media for a little while. So that you can relieve the worrying and stress for a time. Even participate in election deals that could possibly get you free food. There are chains giving out deals and free foods if you have an "I Voted" sticker. According to Delish, these chains are having deals and free food on election day:  All Election Day on November 3, Chili's is offering their Presidente margaritas for just $5. All customers who visit participating U.S. Krispy Kreme shops will receive a free Original Glazed Doughnut in honor of Election Day. And that's not all: The chain will also be making their own "I Voted" stickers available to any guests. That is not even all of it, there are many more deals chains are participating in.
Leave a Comment
About the Contributor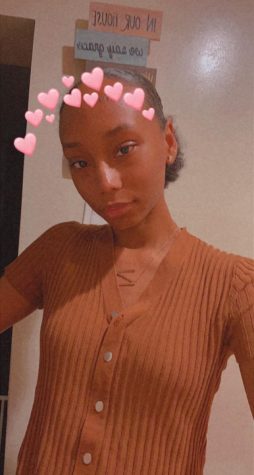 Najla Alexander, Crime Reporter/Features Editor
Najla Alexander is the Features Editor and Crime Reporter for The Monitor. She is Majoring in Digital Journalism and Minoring in Forensic Psychology. Her...