The Zoom Undergraduate: The Past, Present, and Future of a MMC Student
Reading Time:
3
minutes
In 2016, I had gone through several changes in one year: I attended my first college, St. Bonaventure University in Allegheny, New York, with seven of my high school friends and slipped into a slight depression because I truly did not feel comfortable on campus, even though I had a large support system. I changed my major from Biology to Strategic Communications after realizing science was not my forté, and to my luck, Donald Trump was elected president. Needless to say, dorming in a conservative, rural town in Upstate New York could not be my reality. So I made my way back home to "Money Makin' Manhattan". Being back home in Harlem, I was fortunate enough to start an internship while I also figured out my academic plan was a great way to start fresh. But, as 2018 began approaching quickly, I had to finalize my new school. Through extensive research for colleges in the city, I trusted my instincts and entered Marymount in the Spring 2018 semester as a Communication Arts major. 
I was ready for the challenge. 
No college is perfect, but Marymount's campus was everything I wanted and needed for my liberal arts college experience. Coming into my adulthood, figuring out my identity, and challenging my intellect couldn't have come into fruition if I stayed in Allegheny. 
All my life, I've always been a diligent student, so I was not concerned about failing classes or having a hard time creating relationships with my professors. My main goal, as a commuter and transfer student, was to level up my social game with my schoolmates. Everybody already had their own cliques so, I needed to find my place in the community and start networking. Luckily, I found out The Monitor was searching for a Website and Social Media Manager during my first semester and with the skills I acquired from my internship, this opportunity could not slip through my hands. I got the position and while my intention was to purely elevate the media platforms for the newspaper club, I am proud to admit that I met some amazing and talented people as each semester went along. 
Then, as the Fall 2020 semester approached, COVID-19 came and remote learning was in full effect. 
The main questions that plagued my mind was: How was I going to manage working my part-time job and completing my last semester through my laptop? Would this affect my graduation plan? But, most importantly: what the hell is Zoom?
I've become so accustomed to attending biweekly meetings with The Monitor, casually grabbing an iced latte from Starbucks during my ten-minute class breaks on campus, spending time in the library and just glancing at the incoming traffic of students each minute, having the opportunity to expand my knowledge and training in the performing arts, and admiring the beautiful art exhibits displayed on the first floor of Carson Hall. So clearly, I did not expect to spend 95% of my time at home attending five classes through a video conferencing app for my final semester. I had to suck it up and stick it out. Obtaining this degree was worth its challenges and would be an honor to my family who provided me with everything I needed throughout my life. 
After getting familiar with the app and my class, it never occurred to me how fast this semester flew bye. It's ironic how I developed more relationships with my classmates through Zoom than I would during in-person classes. A digital screen geographically separated all of us, but connected us all together for the sake of learning. 
Yet, once I finish my final class at Marymount, I know I'll be grateful to not worry about doing homework on a consistent basis. Part of me will miss the routine of pouring my heart into essays and video projects while receiving insightful, thoughtful feedback from professors. Hopefully, this routine can be implemented back into my life in some manner. I believe there will come a time where I can branch out into the world freely as a graduate of Marymount and explore new opportunities related to my major, skills, and talents I've acquired throughout my college career. But right now, I have to think strategically and financially plan to be the "Zoom undergraduate who has to make student loan payments." 
So, while I am content with my present, I am eager to change the future. Maybe my career plan will change. Maybe I might delete Zoom off of my laptop and phone. Maybe using Zoom will become the new normal for years to come. 
To all my fellow Zoom graduates of the Fall 2020 semester, we did it when we thought we couldn't! Let's hope for a future where in-person and remote learning and working can equally balance each other out. 
Leave a Comment
About the Contributor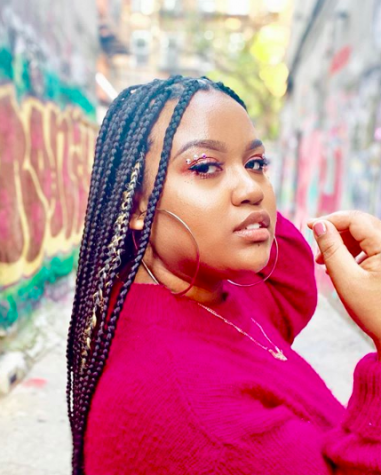 Imani Rivera, Website and Social Media Manager