No Complaints: "Pretend It's a City" is Pessimistically Charming
Reading Time:
3
minutes
''People are often infuriated with me because I have so many opinions,'' Fran Lebowitz casually remarks in the mini-documentary series Pretend It's a City. And for the witty Lebowitz, those opinions are usually not rosy. For example, Lebowitz's views on Times Square in episode one is that ''it's horrible, Times Square is the worst neighborhood in the world.'' The series carries on this way for seven twenty-minute episodes. Lebowitz comments on modern life and shares personal stories, while Martin Scorsese acts more as a friend than an interviewer. The documentary could've bored audiences, who are accustomed to special effects and plot twists. But there wasn't a dull moment watching shots of Lebowitz walk around New York with her infamous scowl, while bouyout music plays.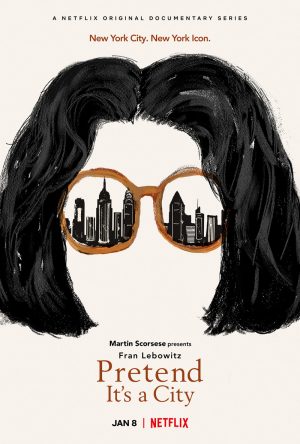 Similar to Lebowitz, I also tend to have a critical opinion about everything, much to the dismay of my friends and family. Maybe this criticalness has been heightened since the Covid-19 pandemic. Either way, it's rare for me to watch a movie or TV show and let myself become absorbed in it. I easily point out the production flaws or where there's a plot hole.  Yet, I found myself laughing through Pretend It's a City. Lebowitz's humor balances the line between cynicism and wit. There's a refreshing quality to her humor in a time when toxic positivity is still an issue on social media. Other than being a documentary about Lebowitz, it's also a homage to the outrageous charm of living in New York City. 
Before watching Pretend It's a City, I didn't have any idea who Fran Lebowitz was. In the 1970s and 1980s, Lebowitz was known for her writing. She wrote a column for both Andy Warhol's Interview Magazine and Mademoiselle. Two collections of her essays, Metropolitan Life and Social Studies, were published in 1978 and 1981. Lebowitz also published a children's book (about pandas in New York City, which sounds delightful) in 1994 before enduring a so far indefinite writer's block. Lebowitz's work now is primarily speaking engagements, interviews, and scattered acting roles. In 2021, by collaborating to produce Pretend It's a City with famous director and longtime friend Martin Scorsese, Lebowitz is gaining a whole new set of Gen Z fans who might've not been familiar with her before. 
Pretend It's a City bears resemblance to other comedy specials or shows like Hannah Gadbsy's Nanette or Broad City. Lebowitz uses her humor to bring up the absurdities or injustices that plague our daily lives. In comedy, the boundary between humorous and serious topics are often blurred. Throughout Pretend It's a City Lebowitz and Scorsese tend to keep the audience lighthearted. But there's one scene that pulls you out of a laughing fit, and I think it shows all the depth below the surface of comedy that can be overlooked. In the scene, Lebowitz is discussing the odd jobs she had when she first moved to New York. At one point, she remarks how she never was a waitress because to get a waitressing gig the women had to sleep with the restaurant owner. It's a stark memory that reminds the audience how talented a comedian has to be to successfully create balance between grimness and humor. It entertains both the optimist and pessimist in us. Lebowitz and Scorsese have emulated this through their conversations and love for New York in Pretend It's a City. For being in the middle of a global pandemic, humor that faces reality head-on is exactly what we all need. 
Leave a Comment