Dancers At Work: Highlighting Student Choreographers
Reading Time:
3
minutes
On April 21st and 22nd, the Marymount Manhattan College dance department showcased its talents with nine impressive performances in the Dancers At Work Program B. These students worked to choreograph, teach, and perfect their performances while collaborating on costumes and set design. Rehearsals ran twice a week for four and a half weeks. This year's performance was busier than ever, with tickets selling out quickly and people lining up at the door to be on the waitlist. 
The show opened with Pilar Mellon-Reyes' piece titled Nostos, Algos, and Plastic Left Arm: A Three-Act Extravaganza. This playful dance involved childlike movements, colorful outfits, and a prop arm. They danced to "Pool of Love", "Sunset Serenade", and "Western Bolero". The cast includes Greg Bantugan, Ava Boonstoppel, Monet Jones, Allison Feller, Kelly Sawyer, and Trinity Smith. 
The second performance titled Deep True Blue choreographed by Melissa Guerra was more sensual and smooth. Guerra used jazz piano music "D & E" and "Without a Song". This lively piece incorporated ballet and contemporary dance moves. The cast includes Dani Berman, Kayla Cooperstock, Sydney Cullen, Maya Glover-Castro, Kate Gombar, August Green, Jaiden Lang, Mandi Loughran, Gianna Scorzo, Katie Suydam, and Caitlyn Zaniewski. 
Next came Jazelynn Goudy's Ode To Club Sugar. This fun and energized hip-hop dance followed students as they transitioned from detention to a dance battle at Club Sugar. The performance engaged the audience with constant energy as the dancers clapped, rapped, and fought throughout the dance. The music was mixed and mastered by Sweet! JazéG (Jazelynn Goudy). The cast includes Jasmine Williams, Destiny Cloud, Hattie Greene, Alyssa Marten, Bria Nance, Claire Wagner, Alyssa Marten, Juliyanna Ramos, Emily Roche, and Isa Cano-Hoyos. 
The gothic rock performance Living Dead Girl by Chloe 'Buggy' Wells follows a vampire outcast struggling to fit in. This vampire lesbian love story was captivating and compelling. Using an original composition along with the song "Dragula" the sensational ode to outcasts was a fan favorite among the audience. The cast includes Briana Doran, Adam Cico, Katie Lehoty, Sarah Burke, Elias Colado, Allison Feller, Melissa Barnhizer, and Lacey Fowler. 
Monique Smith's Lady Ella was a whimsical musical theater jazz dance. The 50's inspired coupling was extremely romantic. They danced to "Smooth Sailing", "The Man I Love", and "Honeysuckle Rose". The cast includes Madison Brice, Elena Carr, Nick Coscarart, Stella DiFronzo, Kinsley Gagnon, August Green, Sophia Greene, Gianna Hickey, Calli Jack, Grace Lebeau, Mandi Loughran, Owen Lunsford, Lillie Martin, Tara Mologousis, Christina Naslund, and Molly Ouret. 
The sixth piece titled All In All was choreographed by Gabriella Mittenthal. This mystical musically-intricate dance embodied Mittenthal's matriarchs through their generational bond. The music included "Sleep Garden", "Button on Brown", "Eloquent Frog", and "Thursdays Interlude". The cast includes Mari Witwer, Sam Noto, Kelly Dresner, Abby Boldy, Gray Laxton, Katie Lehoty, Madi Brice, Gianna Hickey, Spencer Schofield, Tara Mologousis, Christina Naslund, and Owen Lunsford. 
Alicia Steeves' Grasping Onto That Beautiful Long Hair was an emotional dance about searching to find herself again after trauma. Steeves used the songs "Level 4 Abandoned Office", "La Selva- Boston 168 Remix", and "Intertwine". The cast includes Erin Barnes, Ava Boonstoppel, Trinity Smith, Lily Sledge, and Madison Burns. This dance piece is accompanied by Steeves' very own photo series. 
Sydney Warren's piece Climb was a dance about community and collaboration. This uplifting ballad to empowerment was filled with strength. This performance used the song "Killarney". The cast included Chloe 'Buggy' Wells, Kayla Kemp, Elena Carr, Teagan Tillman, Owen Lunsford, Grace LeBeau, Gianna Hickey, and Summer Hatcher.
The closing dance Ripples Of Bliss was choreographed by Syd Worthy. This embodiment of strength and excitement used movements to express raindrops through rays of sunshine. This performance used the song "Mamari". The cast includes Kiyomi Davidson, Kinsley Gagnon, Sophia Greene, Taniah McKinney, Selena Lee, Tara Mologousis, Christina Naslund, Catherine Smith, and Jessica Watkins. These dancers held beaming smiles throughout the entire piece. 
Marymount's dance department is a world-renowned program, and this performance did not disappoint. The crowd was enthralled by this show. The dancers and choreographers should be extremely proud of such an amazing performance.
Leave a Comment
About the Contributor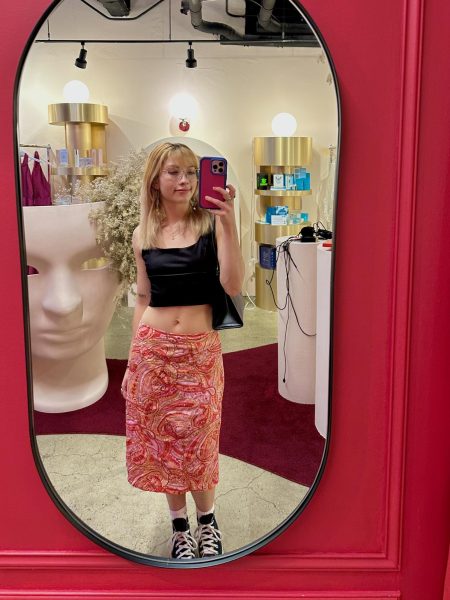 Francesca Crumpton, Digital Managing Editor
Francesca Crumpton is a Senior at Marymount Manhattan College studying Digital Journalism with a minor in Political Science. She specializes in writing...