Don't Cancel Your Subscription Just Yet
Reading Time:
3
minutes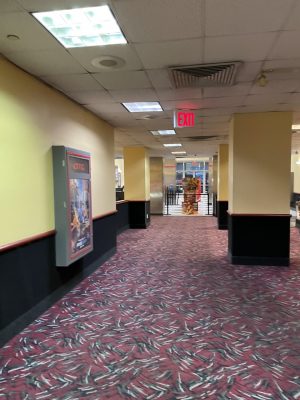 On Friday, March 5th AMC theatres reopened in NYC (The anticipation I felt as I stood at the entrance of the 86th Street AMC theatre was killing me). The movie theatres in New York City had been closed since March of 2020 when the pandemic was starting to paramount stateside. Movie-going culture is a huge pass time for Gen Z and I can speak for many of us when I say the theatres closing had a great impact on us socially, among the many other changes that were made during COVID Times.
When I heard the theatres were reopening I literally screamed and told everyone I could because I thought this would be the catalyst to the return to my social normalcy. I scrambled to log onto the AMC app which I hadn't visited in nearly a year and I bought 2 tickets to the film Boogie. When we got there I was immediately taken aback by the facade of the theatre. I peeked through the window because I thought there was a mistake, I wondered it if was closed.  It wasn't bustling with moviegoers and there was only one worker at the counter. There was a sign on the door that said "Masks required for all" and I doubled checked if I had my mask on.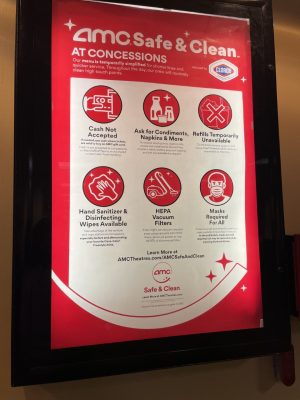 We walked in and there was only one way to describe theatre: desolate, a husk of its former self. We went to the concession stand and there was barely a line to wait in. I had my order ready in my head, I had already eaten earlier so I only wanted a fountain drink and a chili dog. The guy behind the counter told me they weren't currently serving fountain drinks because the soda fountains weren't available due to safety precautions, they were only giving bottled drinks. I decided not to get a drink and stuck with my chili dog order, but then he came back and told me Chili dogs weren't being made either. So I ordered whatever was available; I got a large tub of popcorn and figured it was one upside, but saw a sign that said there were no refills. I was severely disappointed because I like to use my rewards to get free refills. The concessions are already expensive as is and now If I wanted more popcorn I'd have to pay $16  more for that alone. I sampled some of my popcorn and realized there was no butter. I went to the butter dispenser and again was greeted with disappointment when I pressed the button and nothing happened. My boyfriend pointed to a sign that I had missed: "Due to safety concerns, you must ASK for condiments at the counter," We messily added the butter to our popcorn, took our snacks, and went to our auditorium. The popcorn tasted lackluster and bland, it was cold. Our Nachos were cold as well. I accepted that the snacks were going to be different because of the reduced staff and reduced capacity of the theatres.

I knew things were bad for the movie industry, more specifically AMC took a huge hit when the pandemic started, but I had no clue that it would be the way it was.

I asked some of the employees how long they worked there and how it felt to reopen. I asked if it changed a lot in their opinions John, an older man who had worked for AMC for 4 years, said "It feels great to work again, but it doesn't feel the same." Carla, a new hire who only started working for this theatre during covid, said she hasn't been working here for long, but was glad she could get a job. She noted that things were "weird" now, compared to before when she would go as a customer.

We made it to our auditorium with haste since it was so easy to get around without the extra bodies. We expected a small turnout and that's exactly what we saw. The auditorium had 19 people in it, it was riddled with vacant seats. I would've preferred to wait and watch Boogie when it released on a streaming site. The movie itself was great, yet the entire time It felt awkward. It was like everyone there was in on some big secret that one person didn't know: the experience of going to the theatre would never be the same… or at least not for a while.


Leave a Comment