The Club Sustain MMC Hosts Earth Day Events
Reading Time:
2
minutes
Starting in 1970, each April 22nd people worldwide focus and reflect on ways to help protect the earth on the annual Earth Day. At Marymount Manhattan College we have Sustain MMC, a club that promotes sustainable practices among students, staff and faculty. 
This week Sustain MMC hosted a few events in tribute to Earth Day. They began on Saturday morning by going to Randall's Island Urban Farm. The 40,000 sq. ft. environmentally sustainable garden homes over 100 plant beds full of various crops. On Saturday morning they went to weed and clear space for incoming potato plants. They were able to clear five wheelbarrow loads of weeds while they were at the farm.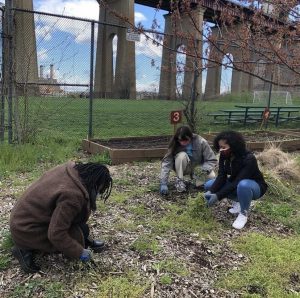 On Tuesday evening Sustain MMC hosted a movie streaming on Zoom of "The Biggest Little Farm," a movie about a couple that experiences successes and failures while working to develop a sustainable 200-acre farm outside of Los Angeles, California. The movie night was welcomed to all of MMC community to attend through MMC engage
On Thursday the club hosted a luncheon in the Commons on campus. Students were able to engage with each other in a socially distanced manner and enjoy a catered lunch from Dig Inn together in celebration of Earth Day. The first 30 students who registered for the luncheon event on MMC engage were given a custom, DIY plant kit from Sustain MMC. Many people of the MMC community attended the event in between classes and rehearsals and enjoyed the beautiful day in the commons.
This upcoming week on Friday, April 30th, Sustain MMC is hosting a clothing drive in the dorms. They are placing donation boxes near the front entrances of 55th and Cooper Square dorms. All the donations will be given to the Bowery Mission to help individuals experiencing homelessness in NYC. The donation boxes will be available from Thursday night, April 29th, to Saturday morning, May 1st. If you have any excess clothing that you no longer wear or use, we urge all students to donate to the less fortunate if possible. 
As a college located in NYC which is not as strong as other eco-friendly states, our community needs to reflect on ways we can protect and care for our city in sustainable practices. 
If you are interested in becoming a member of Sustain MMC or participating in any upcoming events, you can find the club on the MMC Engage app!
Leave a Comment