"The Band's Visit" Takes Its Final Bow
Reading Time:
2
minutes
Ten-time Tony award winning musical The Band's Visit has set its closing date for April 7 after just a year-and-a-half long run. Fans and theatre critics alike have praised the show for its diverse cast and unique style of storytelling that greatly diverges from the typical glitz-and-glamor that musical theatre fans are used to seeing on stage. I had the privilege of seeing this production two weeks ago, and wanted to share my thoughts as it parts from center stage. 
To me, the most remarkable thing about The Band's Visit is that its story is not remarkable at all, yet it resonates greatly with its audience. The Band's Visit follows a group of traveling musicians from Egypt who mistakenly end up in a small town in Israel. They are hosted by a young woman named Dina at her restaurant, and several stories of members of the town are showcased song by song. Every person gets an equal chance to have their story told, whether they are a lead character like Dina or a small role such as "Telephone Guy," whose character stands at a telephone booth for the entire duration of the show, awaiting a call from his girlfriend. 
One of the greatest technical aspects of The Band's Visit is its set. Rarely do I see sets that don't look like sets, but this production made each piece of furniture and wall look like a home, rather than someone's idea of a home. Another unique feature of the show is that the members of the band often serve as members of the orchestra, playing their instruments on stage throughout the show.
The Band's Visit has been widely celebrated for being a champion of diversity. With its setting in Israel, and with a full band of Egyptian characters, this show has allowed so many opportunities for actors of color, particularly Middle Eastern actors. The show also incorporates these cultures into every aspect – before the show even starts, the curtain reads "please turn off your cell phones" in English, Hebrew and Arabic. These languages are spoken throughout the show as well, exposing American audience members as well as tourists from other Western countries to a culture that is severely underrepresented.
The only way I can think to describe this show is that it feels more like a play with music than a musical, in the best of ways. Here, you won't find flashing lights (save for one surprising scene in a disco rollerskating club I did not see coming) long kicklines or bursts of confetti. The Band's Visit is almost minimalist in a way, reducing the amount of visual and theoretical noise so the audience can truly hear the music it's playing and the stories it's telling.
None of the stories shown in The Band's Visit are intensely dramatic, but they do not lack depth. These accounts of real life through real characters are raw and profound in their simplicity. Real life hardships aren't always as dramatic as evil villains chasing you around in some musicals, and real life relationships and connections between people aren't always intense love triangles or scandalous affairs. The Band's Visit shows love, life and human connection in its most authentic form. 
Leave a Comment
About the Writer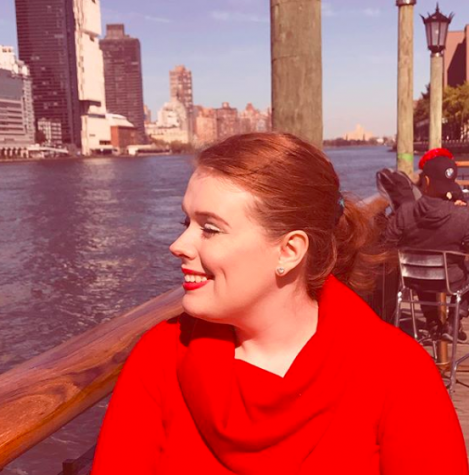 Meg Masseron, Features Editor