The Perfect Things to Watch to Get You in the Spooky Spirit
Reading Time:
2
minutes
It's that wonderful time of the year again where nonstop Halloween nostalgia is in the air, whether you liked all the guts and horror or not. There is something for everyone this Halloween season. 
Of course, you have your classics including but not limited to those nostalgic Disney Original Movies even Hocus Pocus (1993) because who doesn't want to live out their best witch fantasy with the iconic 'I Put a Spell on You' scene. A Nightmare on Elm Street Series (1984) where this is a beloved classic horror franchise where you are never safe even in your dreams and if you die there… you die in real life (and if you are curious to know the true story behind Freddy Kreuger check out this article as well), Scream (1996) a horror sequel that lays out the rules you should follow during a scary movie but when this group of teens came face to face with death will they survive? The newest addition to this iconic franchise, Scream 5, will have most of the original cast members coming back including our favorite final girl, Sidney Prescott. It premieres in theaters on January 14th, 2022. Also, some new things to keep an eye out for!

Night Teeth (October 20, 2021)
This new Netflix movie will have you wanting to be a vampire! Debby Ryan, Megan Fox, and Lucy Fry play scandalous vampires whose night could take a turn for the worse or even the better when a random driver discovers their ancient secret, will he go along for the ride, or will this be the last night of his life? 
Chucky the TV Series (October 12, 2021)
Charles Lee Ray is back in this new Syfy series. The series not only will be a continuation of the previous movies but off a spin-off in its way. It follows a young troubled teen (Zackary Author) who seems to not have many friends who happen to find this doll at a yard sale and slowly start to become the center of his life. From the preview, you see it still gives you not only the horror but the comedic side much like the original we all came to love. 
Nightbooks (Available to Stream on Netflix)
A family-friendly movie where a witch (Krysten Ritter) kidnaps a young boy (Winslow Fegley) demanding he always tells her stories when she felt like it. Being a young boy he couldn't help but accept his fate until he met a young girl (Lidya Jewett) who was also held against her will. This gives them the motivation to hatch and plan and try to escape with their lives. 
Midnight Mass (Available to Stream on Netflix)
From the filmmaker who brought you A Haunting of Hill House and The Haunting of Bly Manor, Mike Flanagan, brings you another spooky series to binge. Following the series of strange events that happen at the same time, a new mysterious priest (Hamish Linklater) comes to town. 
If you are in need of more spooky content check out Thrillist's top Netflix shows/movies to stream this Halloween!
Leave a Comment
About the Writer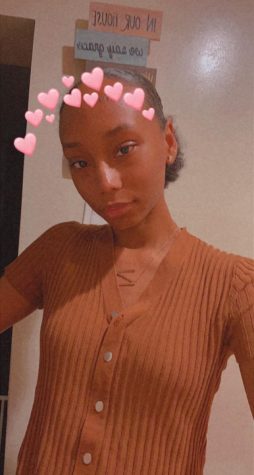 Najla Alexander, Crime Reporter/Features Editor
Najla Alexander is the Features Editor and Crime Reporter for The Monitor. She is Majoring in Digital Journalism and Minoring in Forensic Psychology. Her...