MMC Students Share Their Favorite Thanksgiving Dishes
Reading Time:
2
minutes
Turkey day is around the corner and you know what the means, food, food, and oh yeah more food. Not forgetting to watch the Macy's Thanksgiving Day Parade, while being surrounded by loved ones remembering CDC guidelines when spending this holiday with loved ones of course. Everybody has their favorite dish that they are the most looking forward to on Turkey Day the most. From the macaroni and cheese to the stuffing, here are some of Marymount Students favorite dishes to eat at Thanksgiving: 
Michelle Ledezma, MMC Sophomore, exclaims, "My favorite Thanksgiving food is bread rolls. I love eating the small rolls with lots of butter on them! They are so special to me because they remind me of my cousins. We always get so impatient waiting for the dinner to start so we load up on bread to satisfy our cravings. Our parents usually get mad at us for eating so much bread before dinner, but we can't help it! They would try to hide the rolls, but we would always manage to find them and stuff ourselves with more and more." Michelle believes that this holiday is a beautiful holiday because it brings family and friends together with not only laughter but good food.
Kayden Beau, MMC Senior, said, "My favorite dish is definitely stuffing and gravy. Thanksgiving is when as a family you set aside petty arguments and you are genuinely thankful for one another in your lives. Since being gay I know a lot of families aren't loving towards other family members and since my family is I am thankful they love me for me and all of me." For Kayden, Thanksgiving is important in a way where family is supposed to love you and not everyone is lucky enough to receive that from their family on a holiday such as this, and he appreciates his family so much more than usual on this holiday because he is lucky enough to have that love from his family. 
Nicolette Mancini, MMC Sophomore, remarked, "My favorite Thanksgiving dish is cornbread! Every year I look forward to making and eating cornbread. For some reason, I never make it throughout the year which is why it is so special and why I look forward to it so much. My mom and I make it from scratch every year and now my sister has joined in on the tradition! It's been a pleasure and a joy to make it and the outcome is definitely worth the wait every year! To me, Thanksgiving means family and comfort. I am very thankful to share Thanksgiving with all my immediate family members. It always is a great time and everyone enjoys a slice of our homemade cornbread!" 
Thanksgiving is a holiday that represents appreciating and being thankful for the loved ones you have in your life, remembering that each moment with them is so precious that you have to always cherish the time with them. 
Leave a Comment
About the Contributor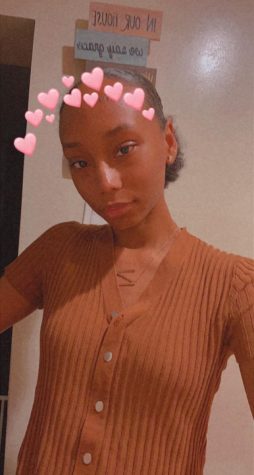 Najla Alexander, Crime Reporter/Features Editor
Najla Alexander is the Features Editor and Crime Reporter for The Monitor. She is Majoring in Digital Journalism and Minoring in Forensic Psychology. Her...